I enjoyed this article from James Dann in the Spinoff https://thespinoff.co.nz/politics/06-05-2020/we-have-another-once-in-a-lifetime-chance-to-rebuild-will-we-squander-it-again/
There were several really good quotes: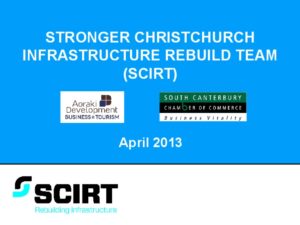 Writing for The Spinoff, Roger Dennis looks at one of the important splits in that construction spend. He contrasts the Stronger Christchurch Infrastructure Rebuild Team (SCIRT), a public-private alliance tasked with rebuilding the below-ground infrastructure in Christchurch, with the Earthquake Commission (EQC). SCIRT's partnership model was successful at getting the job done with minimal fuss, Dennis says, while EQC's arcane bureaucracy led to court cases, Campbell Live campaigns, and ultimately a public inquiry.
Many in the city thought the EQC was worse than the quakes, with one submission to the inquiry summing up the mood: "The earthquake didn't break me. EQC almost did." If there is a lesson here, it is that a partnership approach – between local and central government, along with big private players – can be more effective than one super-charged government agency that lacks accountability.
This point is a really important one. The CCC and the Government need to learn from SCIRT. One of our regulars at the Tuesday Club, Rod Cameron, has been offering to put together a group to learn from the team at SCIRT. This offer has been completely ignored, which is really a bad sign. Are CCC and Central Government interested in implementing ideas which grew out of our experiences post-quake or do they want to re-invent the whole thing again?
It would be wonderful if we started using people, like Rod Cameron, in his own home City.