What a doozy of a session it was last week. Firstly, we heard from George Shaw with his dream of a Street Art Central site in the Salt district, giving Christchurch a chance to share his collection of Banksy art (the largest in the Southern hemisphere) with the world. This was a creative man who has been so important this City, post quakes, sharing his aspirations for this City. The amount which Otakaro has wasted on Te Pae would enable this brilliant idea to flourish.
Here's the link to this part of the session
Here's what the site proposed by George could look like: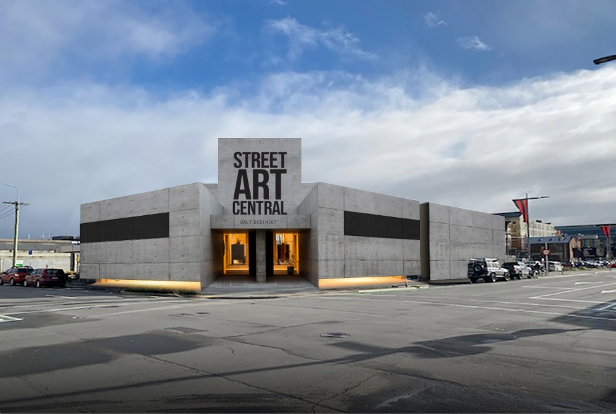 Then we had Phillip Sunderland presenting his ideas on what the stadium might look like. I have written many times that I have not been convinced that this monstrous stadium, backed up by shonky data, is justified. Too much of what has been built in Christchurch, driven by a small group of people led by Gerry Brownlee, has been out of scale. Te Pae (the Convention Centre) would fit in Melbourne, a city the size of the whole of New Zealand. The Sports and Entertainment Centre (which, it is rumoured, has experienced a slump in the foundations in the last little while, thus costing even more enormous sums of money) and the Stadium. They all seemed targeted at individual architectural practices winning awards. The only snag in this was we paid the bills, as ratepayers and taxpayers.
(Yesterday I received an email from Nicky Arts suggesting, How about a panel discussion on "Brownlee's Legacy". After the election, Nicky!)
At the 11th hour, before people decided on a design, along came Phillip Sunderland, George Shaw and Mike Percasky. They have an idea. Last week as I watched the presentation, my scepticism started to evaporate. There's no way we can stop the politicians from spending the money put aside for this stadium. Even if our roads and drains need attention. So, let's see if we can get behind something which is inspirational and puts us on the map. Just as our library, Turanga, has been received in Christchurch and around this country.
These new ideas call for serious consideration. They came out of creative people's minds. From people who desire to work with those at CCC, who also want to make this a statement which identifies the hopes and aspirations of those of us who live here. The sort of people within the CCC team who don't live in Wellington. These are the public servants who ensured that Turanga embodied our hopes and aspirations; and shepherded through the planning and construction of this now much-loved building.
This new proposal embodies the same hope as Turanga. It makes the outside of the building a statement of a commitment to art and theatre. It makes it not just a resting place for rugby jocks. It's a place for us all. The exterior means that the interior doesn't need to be an architectural masterpiece and can therefore be constructed more cheaply.
Here's one of the images which Phillip displayed showing a McCahon for demonstration purposes.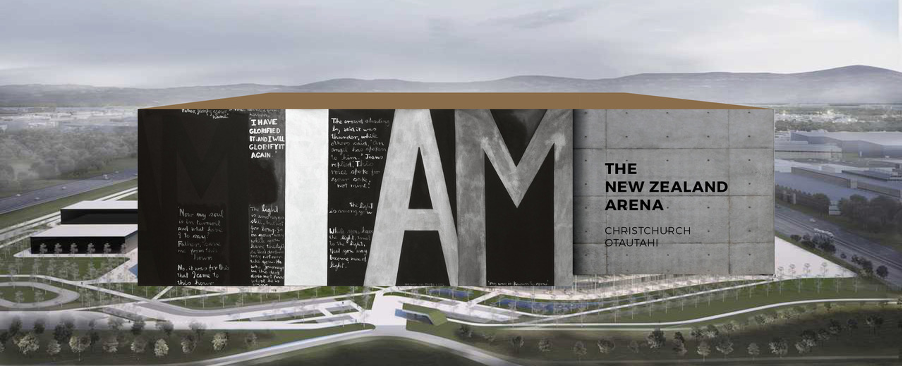 I received this lovely email from Christine Abbasi which said what I was thinking better than I could put it:
I can't believe how excited I can be about a rugby stadium!!I'm basically not into rugby but last Tuesdays presentation was so creative + brilliant that I am still excited.
Thank you so much for facilitating it + to Rosemary for organizing you all.
I wish the team, which is working with those who have responsibility for the planning and construction of the Stadium, all the best. I finally felt a sense of hope about a project which until their presentation that just made me angry and pissed off.
Here's the presentation about the Stadium:
Here is the link to the whole of last weeks session – enjoy