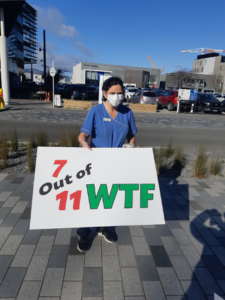 I found Jo Kane inspiring last week. She was measured, extremely well read on issues, and complied with my interpretation of a really good people's advocate. She had read her papers and absorbed them. She has fantastic connections throughout the system. She disputes what has happened to CDHB and, with two others, is challenging the decision-making processes which are currently in place.
Sooner, or later, she will be removed. You can't have somebody as well connected, and as well informed, as Jo sitting at the decision-making table. I have always been wary of "a" teams and "b" teams on any Board. Jo reckons she is in a "c" team. That is the mark of an unhealthy Board. The fact people are being removed off committees through pre-arranged amendments moved by compliant Board members is really worrying.
It was fascinating to view the mix of really serious citizens on the Tuesday Club zoom last week. For those of you who are on the CDHB Board have a look at attendees. There is a mix of people who either have had, or have, important places in influencing the opinion makers of this City. This issue is not going away. People are worried and they are stewing over it.
We are witnessing a drive by the Ministry of Health to beat a local service into what they (whoever they are) think it should be. Questionable accounting interpretation is being supported by a compliant Board. When John Hansen spoke to the Tuesday Club, he questioned the capital charges himself. Well, the treatment of insurance pay-outs and depreciation reserves also need to be questioned. Basically, the issues are about accounting. Not health.
My contacts in the Health system are already talking about contracts being either removed or reduced. Nurses in the community are having intolerable burdens placed on them. Many of the district nurses are from the Philippine's and they will continue working late into the evening just to serve their patients. This is a modern form of exploitation. Are CDHB board members aware of the culture they are in charge of? I doubt it, because they will be being told that everything is fine.
Over the next few months, we will be questioning the moves by MOH staff which has led to the CDHB debacle. It will take some time, but it is my opinion that we have witnessed a systemic failure and we are now witnessing a massive backfilling exercise by MOH, and Treasury, to prove that they were correct. It's tragic when institutions will not admit that they were wrong. Think about how the military put incredible effort into denying coverups over sexual misconduct. It took brave women to take that institution on. Including women raped by their own father.
Think about how hard it was for victims of sexual abuse by state agencies to get a Royal Commission. Think about how much effort the Churches put into covering up sexual abuse. Institutions are all the same. Proving that institutions were wrong takes time, and a massive commitment by a few.
We have that commitment and our job is to prove that what happened to the CDHB was an orchestrated litany of lies by a Wellington bureaucracy aided and abetted by lazy Central Government politicians in the National and Labour Parties.
In the meantime, Jo and your small team, keep it up. There will be huge numbers of staff members at the CDHB who are relying on you to be the voice of an increasingly silenced voiceless staff and public. We admire you and will stand alongside you.
Here's the report on the event last week