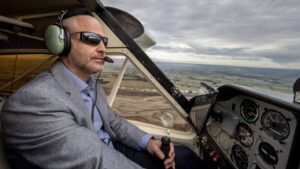 It was a pleasure to hear Gary Freedman, who is English rather than the American I announced him to be last week.
Having listened to Gary the whole area of electric planes is such an amazing opportunity for Christchurch, and New Zealand. In this City we have amazing engineering facilities, especially with Aeronautical sphere. With the Pratt and Whitney engine centre downsizing, there will be capacity to change to absorb electrical engines.
The Pratt and Whitney engine centre laid off 40 engineers a couple of weeks ago. Soon another 200 are heading out the door. This is a group of considerably talented engineers that this City, and our Country can ill afford to lose. ChristchurchNZ has the responsibility, as this City's Economic Development Agency, to encourage a collaborative engineering solution for this City's economic future. This needs to be undertaken urgently.
One of the great sectors in this City is engineering. We have world class training at Ara and a wonderful Engineering School at Canterbury. There are literally hundreds of small businesses working in engineering. This needs to have serious attention paid to it. Aircraft engineering with a focus on electric planes will be just the start.
Thanks Gary. You gave me heaps to think about.