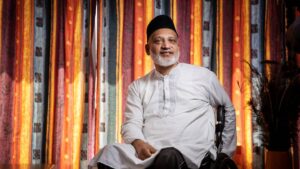 Last week was very different from our normal presentation. Farid is an amazing man who is completely driven by his faith journey. Others who share his faith journey have not all agreed with his forgiveness of those who have done him wrong, like the man who mercilessly murdered Farid's wife and 50 others. However, Farid does not share that interpretation of the Koran, so it was fascinating to listen to his faith journey. I admire those who have such profound faith.
Last night Pam and I were privileged to be guests at an amazing evening hosted by the Bangladeshi community in Christchurch; of which Farid is an acknowledged leader. The theme was "Unity in diversity". The room was filled with people from all races. As we headed home, we talked about how important in our lives attending this sort of event really is.
The issue was that here is a man standing in front of us as a country and teaching us about his amazing faith, and that he is so obviously living it. Too often the leaders in our society are good at selling shallow nonsense and are lauded for that. This man, who spoke so beautifully last week at the Tuesday Club, and who was the being-the-scenes leader behind a dinner which attracted so many of us on a Saturday night. He really is a fascinating example of a servant leader.
Our world needs to pay more attention to the servant leaders who leave their egos at the door.
Here is a video of the evening thanks to Aaron Campbell https://www.facebook.com/468338373632713/videos/481449399874039