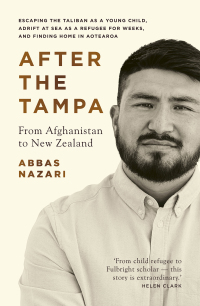 It was a delight to have Abbas Nazari speak to us last week, via zoom. Abbas gave us a potted history of Afghanistan over the last 100 years. He described the various tribes and the tension between them. We had Najib Hedayat, also from Afghanistan but from another tribe, also on the zoom and he supported Abbas' story. The questions were enlightening and the whole session gave me a great realisation of just what is happening in that troubled country.
If you were not able to tune into the session, I recommend you put time aside to watch this. https://www.facebook.com/tuesdayclubchch/videos/526354551760299
Abbas was also interviewed by TV1 Breakfast and here is a link to the session. https://www.facebook.com/Breakfaston1/videos/265728281843480/.
I also recommend that you purchase a copy of Abbas' book "After the Tampa". My 92 year old mother-in-law read it this week and wept as she turned over the pages. It's a gripping yarn.
In his talk, Abass asked for these main things
Government to give Visas to those who worked with and helped NZ Defence Force. (this was asked for months before the tragic events of the past weeks)
Fast Track family reunification channels
For Government to immediately take an emergency intake of Afghan refugees. They do not need MIQ spots as we have a refugee resettlement centre in Auckland. Our refugee intake has been lowered because of Covid, so there is space.