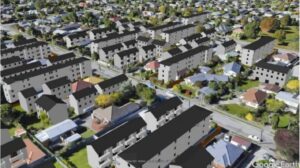 Remember a few weeks ago how Megan Woods and Judith Collins stood proudly, side by side, and announced a Bill which would be promoted by both the Labour and National. This would allow three storeys of housing on a site as of right? Well, the Bill is now in parliament, and it has been slammed by all sides. It has been rushed and the criticism has been consistent in wanting to get it right. Local Government has pointed out the difficult areas which will be damn near impossible to remedy.
I hope with Judith Collins being dumped as leader, that National will have second thoughts on supporting this ill-thought through piece of legislation. I think it has been promoted and the politicians are sincere in their motivation. It's just that they are sincerely wrong.
In the NZ Herald last week Simon Wilson wrote:
How excited they were when it was announced. On October 19, Housing Minister Megan Woods and National leader Judith Collins jointly declared their support for the Resource Management (Enabling Housing Supply and Other Matters) Amendment Bill.
This bill, they said, would allow "at least 48,200 and as many as 105,500 new homes" to be built in the next five to eight years. It was so important; they'd get it passed by Christmas. A breakthrough housing accord: It was a rare example of bipartisan support, and for such a good cause, too.
Simon then wrote the nine points he thought made this Bill unworkable:
Julie Stout, a leading architect, spokesperson for Urban Auckland and member of the Urban Design Forum (UDF), a coalition of design professionals, calls it "a slum enabling act".
But by my reckoning this new bill subverts the NPS-UD (National Policy Statement on Urban Development) in at least nine ways:
1. While "up to three" dwellings can be built on any site, there are to be no minimum section sizes. You could put two extra dwellings on your section, or subdivide it into two, or three, or more, and put three dwellings on each new site.
The "do it anywhere" provision is an invitation to developers to build where it's easiest and cheapest.
That, says Auckland Council, "would see widespread intensification dispersed across the city in places not served by essential public transport, water and community infrastructure and in areas located far away from employment centres. This includes smaller coastal and rural towns on the outskirts of the city." It's an invitation to urban sprawl.
2. The Environmental Defense Society (EDS) says this could even lead to "areas with significant landscape and environmental values, like Waiheke Island, being destroyed".
3. Developers 3 will no longer be required to consider sunlight, privacy, safe pedestrian access, access to nature, servicing and the interface with the street.
4. There are standards governing size and location, but even they are flawed. They'll encourage what's called "sausage flats": rows of apartment blocks running back at right angles from the street, with little usable land for a garden or backyard.
5. Want to object? Sorry, it's all "permitted activity". The council can't do much, either. Even on matters of national environmental significance, there's no recourse to the Environment Court. The minister for the environment will decide.
6. Will developers have to include any social housing in their projects? Nope. What about universal design standards, so at least some of the units are fit for people with disabilities? No again.
7. Are they preserving environmental standards or keeping up with the demands of a changing climate? Also no. Encouraging urban sprawl fails that test. So do the lack of standards for construction techniques and emissions over the life of the building. There's no requirement for trees or other vegetation, either on sections or in public spaces near larger projects. "The first casualty," says Stout, "will be the trees of the city."
8. The "rules and standards one might expect to find in a district plan", as the EDS puts it, now rest with the Government. It means councils could become bystanders in the development of the cities they are supposed to be running.
9. Why the rush? The announcement was just over a month ago and already the deadline for submissions has passed.
It's not like nothing is happening to address the housing crisis. Nearly 50,000 new homes will be built nationwide this year: that's more than at any time previously.
In Newsroom last week their report covered the following criticism:
Professional bodies related to the housing and real estate sectors have also expressed concern with the legislation, including its blanket approach to intensification.
The Institute of Architects said it was concerned with the bill's lack of provisions to protect local neighbourhoods, character areas and the wellbeing of communities, which would likely create "unintended and perverse consequences for current and future generations".
"Several territorial local authorities have experimented with permissive urban intensification controls across suburbs and neighbourhoods and have unfortunately learnt the hard way how unsatisfactory such controls are in practice without appropriate 'checks and balances' and the long‐term legacy they leave behind."
The NZ Planning Institute's submission likewise focused on the possibility of unintended consequences, noting concerns about a lack of time for professionals in the urban planning and resource management sectors to implement the plan change processes required, while the Registered Master Builders Association said the medium-density housing areas which would be created – particularly in the outskirts of Tier 1 cities – would need appropriate infrastructure to be a success.
"The association is of the view that housing areas that are not well supported with accessible and sufficient public facilities and transport become isolated communities. This is not a desirable future."
The Resource Management Law Association was particularly scathing, its submission suggesting the Government focus on issues of infrastructure capacity, immigration settings and materials shortages, "rather than further undermining the integrity and effectiveness of the planning system by amending the RMA yet again".
Some supported the Bill:
the Coalition for More Homes – an umbrella group representing more than a dozen different organisations in favour of (funnily enough) more homes.
The group's submission decried "hand-wringing" about "Soviet-style towers, whatever that means", noting that the demand projections for Auckland would amount to less than a doubling of housing numbers over several decades.
While there would need to be work on areas like infrastructure funding, the coalition said that was an issue which could be addressed "thoughtfully and progressively" over time without the need to reject planning reforms.
This presentation demonstrates that legislation has been driven by the needs of Auckland. Not for Christchurch. Once again central government politicians are driven by the place where the country is either lost or won politically. The fact that a Christchurch MP, Megan Woods, is leading the pandering to Auckland interests whilst shafting the city which puts her in parliament is, quite frankly, disappointing.
Here's a personal test. Just stand in your back yard, whether you are a homeowner or a renter. Think about how your neighbour will be entitled to build, as of right, a three-storey building, 1 metre from your boundary and 3.5 metres from the road. The site next door might be purchased by a developer, and that developer will be able to retreat to their country 10-acre block after they have shafted your lifestyle pocketing the profits with no responsibility or payment towards the public realm or feeling any responsibility for having destroyed a community.
This legislation is just plain wrong
The article concluded:
While central government politicians can be just as susceptible to public pressure as their local body counterparts, so far Labour and National have shown no sign of abandoning their support for the proposals (although the select committee appears certain to recommend some significant alterations).
Here's the article: https://www.newsroom.co.nz/the–intensifying-debate-over-housing-reform.
In Politik this week here's what Phil Goff said about the Bill:
Auckland's Mayor Phil Goff focussed on the quality of the urban environment that the Bill was likely to produce. "This isn't about NIMBYism," he said. "This is about saying that everybody, including low-income people, deserves the same sort of things that you and I want. "They want to have a decent living room in their house. "And the standards in this mean that the living area can be tiny. "They'd love to have a bit of a barbecue on a front lawn. "They'd love to have an outlook where they weren't looking into the back of somebody else's building. "Now we all want that, and that's what we'll buy on our salaries. "But this bill needs to be about protecting the low-income people who don't have the ability to protect themselves."
The article concluded:
Though the Bill seemed simple, and its accelerated progress through both the Select Committee and Parliament means it will pass before the end of the year, its implications may reverberate politically through next year. That may not be good for National.
Here's the article: https://www.politik.co.nz/suburban-angst-the-opposition-to-the-bipartisan-housing-proposal/