For decades we have stuffed up as a country with our housing needs. One special group are those who live either on our streets or somewhere close to them. In Newsroom this week there was a wonderfully reflective article on doss houses where so many men live. The article starts describing those who died in Wellington a few short weeks ago:
All men aged between 50 and 67, all vulnerable in some way, and all living in unsafe and insecure housing.  "What kind of country are we that we allow this kind of thing to happen to our most vulnerable members of our community?" Green Party co-leader James Shaw asked the House on the day of the fire.
A support worker with the sort of people who lived in that hostel said:
"…. there are a lot of reasons men find themselves without a stable home.
"Some grew up in boys' homes, some hospitals, through mental health. Others have had such bad home lives, that they just came straight out on the streets when they were young and never left. Some have just been in and out of prison their whole lives because they didn't know any other way, and that's what they saw around them, so that's what they did.
"There's not one reason. There are all sorts of different reasons … and trying to unpack that is the hard part," he says.
Here's the article: https://www.newsroom.co.nz/podcast-card/men-without-a-safe-place-to-call-home
In the Press last weekend there was a heart stopping article by Mike White who is a superb writer. Especially about people's lives. Here he was writing about one man who had escaped the Loafer's fire. Here's some things this guy said:
he believes it's not just the person who lit the fire who has to be held accountable.
He points a finger at those who designed what he describes as a deathtrap with no sprinklers. The council who didn't do adequate safety checks. The management who never told him about a fire plan or escape routes.
The managers who had to be badgered to replace smoke alarms and sensors in his room after it twice needed to be treated for bedbugs.
And Work and Income, who put people in such emergency accommodation, then wiped their hands and considered this was a permanent and suitable solution.
(MSD says Loafers Lodge wasn't used for emergency accommodation, as it defines it, at the time of the fire, though it had been previously. But Lauder did consider his own situation an emergency when he approached MSD for help.)
The way Lauder sees it, a place like Loafers Lodge should only have been a stop-gap measure while more adequate, long-term housing was found. Instead, some of the residents had been at the lodge with its frayed furniture, and shared bathrooms and kitchens, for years.
BRUCE MACKAY/STUFF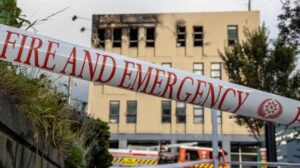 Five people died in the blaze at Loafers Lodge, a cheap hostel for those with few other accommodation options. A man has been charged with arson and murder.
He wants all these people held responsible for what happened, so landlords and officials could see there was a price to pay if they didn't look after tenants.
"That was a dangerous building, and it wasn't an accident it was dangerous. It was on purpose – coz they didn't give a f..k.
"We were just scum."
Lauder says when people claim it wasn't their fault, he wants to ask, would they have been happy if it was one of their family living on the top floor of Loafers?
"I don't want to let this go. I want to keep telling the whole world until something is done about it.
"I don't want my dead mates to have f…..g died for nothing."
Here's the article: https://www.stuff.co.nz/national/132254849/man-who-raised-loafers-lodge-fire-alarm-describes-horror-and-hardship
I was on the Area Health Board when de-institutionalisation was being implemented. We had an amazing GM for Mental Health, the wonderful, ethical, compassionate Les Ding. We planned carefully to reduce the beds at Sunnyside from 1200 to 120. This reduction had an extensive community-based support structure to support those who were being released from this institution. Then along came the "Mother-of-all-budgets". We received a knock on our doors as the Budget was being read by Ruth Richardson. We were sacked on the spot.
All the money put aside for community support was taken as "saving" by the man appointed by the Government. People were effectively tossed on the streets and community organisations were left to pick up the pieces.
That process of poor support for those who are often mentally ill has led to Loafers Lodge type places of last resort before the streets.
It's time for us to have a serious conversation as a decent society about the challenge of those who cannot speak for themselves.