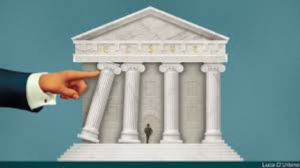 This week the Minister of Finance announced that the Banks had agreed to a 6-month holiday period for capital and interest payments. I thought back to the anger of people after the earthquakes, who took the holiday period for mortgage repayments finding that their mortgages were higher than what they had started with. The banks are not charitable institutions, so they gave the appearance of charity for PR purposes after the earthquakes, but kept charging. For everything.
This week I heard about a prominent national firm of lawyers. They reside in a new building in the Central City. They are paying their landlord 5% of their rent. This landlord will be bleeding from the ears. Their lenders will be showing them no mercy. Landlords across the country will be either not receiving any rent, or very little thanks to the Auckland District Law Society leases most of us have signed.
Businesses will have stopped receiving any income other than the wage top-up which the Government has handed out. We are all taking a hammering. Employers and the employed. Except the banks.
I have been seething since I heard an interview with the CEO of the ANZ bank on Checkpoint during the week explaining how their bank (which she said as an aside that it had been their 182nd birthday this week but they had made no fuss about it…so bloody what) was intending to implement this new policy. How they would do their bit. Their bit, remembering that they are definitely not a charitable organisation, will involve withstanding the cash flow delay of mortgage repayments (interest and capital) not being repaid for 6 months. The banks quid pro quo is that before they paid money to any business, or person, severely impacted by the Corona virus, they required a Government guarantee standing behind any of these loans. They will also continue to charge full interest on their loans.
In reality the Banks are giving nothing to our society at all, other than cash flow. Just as they did after the last bail-out in 2008. This whole exercise is being done at no cost to the banks. Here is a perfect example of how they will privatise their gains, and we all pay for any risk on their loans. Private gain, at a public cost.
As I pondered about the banks, I started to read a few forums. Here are some quotes which appealed to me:
Many who have been insolvent for years as they rely on:
Land prices continuing to rise
Interest rates to keep dropping
Labour to keep getting cheaper (see immigration)
All underwritten by the banks. Notice there is nothing in there about earnings or productivity. These are zombie companies which NEED to be cleaned out, so we have the lean/mean/productive companies left before the cycle starts again.
Will it be painful? Absolutely it will. It may even require us to reset the banks. But bailing them out because they didn't do due diligence on the people, they were lending to institutionalises bad behaviour. Just as bailing out failing zombie companies who haven't created a rainy-day fund, also encourages bad behaviour.
We need to create a system that encourages resilience in the face of the occasional disaster. That's definitely not what we currently have. A reset is what is required.
And this:
Coronavirus has brought on the present crisis, not the Banks. Having said that, the banks have not behaved well after being bailed out the last time. So, they have to pay.  For a short-term assistance now, they should be asked to forego majority ownership, excessive pay/bonuses, dividend repatriation, etc. Banks should be turned into Public Private Partnerships, with the Public having a stronger say.
And this:
Please print $15b a year so the banking industry can keep sending $5b offshore in profit each year.
And this:
The four major banks have taken over a $billion each in profit in each of recent years. Where is that profit now? Time to put it back in!
When I started reading around the world about this there seemed to be very little attention being given by the media to just how the banks are quietly ripping us off as a society, again. I read this article in the Guardian:
and in the Economist
Boris Johnson, Britain's prime minister, contrasts his government's response with the one during the last financial crisis: "everybody said we bailed out the banks and we didn't look after the people who really suffered". 
I know many of you have longer memories than me. You are also better researchers than me. I would like you to draw up a list of issues which we should be considering as we challenge the banks and ask for explanations on why every business in this country has had to make really hard decisions on how they will handle a complete absence of income, except the banks.
Here are some questions I have. Please send your responses. Add questions you feel I have left out:
How much were the banks assisted in the last bail-out in 2008 in New Zealand?
What profits have the banks made since 2008, and how much stayed in New Zealand, per bank?
How much have the executives of the banks been paid in the past few years, per bank?
Who are on the Boards of the banks operating in New Zealand and how much are they paid?
What is the turnover of each other banks in New Zealand?
Where do each of the banks loan their money (i.e. mortgages, business lending etc).
What control should the state have over banks in the future?
What suggestions do people have on restructuring the banking system in NZ?
Have we got to a similar position to when the Government of the time nationalised the BNZ in the 1930's?