I have told the story before of being stopped in an alley one day when I was first standing for Mayor. This guy, who turned out to be a leading business person in Christchurch, said "I'm going to vote for you. Do you want to know why?" I said "Yes I do". He said "because you said recently you had got something wrong and that you had changed your mind.  I respect people who admit that they got something wrong".
A couple of years ago Kim Hill was interviewing Sir Lloyd Geering, to celebrate his 100th birthday. It was a magical interview with Sir Lloyd as much on fire as ever. He truly is one of our more amazing New Zealanders. Kim read out something he had written some years ago and asked if that was what he really still believed. Sir Lloyd replied "yes, that was what I thought at the time, but now I've changed my mind". What amazing stuff. A 100-year-old man informing Kim that he was still thinking things through and was still changing his mind.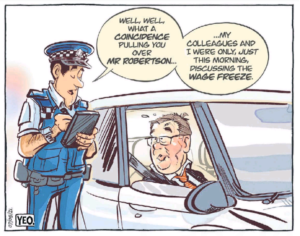 Over the past week the Government fell further into the self-dug hole they had buried themselves in the previous week over freezing state wages. They umm'd and aar'd about what they really meant. It was a wonderful display of tongue flapping. The basic issue is that they completely got the message they wanted in public wrong.
When Judith Collins says publicly that she would not have promoted a freeze on public servant's wages surely this made Labour Cabinet members sit down and contemplate what they had got wrong.
It's human to make mistakes. Say "we got it wrong" and we will forgive you. Here's a Newsroom article which sets things out nicely. https://thespinoff.co.nz/politics/11-05-2021/ardern-and-robertson-say-public-sector-wage-freeze-is-misreporting-but-is-it/.
An interesting outcome of this whole exercise might have been that inadvertently the Government has reminded workers how important unions are. The Government has very good pro-union legislation in the pipeline right now. For penance (a task especially understood by Catholics, even lapsed ones) the Government could fund a campaign to educate a generation of young people who have never been exposed to the great potential of the union movement.
This would stop them ever proposing the freezing of wages again.