Recently Martyn Bradbury wrote:
The Neoliberal NZ experiment: You are never allowed to question the de-unionised work force that amputated wages, you can never question selling off our assets, you can never criticise the growth mentality, you are never allowed to attack the free market outcomes and you can't step back and evaluate the 35 year neoliberal experiment in NZ because you remind the wage slaves of the horror of it all.
I am soaking up books which demonstrate how we continue to be ripped off by "consultants".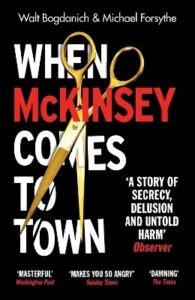 The first one is: When McKinsey Comes to Town – a story of secrecy, delusion and untold harm
This book has been described as: An explosive exposé of a firm whose work has made your world more unequal, more corrupt, and more dangerous. McKinsey & Company have earned billions consulting almost every major corporation in the world – and countless governments, including our own. Shielded by NDAs, their practices have remained vague – until now.
The next book is: The Big CON by Mariana Muzzucato and Rosie Collington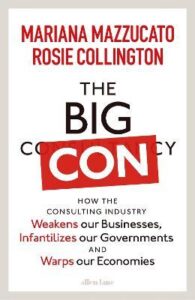 This book has been described as: A vital and timely investigation into the opaque and powerful consulting industry–and what to do about it.
There is an entrenched relationship between the consulting industry and the way business and government are managed today that must change. Mariana Mazzucato and Rosie Collington show that our economies' reliance on companies such as McKinsey & Company, Boston Consulting Group, Bain & Company, PwC, Deloitte, KPMG, and EY stunts innovation, obfuscates corporate and political accountability, and impedes our collective mission of halting climate breakdown.
I bought this book to understand the motivation of some of these outfits which are earning a fortune from CCC as the executive attempts to justify selling our assets in CCHL.
It's worth reading this link about PWC just in case you thought the book above is incorrect: PwC Cyprus moved £1bn for Russian tycoon on day he was put under sanctions | Business | The Guardian
Finally: Techno Feudalism – What Killed Capitalism by Yanis Varoufakis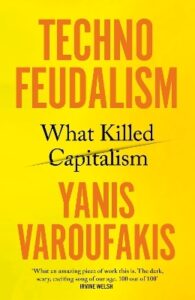 The latest book I am reading, and I can't put it down, is a fascinating study of what is driving world economics right now. It has brought me up with a start just how by using our phones and computers and tech devices we are enriching a very new type of capitalist who is well away from the local traders and people who employ us. By the way we live we are creating vast wealth, and this is far removed from village. Or local. They control the internet, and this book analyses it brilliantly.
This book has been described as:
In a revelatory and pathbreaking work, the #1 international bestselling economist opens our eyes to the new power that is reshaping our lives and the world . . .

"The Thucydides of our time." —Jeffrey Sachs

Big tech has replaced capitalism's twin pillars—markets and profit—with its platforms and rents. With every click and scroll, we labor like serfs to increase its power. Welcome to technofeudalism…