One aspect of the sub-contracting model came home to me this weekend. I was visiting a house which has had a dodgy-brothers refit. Slowly the plugs fitted to the walls are coming loose. The thin paint sprayed everywhere has already started to wear. Every part of the job was undertaken by subbies. They had a job to do, within a fixed budget. Little pride is taken as each sub-contractor was not part of the whole. Some tradies take pride in their work. Many don't.
This house was a mini version of how many big contracts are also run. Think about the PPP's which have been undertaken in this City. Think about the massive over-run costs of Te Pae. Of the blowout of the hospital rebuild under a government contract. Look at the swimming pool in Moorhouse Avenue which seems to have almost ceased construction. Consider Transmission Gully. All these contracts were run by the same company.
In this article Reconfiguring the Public-Private Partnership Model to Work for NZ Infrastructure | Newsroom in Newsroom recently they discussed PPP's under the following headings:
Myth one: Public infrastructure can be delivered by passing all risk to the private sector for a fixed price.
Myth two – PPPs deliver the best outcomes.
Myth three – Transparency and accountability are a top priority for PPPs
The article concluded with the following observations:
The Transmission Gully and Pūhoi to Warkworth PPPs have both included a design and construct contracting model for the capital build. Procurement fundamentals would further say that design and construct contract models should only be used for well-defined and less complex projects. And yet we have used them here to deliver some of New Zealand's most complex and risky public infrastructure projects, in order to provide a fixed price and guaranteed return for the finance companies.
So let's consider changing the contracting model within the PPP to a better risk sharing and collaborative model such as an 'alliance'. This also means we have to face placing more risk on the returns for financing organisations and government delivery agencies.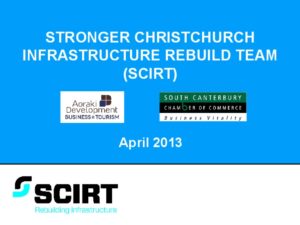 Guess what? This is the model which Rod Cameron and his associates at SCIRT have been advocating since the earthquakes. Because that was how some of the companies rebuilding our city operated to achieve progress. The SCIRT Learning Legacy
When will Wellington bureaucracies ever learn? They developed a model down here and then abandoned it. Is anybody listening? Sigh.
Listen to Bernard Hickey
Latest accidentally-on-purpose migration wave unleashing more unintended and ugly consequences; Why not openly plan and build for 1.5% to 2% annual population growth annually?