1. Phil said he would reduce rates to between 3 and 4.5%.
This week he appeared to have given up on that goal. Here's what was reported in the Press recently:
Mauger, who was elected last month, campaigned on keeping rates affordable. He has indicated that he wanted annual rises set between 3 and 4%.

Asked this week if that was still achievable, Mauger joked, "Haven't you got any other questions you can ask me", before adding: "It is going to be challenging, that's going to be very challenging because of what's happening globally."

The council was under "lots of pressure" from inflation and interest rates, Mauger said.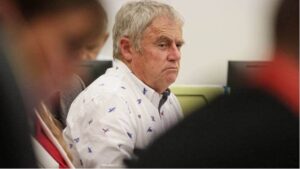 Phil promoted the low rates idea, but he isn't guilty on his own as this myth had many owners. Remember the secret meeting called after the now famous 11.11pm email from Jamie Gough on behalf of Phil and Sam MacDonald? This was to set up a meeting with the CEO. The proposed 3 – 4.5% figures were on the agenda and recorded in the CCC notes of the meeting.
This week the CEO is reported as saying:
Christchurch City Council's boss believes getting the city's projected 8.9% rates rise down to 5% – as promised by the mayor during his election campaign – will be impossible.

Dawn Baxendale made the comment shortly before councillors decided not to investigate service cuts to reduce rates.
This was an error as well. 5% was never mentioned during the campaign.
The numbers being promoted to the public by Phil Mauger as a mayoral candidate must have been known to have been fictitious by both the CEO and the CFO who were at the meeting. Did they warn Phil of the error of his promise? If not; why not?
https://www.stuff.co.nz/the-press/news/130678919/getting-christchurchs-rates-rise-down-to-5-is-impossible-council-boss-warns.
Sam MacDonald is probably the most powerful councillor at the council table. He is a chartered accountant and was a close advisor to Phil during the campaign. He sat as deputy chair of the Finance Committee last term. He should have known what was happening with costs. Why did he let Phil keep repeating his chant of 3 – 4.5% rate increases? Because they were just playing an old-fashioned political game? Maybe now they are dealing with the consequences.https://www.stuff.co.nz/the-press/news/130710682/why-christchurch-rates-are-so-high-and-how-the-council-is-responding
2. Phil said he would restore confidence in the Council
It's disturbing how the council continues to operate in secrecy. The budget discussions and background papers were kept from those of us who are interested in ensuring we have a well-run organisation with rate increases which are bearable.
On 23 November I asked CCC:
I would be grateful if you could supply me with the following papers:
Any briefing papers/presentations for elected reps on potential rate increases before any adjustments are considered.
The impact of revaluations on Christchurch for both residential and commercial.
The impact of potential rate increases on the revalued areas of the city.
I received this prompt reply from the communications team of CCC who really are helpful and answer questions promptly:
We have not given a current estimate of what the rates rise will be, this will not be until later briefings.
I knew this to be not the case, so I pursued it further. The reply came back:
Just to let you know that I have discussed this with staff, and someone will get back to you tomorrow.
Well, "tomorrow" was the 24th of November. I still have not heard. I'm particularly interested in the assessment of the impact of revaluations and how they will fall. Especially on the low-income suburbs.
Phil will be the one who will be judged by this behaviour. It certainly does not engender confidence in the administration, which Phil keeps defending.
By appointing a young National Party hack to run his office also makes Phil vulnerable. This young man, slowly climbing up the ladder of a political party, has zero knowledge of the council and council processes. His appointment will make the public even more suspicious of what's happening at CCC.
3. Phil said he would not sell assets:
The report which was produced by Northington Partners was, in my opinion, weak and riddled with poor analysis. It appeared to have been written to a brief. This week I have asked the following questions to get to the bottom of my suspicion:
I would be grateful if you could supply me with the following:
The Council papers where it was agreed to appoint Northington Partners to undertake a review of CCHL.
How were Northington Partners chosen for this position.
What other consultants were considered and who assessed the options and made the final recommendation.
A copy of the formal brief to Northington Partners.
Details of who briefed Northington Partners after they were appointed and how many times they met.
I have also requested all the correspondence between Leah Scales and Dawn Baxendale and Northington Partners and staff at CCHL.
In the Press this week it was reported:
Christchurch City Council is pushing ahead with the first step towards partially selling its blue-chip assets.

Following a lively two-hour discussion on Wednesday, the council voted 10-7 to develop detailed business cases looking at the costs and benefits of partially selling off its assets.

The move is in line with recommendations from an independent review into the council's investment arm Christchurch City Holdings Ltd (CCHL), conducted by investment bank and corporate advisory business Northington Partners.
In the Press this week it was reported:
Cr Melanie Coker pointed out that during the election campaign mayor Phil Mauger said he would not sell any assets.
In response Phil Mauger said:
"…. his dad used to say "if you are standing still, you are going backwards".

"CCHL is standing still. He said the council was not putting up a for sale sign tomorrow, but it needed to be aware that if the alpine fault went and Christchurch got flattened, it had all its money in one basket.

" We need to spread stuff around over different parts of the county and get our income coming from different streams."
The key issue is that Phil repeated throughout the election campaign that he would not sell assets
I don't disagree that the CCHL suite of investments need to be carefully and constantly monitored and assessed for the performance of investments. City Care already trades all over the country and is hardly a stunning performer. If that's Phil's test it might not be a good one.
https://www.stuff.co.nz/the-press/news/130678922/christchurch-city-council-heads-down-the-path-of-selling-assets.
It's in everybody's interests for us to have a high performing council in Christchurch. There are many of us who are prepared to walk alongside elected reps and support them. Right now, my observation is that there are many competent people amongst them. They just need to community support.