On March 1st Council are voting on Housing Intensification. Four young candidates who stood in the local elections last year (Finn Jackson, Cashmere Community Board; Hannah Watkinson, Heathcote Community Board; Benny Gilling, Spreydon Community Board; and Harrison McEvoy, Innes Community Board) sent the letter below to Councillors in support of notifying the plan change. They are encouraging others to contact their Councillor in support of notifying – it will be a close vote.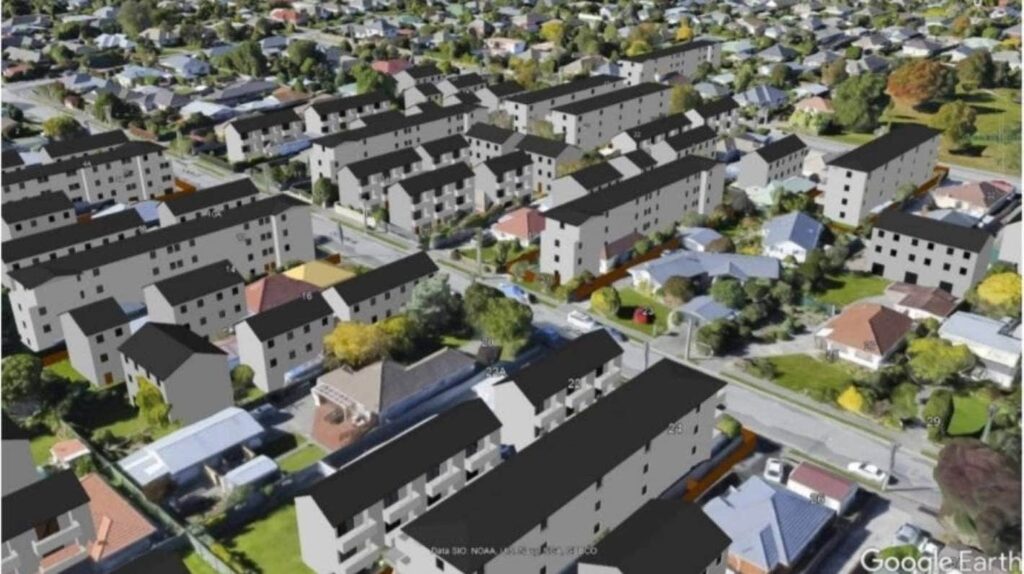 Kia ora Councillors,
We're writing to you about the upcoming Council vote on Plan Change 14 – Housing and Business Choice. We hope that this time you'll vote to notify the plan change and give everyone in Christchurch a chance to have their say on housing in their city, including young people like us.
Christchurch is New Zealand's second largest city and the capital of the South Island. We need a range of affordable housing options that reflects this status and adequately serves our growing population of students, young families, the elderly and people of differing levels of physical ability. We need good quality homes with easy access to services and amenities in areas safe from natural hazards, and to preserve the areas of our city that objectively need and deserve it. That is what Plan Change 14 will do.
House prices are generally considered to be affordable when house prices sit between 3-5 times the median annual income, or lower. According to Corelogic, as of August 2022 house prices in Christchurch are 9.1 times the median annual income, meaning borrowers have to save for more than 10 years to have enough for a deposit. This is rated as severely unaffordable by international standards. Our rent to income ratio is the second highest of New Zealand's main centres and rising, with 28% of the median weekly income going on rent payments. Christchurch was one of only two cities in New Zealand to see rents rise in the second quarter of last year.
More housing means lower rents, and eventually lower housing prices. It's basic economics – to lower prices you can either increase supply, or reduce demand. The Productivity Commission estimates that restrictive zoning rules were responsible for 41% of the increase in house prices between 1978 and 2018. Due to the notification of the Auckland Unitary Plan in 2016, rents in Auckland are now lower in real terms than they were in 2016, particularly for low-income renters. The evidence is there – increasing supply works. Restricting development doesn't.
Christchurch needs to do intensification right and build good quality homes. Our current planning system attempts to force medium density homes into pretending to be standalone, single-family houses. This results in concrete-heavy, sausage flat developments that remove trees and permeable surfaces, raising the risk of flooding during storms and intense heat during summer. Plan Change 14 will allow for new models of housing to be built which avoid these problems – which can't be built under the current system.
We need to build homes in areas that make sense. Plan Change 14 will allow for more homes to be built in areas with easy access to services and amenities like doctors and supermarkets, or even cafes and bookshops. Currently, only 24% of Christchurch's population lives within a 10-minute walk of a supermarket. These areas have existing pipes and roads, meaning providing infrastructure will be cheaper than continuing to construct whole new suburbs out of urban sprawl. It will also prevent development in areas at high risk of natural hazards like flooding, or future hazards such as sea level rise resulting from climate change. Imagine a city of safe, sustainable, vibrant neighbourhoods, with residents supporting local businesses and growing the local economy. That's what is at our fingertips!
Plan Change 14 preserves our cities' genuinely historic and important areas. We know this because qualifying matters, including for heritage and neighbourhood character, are required to have an evidence base justifying their existence. This removes subjective judgements from the planning process and introduces rigorous, evidence-based standards – ensuring that all areas are treated equally, without the opportunity for favouritism.
By increasing housing supply, you can take a first, big step in turning housing back into a basic right for everyone, rather than an investment asset for the already well off. We're living through a cost of living crisis, and the need for more, better quality housing in different sizes and that meets different people's needs has never been more important.
We look forward to your response.