At this time it is essential to focus on what makes up the housing system. The whole process from purchasing land to the family finally walking through a completed home. The system is unnecessarily complex and there are groupings within the whole system who have no financial interest in changing. That includes the Government.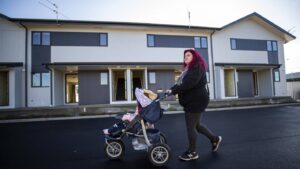 In my opinion the person who continues to speak the most sense is Bernard Hickey. In an article last week, he wrote a very interesting piece analysing the Stuff article on a 25-year-old who owns 5 houses and who aims to own many more. Bernard analyses how our structures assist this woman, and the thousands like her with many properties, in what is basically a testimony to greed. He arrives at the following conclusions:
Unlike investing in shares or other types of businesses, the Reserve Bank and the Government have shown repeatedly they will intervene to stop house prices from falling substantially, both to protect banks and the wider economy. Meredith have stumbled onto the biggest dirty little secret of investing in New Zealand: it is Government guaranteed.
Politicians from both sides refuse to consider taxing the capital gains properly or bring in a wealth or inheritance tax that would crystallise some those gains as income to be taxed, as other forms of income are taxed. The Reserve Bank will cut interest rates and rescue banks to stop any spiral downwards in house prices. The Government will also avoid flooding the market with extra housing supply to avoid downward pressure on the asset values of most voters.
The cherry on top is the $4b worth of taxpayer's money paid each year to renters as Accommodation Supplements to help them afford the rents, which are the most unaffordable in the OECD. The Government subsidises and guarantees landlords to the tune of $10b-plus each year in taxes not collected and subsidies delivered in accommodation supplements.
When Governments of the pre-1984 era gave that much in subsidies to one sector — guaranteed minimum prices for sheep farmers — there was outrage among taxpayers in general and eventually they were abolished as unaffordable.
Property investing is a sure thing, as Meredith has not-so-quietly realised. Unlike the volatility of other assets, buying residential property means support from a bank that won't be allowed to collapse and support from a Government that doesn't want prices to fall.
Prime Minister Jacinda Ardern said as much late last year when she said the Government's aim was moderate house price inflation of around 4% per year, and that she did not want prices to fall. Her Government and the Reserve Bank acted aggressively last year to ensure just that.
Many landlords also claim their capital gains are hard earned and should not be given up to those unwilling to take the risks of investing or saving deposits. However, as demonstrated above, the equity that most investors use for their deposits has come from the untaxed capital gains on other properties.
Here's the article https://thekaka.substack.com/p/its-not-risky-or-hard-work.