It is excellent when any Government passes legislation in support of low paid workers. However, what also needs to happen is the Government then needs to allocate additional funds to pay for these extra wages. I wonder if this happened with these low paid health workers.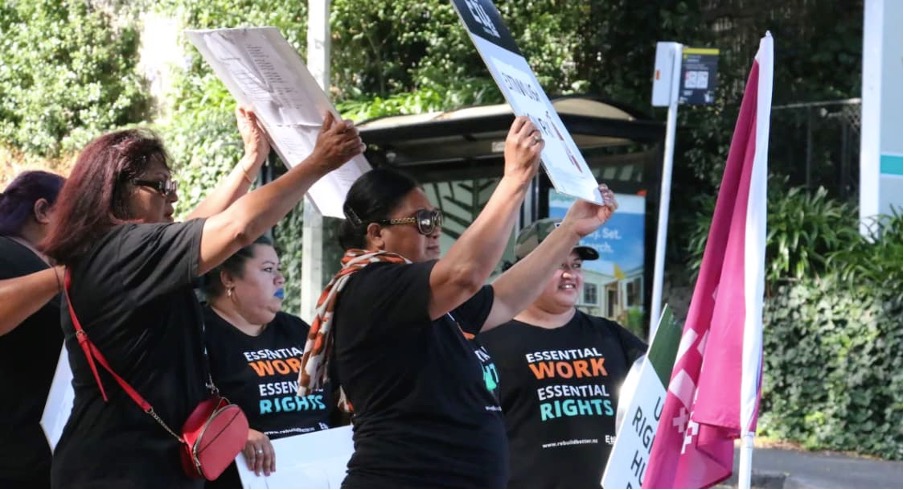 Consider this scenario. You are sick at home, which is a lot less expensive for DHB's than having people in hospital beds, and you are cared for by a health worker. In the case before the Courts this worker will probably be a woman and it appears in this dispute that she is required to supply her own car. In the story below the social service agency of the Methodist Church in Auckland, Lifewise Trust, has contracts with these workers. Essentially the Church social service agency appear to be ripping them off badly. I'm not sure whether it is the Church Trust's financial decision to operate in this matter, which I hope is not the case, or because the Government has not funded the increase in pay properly.
Consider this case study in the article:
Every working week, Susie Kaio, who provides care for elderly and disabled people in their own homes, is available to her employer, Lifewise Trust, (an agency of the Methodist Church in Auckland) for 42 hours. Of those available hours, Lifewise guarantees only that she will be paid for just 25 hours.
Those 25 hours are rostered in dribs and drabs, from 7.30 in the morning until 5 in the evening Monday to Thursday, and from 7.30am to midday on Fridays. On a good week, Kaio might be allocated a few additional hours, but usually not. However, the deal is that she is available at the end of the phone for the full 42 hours, in case Lifewise needs her to climb into her Toyota and go to a client to check on their health, or to help with showering, toileting and dressing, or to do housework, prepare meals and shop for groceries.
She is paid $25.50 an hour for her 25 guaranteed hours, plus any additional hours that Lifewise might give her. She gets nothing for the remaining time (usually 17 hours) that she is available to her employer.
Between client visits there are often gaps of two or three hours, for which she isn't paid. This downtime is generally not long enough to bother going home, and because rosters are released only a week in advance it's virtually impossible to take on a second job to boost her inadequate income. She and fellow workers who are in the same situation generally don't want to kill time at a café or a mall because they don't have the spare cash to waste on coffees or other luxuries. Often, they just sit in their cars on the side of the road as they wait between client appointments.
Lifewise calls this the "bucket" model of available and guaranteed hours. Kaio's weekly "bucket" is filled with 42 hours of her time, from which Lifewise has guaranteed to take and pay for 25.
I applaud the Union which is backing these workers. How often do we hear about the divide between the rich and the poor? Well, this is a Church agency which is participating in exploiting workers. Whether it is by choice or because of inadequate funding I'm not sure. If it's inadequate funding then the Church agency should be joining the workers in the Court.
Here's the article which is quite distressing. https://www.newsroom.co.nz/when-the-bucket-runs-dry-its-time-to-strike