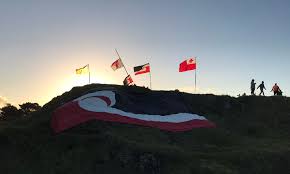 I found this article, in Newsroom, a lesson on history which we certainly weren't taught at school. We learned about the history of Great Britain and other important issues, but little about our own land. This article by a historian reminded me again of just how unjust so much of the treatment of Maori was.

https://www.newsroom.co.nz/2019/09/03/764183/stolen-mori-land-no-abstract-concept
The bit which really hit home to me was the last paragraph. This made me angry an reminded me about the people at Ihumatao and the genuine basis for their feeling aggrieved. These guys were in Parliament, they controlled the media and they formed the BNZ and loaned money to themselves to steal the Maori land.
Russell and Whitaker didn't stay in government long, having only needed a short period to make their mark. One historian commented that it was rare to see a politician "place themselves in a position so morally difficult to hold", and it was a fairly made point.
They had used their wealth and connections to encourage a war against Māori, using the press for propaganda, their bank for financing, and their political office to put a veneer of legitimacy across the entire proceeding. At its core, it was a well-managed heist that targeted Māori land with the reasoning that European needs were more important than Māori rights.