Martin Meehan – Hands off Hagley writes: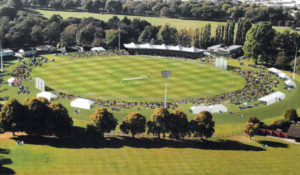 Tessa, In the CCC pamphlet " Have your say Hagley Oval lights "there is an invitation to a walk and talk to find out where the lights will go. Hands off Hagley as a founding member of the Hagley Park reference group take a keen interest in all matters pertaining to Hagley Park. It seems to us that in order to provide meaningful feedback and be fully informed, people on the day must be able to see accurate representations of what is proposed. These include.
At each of the six proposed light towers, the accurate dimensions of the utility cabinets for the base of each tower be clearly marked out.
That inside each of these sites a circle representing the 2m diameter lighting pole is clearly marked out.
At at least one of the sites a container of the real dimensions and height of the utility cabinets transformer and kiosk is put in place.
A crane or cherry picker is hired and at the height of 49 m displays an accurate simulation of the lighting heads at 10m x 14.5m.
The costs for this should fall to Regenerate and CCT and not on the ratepayers of Christchurch.
Anything less than this will mean that submitters to this proposal will not be fully informed and make the walk and talk a meaningless exercise
I look forward to your reply