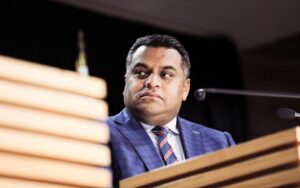 The Minister of Immigration Kris Faa'foi has made what appears to be an excellent announcement freeing up some of the blockage in the immigration system in New Zealand. For this he is to be congratulated. It really needed to happen. 
The policy was explained in RNZ website:
The applicant must have been in New Zealand on September 29 2021 and must hold or have applied for (and subsequently be granted) a work visa.
They must also meet one of the following criteria:
lived in New Zealand for three or more years, or
earn above the median wage ($27 per hour or more), or
work in a role on the Long Term Skill Shortage List, or
hold occupational registration and work in the health or education sector, or
work in personal care or other critical health worker roles, or
work in a specified role in the primary industries.
The visa will also be available for those who entered New Zealand as critical workers for roles six months or longer until July 31 2022.
Partners and children could be included in the application and Faa'foi said the majority of applications would be granted within a year of applications opening.
Faa'foi said people who are already in the queue for a residence application will be prioritised when the applications for this visa open.
"Anyone who has put in an expression of interest, who have dependent children 17 years or over will also be prioritised in the first wave."
"This initiative addresses that immediate issue while work on the immigration rebalance looks longer term at preparing for the eventual reopening of New Zealand's borders.
"But our message to industries and employers remains clear; they need to look for ways to build resilient workforces and to attract, train and retain local workers and reduce their reliance on low-skilled migrant labour."
Here's the link to the article https://www.rnz.co.nz/news/national/452592/government-offers-one-off-visa-to-fast-track-skilled-migrant-residency
I have often wondered whether the delays in South Auckland becoming vaccinated reflects PI's covering up for illegal immigrants. The new immigration policy might mop this up hopefully. Though at the front of many Pacifica frontal lobes will be the memory of the Dawn Raids. The apology will have settled some distrust, but I have spoken to several PI mates, and they are reserving their celebrations until they see genuine action by the Government toward them.