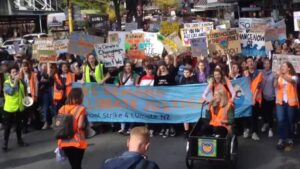 Global Climate Strike
Fri 3 March, 3.00pm
Cathedral Square
School Strike 4 Climate are BACK with their first strike for 2023, demanding transparent and meaningful climate action from our decision makers.
Bring your placards, banners, masks, and loving rage as we stand together to ask: 💥
WHO WILL STAND FOR OUR FUTURE? 💥
🌼 Be there.
🌼 Share our event.
🌼 Tell your friends.
🌼 Bring your mum.
🌼 Tell the bro.Your voice matters!
Facebook event here.