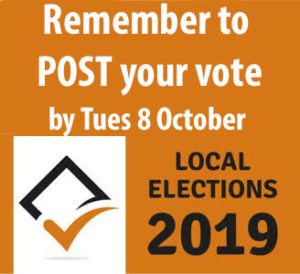 It's a real worry that the voting pattern right around New Zealand is bad for the Local Government elections.
If we look at Christchurch by this time in 2010 the percentage was 21.94%; in 2013 it was 24.21%; in 2016 it was 21.18%; and this year it is 17.58%. These numbers should cause our City leaders to have a close look at what is causing this and how we can address it. This debate needs to be had publicly and engage a broad spectrum of our residents. Especially those who will not vote.
The vote is especially low in Christchurch Central where there is genuine uncertainty about what exactly Deon Swiggs is doing. Deon is quoted in the Press as asking his constituents to:
"wait just a couple of days more" before deciding who to vote for in his central ward, when he hoped to be able to "clarify my position further".
I think Deon has had quite sufficient time to think things through and owes it to the voters to say what he is doing. I hope he makes the right decision.