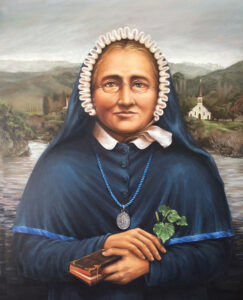 Over the holidays I travelled through Whanganui. It made me think me about that amazing nun Mother Suzanne Aubert, who started the sisters of Compassion, and worked with Māori families up the Whanganui river. Aubert was an incredible woman. She worked alongside Māori from the time she arrived as a French immigrant. She became fluent in Te Reo and as a trained scientist was an early recorder of Māori herbal medicine.
Single mothers were welcome at the Home of Compassion she founded and were encouraged to keep their children. Something which was an anathema to the Catholic Church, and much of society at that time. She fed the poor and was constantly at war with the hierarchy of the Church, in fact with anybody in authority who got in the way of her commitment to people. Especially the poor. In fact, one Bishop recommended that she return to France. It's ironic that Suzanne Aubert is remembered now, but that Bishop rests cold and unremembered in a graveyard somewhere. Forgotten. He might then have had power, but she lived the Kaupapa of the Church and is the one who is honoured nowadays.
When Suzanne Aubert finally got fed up with the local hierarchy she went to Rome and obtained permission for her order to be accountable to the Pope and not the local Bishops.
I love people who retain the Kaupapa of the institution they are part of and annoy those who are in positions of power. Because they have remained true to their ideals and their ethics and refuse to succumb to the power games which are played in every institution.
Another person who retained these qualities, also religious, was Bishop Desmond Tutu. He must have been a constant worry to the hierarchy of the Anglican Church, which after all is hardly radical in its actions. He challenged authority in South Africa when it was personally dangerous. His life must have been at real risk. But he continued as a voice of conscience in his homeland. Often with enormous grace and good humour.
Tutu was a consistent commentator of leadership, especially those who were abusing their power, and when the ANC behaved badly, he was one of their more eloquent critics.
Desmond Tutu died at the end of last year and we remember his bravery, his ethics, and his humour. He truly was not constrained by the institution he worked within, and he was a better person than those who stayed silent.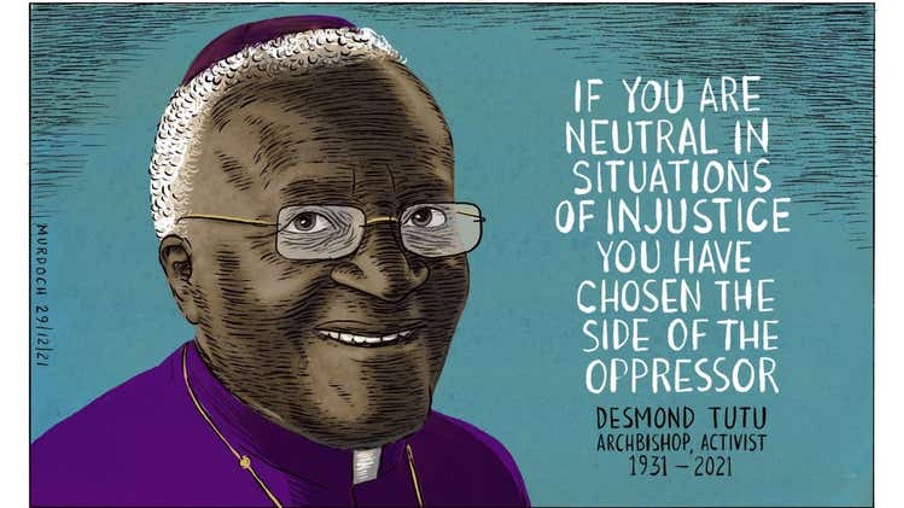 Following this theme of courage and commitment to honesty and integrity it was pleasing to see that the Nobel Peace Prize for 2021 went to two journalists fighting separate battles to safeguard freedom of expression 'A precondition for democracy and lasting peace'. Here is the acceptance speech from renowned Philippine's news site editor Maria Ressa. 
In the article What are YOU willing to sacrifice for the truth? (newsroom.co.nz) in her acceptance speech Maria Ressa said:
…. technology, with its God-like power that has allowed a virus of lies to infect each of us, pitting us against each other, bringing out our fears, anger, and hate, and setting the stage for the rise of authoritarians and dictators around the world.
Our greatest need today is to transform that hate and violence, the toxic sludge that's coursing through our information ecosystem, prioritised by American internet companies that make more money by spreading that hate and triggering the worst in us… well, that just means we have to work much harder. In order to be the good, we have to believe there is GOOD in the world.
And then she said:
Social media is a deadly game for power and money, what Shoshana Zuboff calls surveillance capitalism, extracting our private lives for outsized corporate gain. Our personal experiences are sucked into a database, organised by AI, then sold to the highest bidder. Highly profitable micro-targeting operations are engineered to structurally undermine human will – a behaviour modification system in which we are Pavlov's dogs, experimented on in real time with disastrous consequences in countries like mine, Myanmar, India, Sri Lanka and so many more. These destructive corporations have siphoned money away from news groups and now pose a foundational threat to markets and elections.
Facebook is the world's largest distributor of news, and yet studies have shown that lies laced with anger and hate spread faster and further than facts on social media.
These American companies controlling our global information ecosystem are biased against facts, biased against journalists. They are – by design – dividing us and radicalising us.
Without facts, you can't have truth. Without truth, you can't have trust. Without trust, we have no shared reality, no democracy, and it becomes impossible to deal with our world's existential problems: climate, coronavirus, the battle for truth.
And she ended:
Now it's time to build – to create the world we want.
Now, please, with me, close your eyes. And imagine the world as it should be. A world of peace, trust, and empathy, bringing out the best that we can be.
Now let's go and make it happen. Let's hold the line. Together.
All these people lived within institutions. They retained their ethics and practiced them publicly, and courageously. Each of them demonstrating enormous courage. Their stories inspire people.
This year is election year for local government
Is it too much to expect our local candidates to be models of ethical and honourable behaviour? Politicians are too often held in low regard by many in our community and it is time for us to require them to live by higher standards.
This year the Tuesday Club will canvass many ideas and talk with many candidates.  We will get in behind the good ones who aspire to make this a better city, Island, and country.