Today I am considering the decision by the Labour government to remove our water infrastructure from local control. This is the worst abuse of power I have ever seen by central government toward local government. In this column I analyse the actions of the Minister, the involvement of an international credit agency and where I have got to politically because of this error ridden neo-liberal decision.
Remember when we last heard the words "there is no alternative" (TINA)? It was used by Roger Douglas and his henchmen. On Wednesday 27 of October 2021 the Minister of Local Government, Nanaia Mahuta uttered the same words as she stole our water services from us, the people who had paid for them.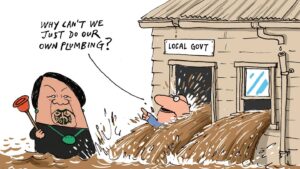 Just think what TINA has done to our society. Remember those who were participating in our society and were left to rot after the 1980's and 1990's Labour and National governments. Some accepted that there was no alternative at the time but later realised they had been duped. There were those who sat back horrified as asset after asset which had been paid for by previous generations were flogged off to mates of the Business Roundtable. That was TINA. And now it's back. Managed by all the same forces.
This time the assets are being taken by the government using all the same arguments as in the 1980's about "efficiency" and "effectiveness" and "independent board members".
The timing of the preparation of the cabinet papers is interesting:
It has become apparent that the 6 week "consultation" process, which local government put so much effort into, was a complete sham.
The Cabinet papers recommending the decision for them to make on 3 Waters were signed off on the 18th of October. On Friday afternoon on the 22nd of October, 4 days later, the summary of the submissions from local government were completed and sent to the minister's office. The Cabinet papers were written before the summary of submissions from local government had been completed. What everybody from North Cape to Bluff had poured massive effort into was a complete waste of time.
Here's the link to the Cabinet papers. Check the date at the top of the document:
https://www.dia.govt.nz/diawebsite.nsf/Files/three-waters-reform-programme-2021/$file/cabinet-paper-three-waters-reforms-further-decisions-18-october-2021.pdf.
Here's how Minister Mahuta attempted to soften the blow:
The Minister announced the 3 Waters reform would be going ahead and said:
Work is underway to establish a working group of local government, iwi and water industry experts to work through elements of entity design. The group will work through the enhancements to entity design and look at the governance and accountability arrangements of the entities, as well as provide an opportunity for public participation and consultation.
Well, judging by her behaviour to date, Mahuta will appoint a group of patsies who will agree with what she has decided on and maybe change some small things.
In the Minister's statement she said:
It is a bottom line for the government that the entities remain in public ownership," said Nanaia Mahuta.
"We will continue to work with councils and ensure that local participation is evident in the critical next phase.
That's lofty and encouraging rhetoric. However, here's what the background papers released by the Department of Internal Affairs said:
Public consultation on these reforms will occur at a national rather than local level.
This sort of behaviour is precisely why the public are suspicious of these reforms. They've seen this before; by earlier Labour and National governments. The Minister says one thing and that is reported, and the officials say the opposite. One thing I have learned in life. The officials always win.
I want any of you who read this to turn on your tap. Drink the water. Then walk along a riverbank, or into the Red Zone. Stare at the water and say to yourself "at the moment if I have a concern about any of this, I can contact the Council or one of the elected reps". Soon that will all be over.
Standard and Poors rating agencies demands helped to set the design of the proposed agencies:
The credit rating agency, Standard and Poors, told the government, in papers released recently, essentially that they had no confidence in elected reps managing the water services. The papers released refer to 3 boards, which must have subsequently changed. They wanted "proper" boards with people who make sensible decisions. I've sat on many boards with the sort of people acceptable to S & P and they won't worry about what you think about your riverbank or waterway. They will protect their fees and defend the decisions of the executive. Some will be excellent board members. Most won't.
If you want an example defended by Megan Woods, have a close look at the board and executive of Otakaro Ltd. Just try to get any information out of them. I once applied for some of their minutes. It took 15 months to get them, and it was only after the intervention of the Ombudsman. Otakaro used a very expensive firm of Wellington lawyers to try to stop having to release any information.
When I finally got the information do you know what I found? One of the first items considered by the new board when appointed was their fees. They put them up. Above those established by the government. In committee.
The new water boards will be Otakaro Ltd on steroids.
Here's what Standard and Poors wrote to the government (WSE is an acronym for "Water services entity):
In addition, the independence of the board of the WSE from the local councils inform our view that the WSE will implement tariff increases on a periodic basis to earn all of its allowable revenue in a given period.
This is polite language for they can charge what they like for our water.
and further on they say:
We assess the company's financial metrics against our medial volatility table given our view of the regulatory environment. We believe that the WSE will have somewhat stronger ratio of FFO-to-debt in the first couple of years of its operations based on proposed capitalization.
However, this ratio is expected to weaken as leverage increases in response to the capex needs.
These sentences identify that the capitalisation of the new entities will cover their borrowing rules. In Christchurch's case the net equity which CCC will contribute to the new proposed structure will be $5.9billion. That sum will finance most of the South Island if we apply a S&P lens which totally discounts accountability in the normal sense and democracy.
A reminder of the complicated structure which is to be put in place to establish the 3 Water structures. They go like this:
The 21 Councils in the South Island will have to agree on a yet not specified number of people who will go on a selection panel. Ngai Tahu will have an equal number of people on this panel. S&P refer to this group as the "governors".
The "governors" will select a panel to choose the Board for the new entity. S&P refer to this group as the "independent selection panel" or "ISP.
The "ISP" recommends the Board members (half of whom must be nominated by Nga Tahu) and these will be approved, or not, by the Minister.
Having got our heads around this complicated process (which is far from democratic on its own) now consider what S&P wrote (they recommended scenario 1):
Under scenarios 1-2 and 4-6, local councils or the Governors will not have approval rights or the power to direct the WSE on pricing or investment decisions. WSEmanagement will make these decisions independently. The Governors may remove an ISP member via a special majority vote (say 75%), but the ISP is responsible for
appointing and removing board members. The Local Government Act 2002 will be amended to remove the obligation that local councils are responsible to provide water services
My interpretation of these sentences is that S&P do not want Councils to have any ability to direct the water services entity (WSE) to undertake any particular investment (think Dudley Creek Diversion; or riverbank enhancement; or waterway enhancement; or development of the Red Zone) or how much residents are to be charged for water. There will be absolutely no local input.
Further to this the "governors" can only change an ISP member with a 75% vote and their only responsibility is to appoint board members of the WSE. Local government is effectively garrotted by this proposed structure.
Here's what Chris Trotter wrote about the 3 Waters proposal, especially as it related to S & P:
What featherbrained bunch of bureaucrats dreamed up this complicated and unaccountable system? The answer, sadly, is bureaucrats who wanted the new Three Waters "Entities" to be able to borrow the billions needed to upgrade our drinking, storm, and wastewater systems as cheaply as possible. To achieve this, they rang Standard & Poors – the credit-rating agency – and asked them what they needed to do – structure-wise – to get the best deal. The ratings agency (surprise, surprise) told them that the "Entities" had to be sealed-off, hermetically, from the influence and interference of interested parties – i.e. you and me. In the jargon: the Councils and the "Entities" had to have "separate balance sheets".
Please don't tell me you're surprised. That's how Neoliberalism works. It does all it can to insulate the key economic and social decision-makers from the influence and interference of politicians elected by the people on the receiving-end of those same decision-makers' resolutions. On the Neoliberal balance sheet, Subsidiarity and Democracy simply do not add up.
Here's the whole article by Chris Trotter https://thedailyblog.co.nz/2021/10/29/three-waters-whats-not-to-like/.
Here's the S&P papers https://www.dia.govt.nz/diawebsite.nsf/Files/Three-waters-reform-programme/$file/rating-evaluation-service-res-letter-three-waters-reform-programme.pdf.
LGNZ:
LGNZ have let the sector down badly. This week I wrote an email to Stuart Crosby the current President of LGNZ and said:
I have been working hard behind the scenes bringing Councils together to resist the central government 3 Waters reforms. I left local government 14 years ago but have kept an active interest in our local council.
As a former member of the LGNZ board (I can't remember how long I was there) I was appalled that you signed the Letter of Agreement with central government over 3 Waters Reforms. This constrained your ability to independently criticise what was being proposed by government. LGNZ will now be seen as lackies by government in their determined bid to steal water from local ratepayers. Because of this I see no option for you but to resign as President. You, and the NZ Council, have let local government down badly.
LGNZ needs to stand up to central government by expressing clarity of vision, strength, fortitude, and a commitment to subsidiarity.
Some of those who are railing against the reforms:
It's not just local government who are disgusted by the decision made by this government. People are confused by the misinformation being repeated time and time again by Labour politicians and Labour hacks, and in cleverly worded ads in the paper. Over the next few weeks, a small group of us around New Zealand will pick apart the untruths which the Labour Party is spreading in the media. Sooner or later the media will realise that they have been misled and they will seek out the truth. People will then see the reforms for what they really are, theft.
One party which approached me in the past week was the Taxpayer Union. They left a message on my phone to ask would I work with them on this topic. They had 70,000 signatures on the first day of their petition against the 3 Water proposed reforms. However, this is the latest iteration of the Business Roundtable. Groups like this are part of the reason councillors around the country have underinvested in infrastructure because these guys scare the hell out of them.
I'm against the reforms. However, my motivation is quite different from theirs. I would be happy to pay higher taxes. They wouldn't. I believe in a capital gains tax. They don't. We agree on some things like accountability and transparency, but on this topic our Kaupapa is different.
That's why I didn't ring back. I have joined other groups.
I also do not think it would be a good idea to join the "groundswell" farming objections in November. Federated Farmers doesn't even agree with this protest. To stand alongside the anti-1080 protesters, and the anti-vac mob, and the "don't change our farming practices" mob is about the last thing I want to do. Water is so fundamental we need to be clear that this issue stands on its own. By joining this group of flotsams and jetsam's undermines what this is about.
It's about assets being stolen and local power and democracy being removed.
Here's a collection of articles on the reforms:
This article is written by Bryce Edwards and is an excellent summary of comments made after the 3 Water proposed reforms were announced. Here is the link to it:
https://mailchi.mp/democracyproject/political-roundup-government-failure-on-water-reform?e=7c7b08c9b4.
Our Labour government:
I have spent my life as a loyal member, and voter, for the Labour Party. I was a party activist as well as a party candidate. I chaired an LEC for 10 years and served on numerous LP boards and committees. I attended numerous Labour Party Conferences, locally and nationally. I wrote articles for Labour Party newspapers. I started a Labour Party Credit Union and served on its board for years. I knocked on literally thousands of doors. I ran hundreds of street corner meetings for myself and others. I was a Labour Councillor for 6 years and a Labour Mayor for 9 years.
I joined a Party which had been led by Norm Kirk, who inspired me and was a party member for 43 years. My considerable activism within the Party was honoured by being awarded life membership, the highest honour within the Party. I was very proud of this achievement. I eventually resigned in frustration over Labour's approach to community housing under this government.
I continue to support subsidiarity (that decisions are made as close to those who are affected as is possible) which brings me at odds with this government, committed to centralisation and central control, something I cannot abide by in many cases.
I have never not voted for a Labour central government candidate in my life.
On Wednesday last week I sent a text to Duncan Webb, my local MP, who has remained silent during our discussions on the 3 Waters reforms. I served as his first election campaign chair.
Here's the un-responded text I sent to Duncan. It read: Last election Labour lost my party vote. Today you lost my constituent vote. Garry Moore.
Writing this made me very sad. Where has this government's bungling of our locally owned water and centralising overcommitment placed me on the political spectrum? I have got to the point where I feel that the only way we can inject any sensibility into the 3 Waters debate is to elect another government.