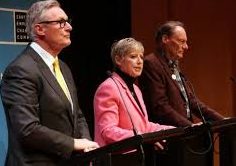 I have been viewing the Mayoral election campaign with great interest. I know Darryl Park. It mystified me why he was standing for Mayor. He has shown little interest in local politics in the past. I served on the Board of Canterbury Tourism and he was the CEO. That's the closest I have seen him to politics. He's never struck me as being especially political.
Every now and then I have popped my head into his bar and spoken with him. He is an affable person, deeply committed to rugby in particular.
During the week I had two separate people tell me about the effort a business group had put into finding a candidate to stand against Lianne Dalziel. The stories both synchronised. The really interesting thing was that both people who talked to me about Darryl standing came from two very different parts of our City. Apparently 14 people were approached to stand by this business group, and they all declined. The 15th accepted. He was Darryl Park.
When you stand for public office the media, if it is performing its task properly, will shine a light up your backside and it will light up the top of your head. If you aren't used to this, then life can become intolerable. Nothing is secret any more when you stand for public office.
If you, or any members of your family, are at all thin skinned, forget it. I remember when Pam was in a supermarket one day, an old woman looked into the shopping basket and said "so this is what you feed your kids". That's the level of rudeness people resort to. I still have ignorant old bastards stabbing me in the chest with their bony fingers moaning about how I did something which offended them. I have not been Mayor for 12 years in October.
A candidate is expected to have sensible ideas, and to be able to defend them. I sat waiting for the RNZ debate between the Mayoral 3 candidates with interest, as Darryl had failed to turn up to the candidates meeting, I had chaired. I wanted to hear what he had to say.
On RNZ Darryl gave a dreadful performance. His campaign big-ticket item is zero rates. That is a policy which is appealing to us all, as we all worry about them increasing. This concern is shared by all of our current elected reps if they are any good.
When accosted by the interviewer how much he proposed to save if elected as Mayor, Darryl demonstrated that he has no understanding of CCC finances by stating that he would reduce the expenditure by $100m over three years. When asked what he would cut he stated that he would reduce community bar-b-ques. One thing as an elected rep you never remove funding from is what people really appreciate. Community bar-b-ques would be on that list. The amount saved by removing these community events would be a few tens of thousands.
What this answer demonstrated to me is that well-down-the-list Darryl just doesn't know anything about CCC finances and what drives them. His $100m is a figure plucked out of the air with nothing to back it up. I would suggest that he considers standing as a Councillor next time. He is a decent person, but he's not yet up to being a Mayor.
With a vicious knife it would be possible to remove expenditure at CCC. I wouldn't name the number without having a close look at the accounts. However, if Darryl is committed to removing $100m, serious, and often popular, CCC financing will be cut.
Next week I will give my list what would be necessary to achieve $100m. It won't be popular.
I thought this article summarised things brilliantly https://www.stuff.co.nz/the-press/opinion/115776598/its-time-to-end-these-hundred-million-dollar-barbecues.
We do not have the luxury, as a City, of having time, as we recover from our earthquakes, to allow a Mayoral personage to learn about the complexity of the job while they get their head around CCC finances. For the first 18 months of being a City Councillor I wondered what the hell had struck me. At the same time as Darryl is learning the job the Council will be settling a new CEO from overseas into office. That will be enough of a challenge on its own.
I suspect that Darryl is just discovering how hard public life is, and is regretting that the 16th person on the list isn't where he is right now.