In our front room's a trunk. It carried my grandfather's life possessions across the world to NZ. A reminder of the risks he took for us to have a better life than he experienced in Ireland. He stayed here and our family flourished. Every family has the same story with reminders of where they came from and why we owe so much to our ancestors.
It's the same for our city. Our forebears handed to us, their descendants, assets in the form of parks, roads, footpaths, libraries, sports fields, support structures for community groups etc. They managed council's trading companies well.  Our airport, seaport, lines, and fibre optic companies.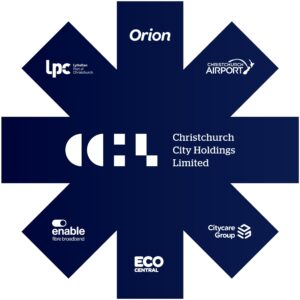 These assets are held by our current councillors in trust for future generations.
When Roger Douglas and Ruth Richardson encouraged councils to sell their assets. Christchurch didn't. We were called names by greedy people seeking to sell our assets to their mates. We were labelled "The People's Republic of Christchurch".
Instead, we created a company, Christchurch City Holdings Ltd (CCHL) and all trading companies came under it. Every company accountable to the ratepayers of this city through CCHL. The city manager and staff had no say over CCHL. It had its own staff and reported directly to the elected Council.
When the sale of CCHL assets was last promoted the current city manager, Dawn Baxendale, lived in the UK and her CFO, Leah Scales, was at school. As was the Chair of the Finance Committee, Sam MacDonald. Their understanding of a proud city commitment to asset ownership appears to be poor.
Over the years the boards of CCHL kept strict control on debt. Dividends over the past 10 years have been nearly $1 billion. When Christchurch earthquakes destroyed our city CCHL companies borrowed $440m to assist city finances. Without CCHL Christchurch could have been financially bankrupt. If assets are sold this debt will have to be paid back first. An asset can be sold once. Benefits are short term. Dividends will cease.
Last year Baxendale employed a consultancy, using $251,000 of our rates, to advise her on CCHL. This was a breach of the traditional separation between the CCC executive and CCHL.
When new councillors met after last year's election they were ambushed by the consultant's recommendations and sadly agreed to them. Councillors sent Baxendale and a group of "advisors" away to select new board members for CCHL. They recommended 4 out of town individuals who were approved by the city councillors.
All families keep a close watch on costs. The money being spent by Baxendale and Scales to promote selling CCHL is enormous. Each week groups of expensive experts' soft soap our elected reps with one goal. Selling CCHL assets. The consultants' costs will be huge.
Selling your house, or whatever asset is valuable, to have cash reserves to extravagantly live your life, is foolish. The executive at CCC is behaving like that right now. The council unwisely decided to spend an additional $150m on a stadium last year. Now they are panicking on how to pay for it. That's a major driver of the CCHL sales campaign. Manage your costs Councillors, not by selling our heritage.
Governed properly, CCHL could be extremely powerful. Christchurch businesses create wealth, and jobs, trading with each other and the world. CCHL can assist this. What about a CCHL Ports Authority (seaport, airport and dataport) promoting local enterprise and jobs with the world.  Growing our economy and our collective wealth.
Christchurch's a passionate city. We take pride in our city assets. When Phil Mauger said in his election campaign "You can take it from me that under my watch as mayor, I will not be selling any of these assets. people believed him. Phil told us he was a successful businessman. A successful businessperson doesn't sell assets which can potentially return significant returns. They make them work harder.
It's hard finding out what is happening behind closed doors at CCC and CCHL. Secrecy camouflages something I suspect will be unacceptable to the people of this city. If I'm correct about what is being discussed behind these doors, and it's approved, many of our elected reps, and the executive at CCC, will be out on their ear after the next election.
What we require of our elected reps is for future generations to look on them as good ancestors. Not those who sold our assets down the river.
Let's grow our trading companies. Not sell them. Star readers are quite correctly angry that this is even being considered behind closed doors.