One issue constantly raised during the election campaign was CCC's inability to respond to local feedback. Time and time again people reported especially about traffic engineers producing plans for roading, or cycleways, and ignoring the feedback. Max Rashbrooke wrote in The Press this week – Democracy is failing we need more of it.
My criticism of the NZ government promoting policies from the centre, also applies to CCC centralising decisions in Hereford Street. If we are to achieve subsidiarity (decisions made as close to those impacted by them) funding decisions need to be made at community board level whenever possible.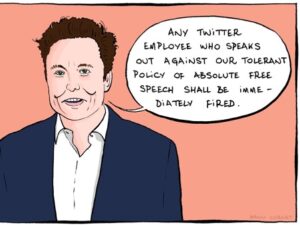 It disturbed me to hear that there had been directions at CCC, from Hereford Street, that community boards were to be limited to one meeting a month.
That reeked of central planning. The centre knows best. What is happening at Twitter demonstrates that this dismissal of alternative views isn't just limited to public servants…
Over the next period, we will contemplate what we as a city should be expecting of our community boards. What they could, and should, become. Some embrace new ideas with enthusiasm. Others, dominated by either dogma, or elected reps who are into power remaining in the centre, will be slow to accept where society wants things to change. Hopefully we will be able to encourage greater participation throughout the city.
In an excellent opinion piece in Stuff yesterday https://www.stuff.co.nz/national/politics/opinion/130379497/democracy-may-be-in-trouble-but-the-answer-is-more-of-it-not-less. Max Rashbrooke wrote:
We can surely find ways to engage the public early and well, so that infrastructure is built quickly but also democratically. We can prevent elite capture, too. For all around us are the green shoots of a new, bottom-up democracy.
In Auckland, Watercare and the Koi Tū Centre have just run a citizens' assembly in which 37 residents, picked to be demographically representative of the city, spent time deeply discussing future water source options, landing eventually on recycling wastewater for drinking. This process used experts the right way: as guides for the residents, not as their masters.
In Porirua, Ngāti Toa is working with others on a talanoa and wānanga-based system that would likewise empower residents to lead local decision-making. And the Future of Local Government Review, which reported last week, contained countless ideas for reinvigorating democracy and ending the participation imbalance.
We need greater community participation in public life. As an institution CCC must change. Instead of autocratic decision making by both the executive and elected members how refreshing it would be to engage communities in a deeply trusting manner.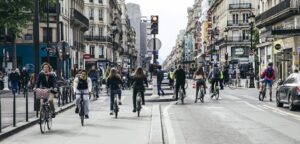 One of the early topics for discussion by community board members will be cycleways. Let us make this a healthy debate, instead of the shallow debate it so often has been. Here's a photo of cycleways which have been installed in the centre of Paris.
This week we will consider how community boards could perform given the chance. Rosemary and I will have a discussion with Callum Ward who chairs the Waihoro Spreydon-Cashmere-Heathcote Community board, and Bebe Frayer who finished as a board member of Coastal, Burwood, Linwood community board at the last election. We will consider topics like participatory budgeting and other steps raised at the meeting which could be experimented with in the future.
So, see you Tuesday evening at 5 for 5.30 pm start.