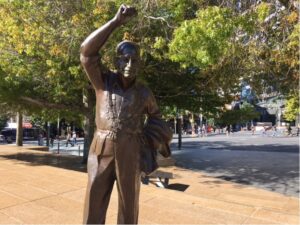 The government has announced a proposed light rail system in Auckland. That the National Party spokesperson on transport immediately rubbished the proposal and stated that what was needed was two more motorways says everything about his party's commitment to the world's environmental challenges. Public transport is our challenge.
Light rail in Auckland has been debated for decades. Sir Dove-Meyer Robinson suggested it in the late 1960's. Here's what was written about him in Wikipedia:
Robinson's main focus during his second period as mayor was his advocacy for rapid transit system for Auckland. Robinson's proposal for a bus-rail rapid transit plan was "to provide fast, modern electrified railways through the main traffic corridors of the region".[5] The proposal had passenger trains every three minutes running from an underground subway terminal in the city centre with above ground tracks leading to Howick, Auckland Airport and a tunnel to the North Shore. The scheme was heavily criticized for its cost (an estimated $273 million in 1973) and both the ARA chairman Tom Pearce and most of its members opposed the scheme. The Third Labour Government reneged on an election pledge to pay for the scheme and the rapid rail proposal disappeared. Retrospectively, Robinson's idea to implement rapid rail was seen as a possible long-term solution to Auckland's subsequent transportation difficulties. The phrase; "If we'd only listened to Robbie…" has become common speech in Auckland whenever the city's transport system is debated.[5]
There's no debate that it is to get anything decided in Auckland. It's a city heavily factionalised and collaboration does not come easily. In fact, when I think about it, getting anything decided in Auckland is a massive challenge.
Auckland must have an integrated transit system as the world has no option when addressing mass movement of people than to invest hugely in public transport. Here is the proposed route: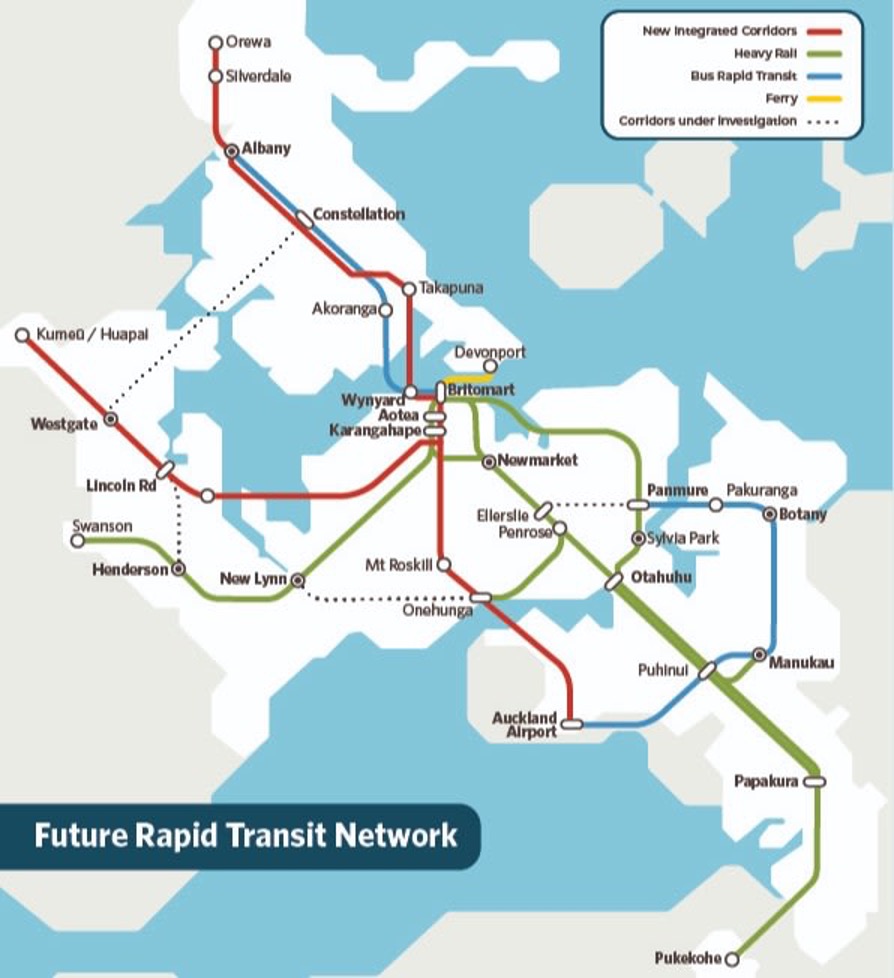 What frustrates me is when a big idea is proposed the media is locked into instant answers. So, every halfwit this side of the black stump gives their half-thought through comments. The media reports these willingly, or they are distributed through Facebook. That serves as "news" and the shallow cycle moves onto whatever is next. Probably about a cat stuck up a tree, or something equally absorbing.
That the National Party spokesperson on transport immediately rubbished the proposal and stated that what was needed was two more motorways says everything about his party's commitment to the world's environmental challenges. Public transport is our challenge.
What frustrates me is when something is proposed by one political party the other promotes the exact opposite, i.e., more motorways. This isn't debate. This is arrant stupidity. This adds a headline but no quality to what is an essential public debate.
What is needed are thoughtful responses and sensible debate. There was interesting comments and analysis in Newsroom  Who Really Wants Auckland's Light Rail Plan? | Newsroom. I'd be interested to read what other transport planners think about this article.
A second article appeared last Friday by Sam Stubbs who applied his financial analysis to this project. This really got me thinking. https://www.stuff.co.nz/business/opinion-analysis/127674536/is-aucklands-new-14-billion-rail-line-a-harry-potter-fantasy.
Sam Stubbs wrote:
So instead of expensive rail, Is there a better option? For example – how about modern, electric buses on dedicated busways?
Auckland's Northern busway is arguably the most successful public transport project in generations, and it's being replicated in East Auckland. This could be expanded much further, in a much shorter time, and at a much lower cost.
There is even a case for turning existing rail lines into dedicated busways, with modern electric buses providing a service every two to three minutes in rush hour, and peeling off into the suburbs to prevent people having to get off the train and into a car in order to get home.
So how much lower cost, and how much more effective, could busways be?
Currently, modern electric buses cost approximately $800,000 each, so $650 million would replace every public bus in Auckland with a modern electric equivalent.
Auckland Transport trials show that every electric bus saves $10,900 in operational costs and 160 tonnes of CO2, every year. So an all-electric bus fleet would prevent 128,000 tonnes of carbon from going into the atmosphere, and save $8.7m in operational costs, every year.
This is precisely the sort of debate I like to read. To assist me to form my own opinion.
So, having read Sam's comments I checked out the Cabinet paper, which is online. Many of Sam's arguments have been considered, and answered, in this document. This proposed project should not be seen as a one-off. It is a mass transportation study for Auckland. The cabinet paper makes interesting reading https://www.transport.govt.nz//assets/Uploads/OC210779-Auckland-Light-Rail-decision-to-progress-Cabinet-Paper.pdf.
However, as I read the document, I realised that it is not just about Auckland. It is also about Wellington and Christchurch. Here, on page 12 is what the document states:
An enduring framework for rapid transit is needed across New Zealand.
Para 89 From a national perspective, it is not sustainable for investments such as ALR to continue to be developed on a project-by-project basis. To effectively plan and deliver rapid transit in a way that supports long-term growth in cities and delivers against our emissions reduction targets, we need to work towards a clearer, nationwide approach to the planning, funding, and delivery of rapid transit. This will be particularly important to frame the development and delivery of future projects in Auckland, Wellington, and Christchurch. Preferred options for rapid transit projects in Wellington and Christchurch are likely come before Cabinet in 2022.

Para 90 The framework we are developing through work on the Strategic Planning Act will be a significant step forward in the integration of planning for transport and land use.
This will provide a platform for a shared understanding for how regions such as Auckland will grow. It will help provide a more consistent approach to identifying and protecting transit corridors and creating certainty for the Government, its partners and the market regarding the timing and prioritisation of investments.

Para 91 In response to this new planning regime, and our climate commitments, a nationally consistent strategy for the planning, funding, ownership, operation, and delivery of rapid transit in New Zealand is needed. The Minister of Transport intends to set out a high-level direction on these issues in an amendment to the GPS on Transport in early 2022. As part of the policy work programme needed to take ALR forward, the Ministry of Transport will lead ongoing work, working the Treasury, Waka Kotahi, and others.

Para 92 The approach should clarify the definitions and role of rapid transit in wider transport and planning frameworks, including the wider range of interventions that will be needed to reduce emissions in our cities. This will form the basis of advice to ministers on the roles and responsibilities for the delivery and operation of rapid transit within the transport system
Later in the paper it continued:
There is currently no consistent approach to this investment as there is with motorways for example, which have been one hundred per cent funded by Waka Kotahi or the Crown in recent years. Examples of current rapid transit systems that are being built or contemplated and the Crown contributions for each are as follows:
• Christchurch rapid transit – Early stage of planning, funding contribution not yet under discussion
At the Tuesday Club we will invite those who will be working on any proposal which might be being debated for this region to come and tell us what precisely they are considering. It must be in the top priorities of this region (and I suspect it will be). These days we do not expect to be informed about a vital issue, like mass transportation, after all the debate has taken place and we are merely presented with what has been decided behind closed doors. We want to participate and to assist the process.
The Transmission Gully project should be our warning for big public infrastructure projects needing proper public scrutiny. I was on NZTA (now Waka Kotahi) and it was a Ministerial directive that Transmission Gully proceed. The Minister was Stephen Joyce, and he just told the Board that this is what we would build. There were no if's or but's. It's ironical that the Chair at the time who accepted the project (with a benefit/cost ratio of .6, and now I suspect way lower because of cost blow outs) and supported it, is back chairing Waka Kotahi and is having to explain why its such a financial disaster. There is a God.
It's also worth observing that the Australian company building Transmission Gully was also responsible for the Christchurch Convention Centre (budget $450m final cost considerably more); the Christchurch Hospital Building ($100m over budgeted cost of $540m and delivered 3 years late); and the Christchurch Metro-Sports centre (which is late and will also almost certainly go over budget). I must get an accountant onto analysing the Convention Centre and the Metro-Sports costs.
Public sector reforms Transmission Gully shows we need to rethink the public sector | Stuff.co.nz