I have been fascinated how the media has spasms of enthusiasm about topics, and then they move onto another. It's all about one thing for a few weeks and then they move onto another. It's often shallow analysis because they just don't have the staff to do proper investigation. It's clickbait paradise.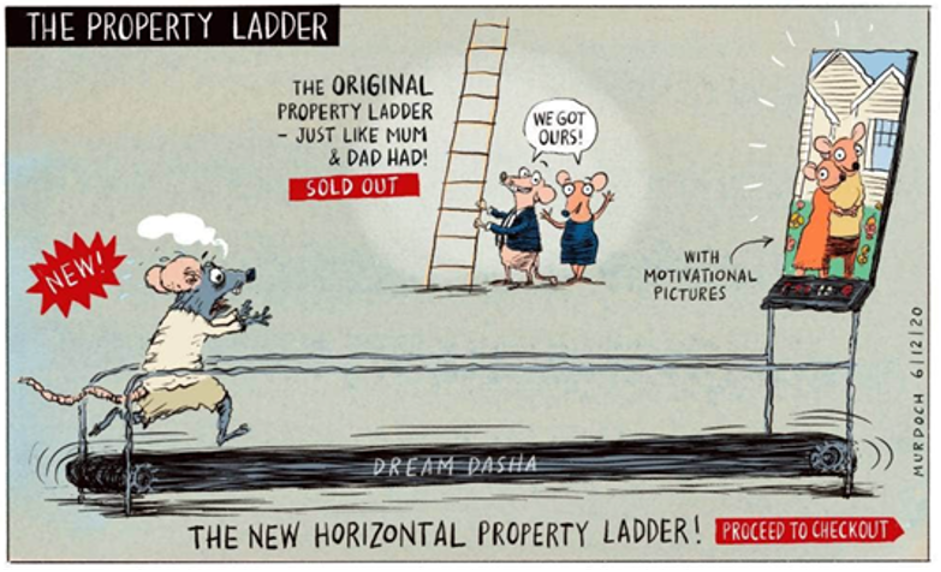 One item is the debate on housing. Most journalists don't have the knowledge to promote serious thinking on the topic. One notable exception is Bernard Hickey, who continues to provide sensible analysis week after week. I miss him from Newsroom.
Whenever the media are moving as a pack, politicians get nervous. They desperately reach out for "things" they can announce, if they are in power, or "things" to pressure the Government with if they are in opposition. This week there was an exchange in Parliament between the Minister of Housing, Megan Woods and the Opposition spokesperson for housing, Nicola Willis. The transcript of the question and answers in Parliament this week is below.
Here is the exchange:
Question No. 9—Housing
9. NICOLA WILLIS (National) to the Minister of Housing: How many motels, if any, has the Government purchased or leased in the past three years for public housing purposes, and how much does the Government currently spend per day on motel accommodation for people in housing need?
Hon Dr MEGAN WOODS (Minister of Housing): This Government has made a firm commitment to ensuring all New Zealanders have a warm, dry home. We are rebuilding the State housing sector with new public and transitional housing, and while this happens, we use motels as interim accommodation for people who would otherwise be sleeping rough, in campgrounds, and overcrowded situations. Between 2018 and 2020, three motels were purchased for use as transitional housing. The Ministry of Housing and Urban Development also has one direct leasing project. Through Vote Housing and Urban Development this Government spends approximately $142,761.75 for 924 contracted transitional housing motel units. I am proud of the work that this Government did to ensure that we tackled homelessness during the COVID-19 lockdown and we still have 1,067 motel units supporting people identified as homeless during that lockdown period. Their approximate spend is $154,715 per day for these motel units. However, this is not our long-term plan. Our Government has a plan to move people out of homelessness and motels and into publicly owned, fit for purpose transitional housing. When we came into Government there were—
SPEAKER: Order! Order! The member has answered the question.
Nicola Willis: Does the Government have any plans to purchase more motels for use as public housing?
Hon Dr MEGAN WOODS: Our plan to address the housing crisis is to only ever purchase motel units if they make the best housing solution sense. We are only using purchased motels where they are gutted, they are refitted, and they are fit for purpose for people to live in. And the ones that we have purchased—for example, I don't want to see families unable to send their kids to school with a lunch because a motel unit only has a beer fridge and a family cannot budget through that. So, we will only buy motels when it makes good housing sense.
Nicola Willis: Does the Government have plans to purchase more motel units for public housing?
Hon Dr MEGAN WOODS: I think the member is getting confused between transitional and public housing. These are two quite separate things. Transitional housing is sometimes done through motel units. It is not our preference to do that. And—if I had completed my answer—when we came into Government, there were 1,718 transitional places, of which there were 293 motel units left by the previous Government. There are now 3,653 transitional housing spaces. We have funded through each of our Budgets permanent, publicly owned, transitional houses, which are fit for purpose for families to make their lives in. That is our preference—not motels—for kids to grow up in.
Nicola Willis: Is it correct, as reported, that the Government has renewed an attempt to buy up freehold titles to motels across the country for public housing?
Hon Dr MEGAN WOODS: Of course, the purchase of motels for public housing was not new. While we have purchased three during our time in Government, in a six-month period between 2016 and June 2017, the previous Government purchased four. Our intent is actually to add to the housing supply by adding long-term, publicly owned, transitional homes. We will only purchase motels where they can be refurbished to be made sense into transitional housing spaces.
Nicola Willis: Will the Minister rule out purchasing any more motel units for use as public housing; or is it her intention to continue spending an average of $154,000 per day housing New Zealanders in temporary motels?
Hon Dr MEGAN WOODS: It is certainly not our intention to continue spending that money housing New Zealanders in motels. This is why we had commitments in Budget 2018, we had a commitment in Budget 2019, and we have had a commitment in Budget 2020 around finally funding transitional housing in a meaningful way in this country. The party that that member is a member of did not even start addressing homelessness till 2017 after nine years in Government. They need to hang their heads in shame.
Nicola Willis: Does she agree with the Hon Grant Robertson's reported comment that "we did end up having to use motels again, but we continue to want to move away from that."; and if so, can she provide any evidence that the number of people living in motels has reduced since Labour came to power in 2017?
Hon Dr MEGAN WOODS: I've always found it's good practice to agree with the Minister of Finance. And of course, we do want to move away from using motels, but what we will not tolerate on this side of the House is people living on the street and people living in cars. And that is why during the COVID lockdown, we made it our business to make sure that everybody could shelter safely. So if we're faced with a choice between people living in cars or on the streets, we will do what is needed to give those New Zealanders a pathway to housing. But we are a Government that has shown a commitment to tackling homelessness. It is a pity the previous Government did not.
Just imagine if we had a Housing Accord between all the parties in this Country. Then the party in power would be measured against this Accord. At the moment we have one politician trying to show how useless the other one is, and the Minister replying in kind. This, quite frankly, is complete nonsense. I am sure they are both motivated to find solutions for the issue, but the Westminster system we operate under does not allow them to work together to find a solution.
Let's look at the issue of transitional housing. To get to this position the life of you and your whanau has to be a complete shambles, for many reasons, often outside your control. We have all stayed for a night, sometimes several, in a motel unit. They are pretty boring and after a few days quite debilitating. If it's all you have then you'd be grateful. Just put yourself in the position of a troubled family with all that goes with this position and you are all bundled into a unit for how long? The Government is spending $56m this year paying for people to stay in this sort of setting.
It's pathetic that we have got to this position and both political parties can hang their heads in shame that it has got to this.
I visited a transitional housing unit in South Auckland a few weeks ago and they have had some families there for up to a year. It's supposed to be for a few weeks. Just imagine what its like for a small child going to a new school and settling in and making new friends. The longer they are there the harder it is to wrench themselves from their new mates.
The Government does not like hearing from Community Housing providers who point out what is happening with transitional housing. It's a long way from one of the top offices in the Beehive to South Auckland, or wherever you live in NZ. It's hard, when you cut a ribbon and move on quickly, for you to really feel the pain of the families who are in a desperate place. It's also time consuming to actually listen to those who are the voices of the voiceless who enunciate precisely what the lives of these whanau are really experiencing. Politicians breeze in and out of places. With their time schedules it's near impossible for them to slow down and talk with the people who are working with the most troubled families in our country.
The key challenge for us as a society is for there to be no need for transitional housing. There's a challenge for politicians.
I know the Government is doing more than any Government has for decades with Housing. For that I applaud their efforts and commitment. However, Nicola Willis is behaving exactly the same way as Phil Twyford did when he was the Opposition spokesperson on Housing. He beat the Government to death. And they deserved it.
But, it's time to stop Housing demands being a battering ram with one party in power being beaten up by the other, which isn't. I don't question the motives of either Megan or Nicola. They both want to make a difference. However, wouldn't it be so much better for us to agree on a Housing Accord and for all parties to work on achieving sensible progress. Then they could be measured and we could track their progress.
In the Star Sunday Times today Andrea Vance wrote:
History shows demand is only ever satisfied with direct state intervention, when the government has built homes on a large scale.
Housing is a right: we should think of it in the same way we regard universally available services, like schools, hospitals and public transport.
We need a return to more public housing, to provide a safe, warm and secure home for those who do essential work and for younger generations, who have had their property-owning dreams crushed by Covid-19.
A guaranteed period of social housing tenancy could allow these groups to save enough for a deposit.
It would provide a stream of income to the Government, and potentially force private landlords to sell off their properties, turning them back onto the market and pushing down prices.
The market has failed. Real incomes will never now climb relative to house prices. The Government must return to housebuilding on a large scale – it will take either this, or another financial crisis to break the cycle.
It is essential that politicians see the housing solution involves viewing Kanga Ora and the Community Housing sector as being seen as players in the same paddock. Here's the article Why New Zealand needs to change how it thinks about housing | Stuff.co.nz.
In the meantime, spare a thought for the struggling families living in transitional housing. We are spending $154,000 per day on their accommodation. That's $56m per annum. Nicola should not crow about this. Her party did very little about it. Building replacement homes takes a long time, everybody knows that who has built a new home.
In an interview in the past few months, Ricky Houton a Community Housing advocate in Kaitaia (who incidentally is seriously ill in hospital) when asked was the Housing crisis something only the Government was responsible for. He replied the housing crisis was the responsibility of us all.
To that I say "amen".