Garry's thoughts:
This week I am sitting at my computer and trying to forget the wonderful last couple of weeks vintage motoring.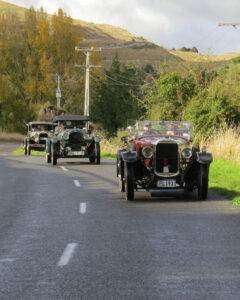 I moved to Christchurch because the Vintage Car Club was founded here. For a petrol head with a passion for elderly vehicles it is New Zealand's mecca. When Pam met me, I had most of a 1927 Vauxhall in my bedroom. She now says she should have taken a hint and run. However, 46 years later she has come to sort of accept that her car always sits outside the garage.
This trip was to revisit some of the roads I used to travel with my Dad (also a Vintage Car nut) as a child. My memory was absolutely correct. The by-ways around Taihape are amazing. The slow roads and the spectacular scenery reminded me of how much we have to see and respect in this country. It made me think about how much we have travelled around the world and how often have we been passing equally fantastic scenery as we were viewing overseas in this country with our eyes closed.
As we travelled, far from the madding crowd, I couldn't help but reflect on the marvellous towns which lie virtually abandoned everywhere. All that remains are rows of empty shops and a memorial of just how many young me from that formerly bustling village went to be slaughtered in Europe in WW 1. As I drove, I pondered on the fixation of politicians of all colours to continue housing everybody in Auckland. There's potentially affordable housing in all sorts of nooks and crannies throughout NZ. If we had decent regional development policies as a country, we have room to house everybody and more. These policies would assist businesses to be based in rural areas which have affordable housing and room to build new homes. And to reinforce more widely the regions of this country.
Another observation was that the traffic was often travelling lower than the speed limit. Often around 90kph. The speed limit around Kaikoura is 80K for a large portion of the road in and out of the township. Sometimes it is 60k. I used to travel often to Kaikoura and when the speed limit was 100K I used to speed around the corners and attempt to comply with the maximum allowable. Now with the limit lower I can take in the spectacular scenery and arrive in a much more relaxed state.
I wonder if our speed limit was reduced to 90K would we reduce our CO2 emissions and reduce our accident level?
This week's notes are brief as I haven't been keeping up with everything which has been happening while we were away. Not reading a single email for nearly 2 weeks was absolutely good for the soul.