This week not much will change from last week. Our bubbles will move slightly. This has involved delicate negotiations between us all. We would like to have everybody close to us in our bubble. Good luck everybody with your expanded new whanau.
When we look around the world it really has been a test of leadership as to whether communities have bought into a communal effort to halt the virus. We should be grateful that we have had magnificent leadership by the small team around Jacinda Ardern. John Patterson wrote this about her to me this week:
 I was born in the 1930s, the first Prime Minister I can remember is Churchill, I've spent half my life in the UK and half in NZ. I've seen many leaders of many countries come and go but I have never seen any leader in all those years like Jacinda. I watched and listened to her on TV this afternoon giving a master class on empathy to all the leaders around the world. She puts people before herself, now there's a novelty in politics.  Somehow, I feel privileged to have lived long enough to see this amazing unique young lass who doesn't "lead" the people, she walks with them.
It is important to acknowledge her wonderful, calm, caring leadership but we must not deify Jacinda Ardern. She has been magnificent but any decent leader encourages debate and challenges. That's what politics is all about. I'm sure she must be feeling uncomfortable with much of the praise. In the Sunday Times this morning Andrea Vance wrote this really good analysis https://www.stuff.co.nz/national/politics/121247586/why-the-heroworship-of-jacinda-ardern-is-unhealthy. It's well worth thinking about. It is time for other Ministers to step up to the plate as well.
It is now time for more people to become involved in the rebuilding of our whanau, our communities and our economy. Remember the incredible feeling of community around the time of our earthquakes? Remember how that slowly, but surely, evaporated? That will happen again if we enter into a business as usual approach to life.
In the photo below is what happens when a combination of desperation and bad leadership occurs. This woman may have a desire to get back to work, or she may have been whipped up by the various extreme forces which seem to flourish in America. Trump did nothing to stem this tide. I have followed the man really closely recently. I often watch his conferences and I've never heard him say "be kind" once.
This photo tells a thousand stories. In USA 53,000 have died of Covid 19. 20 million people have become unemployed. For many people the gap between personal bankruptcy and survival was the health insurance they received from them employers. With this now gone the photo may reflect that.
However, the person standing on the road challenging this "right to freedom" is a health care worker. He would have to care for these "freedom fighters" if they get Covid 19. There is the dilemma. If Trump was a proper leader, he would be preventing this lack of love in their community. Instead he lit a match to the white-hot emotions which could be the seed bed of a new civil war. All in the interests of his re-election in November.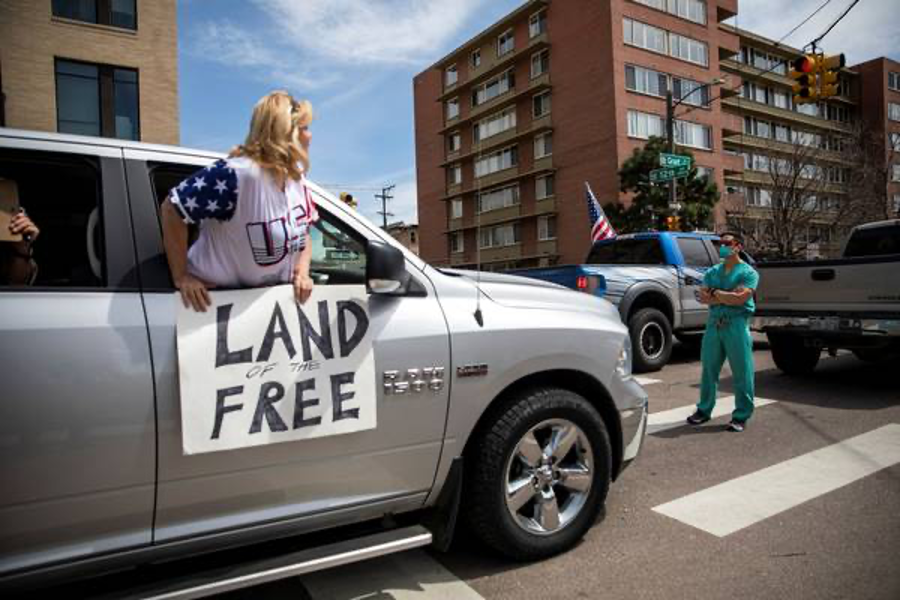 I read in an American newspaper this week:
Individual freedom is sacred. And by balancing it in society with our duties to one another we also enhance our ability to live freely. Our duty now is to do what we can as a community to slow the spread of this disease so that we can again enjoy, as quickly as possible, the freedoms we are sacrificing.
USA is our warning. We must move forward as a people together. We must leave our lock-downs carefully and start thinking hard about how we will conduct our lives in the future. Which local businesses will we support? Do we need to own as much as we do right now? What role can we play in our local community? How can we ensure that our democratic structures thrive? That we care for those who were already missing out?
In the Guardian this week a writer wrote:
The crisis is showcasing the potential for a more deliberative, constructive way of doing politics. It could catch on, but only if we recognise it, embrace it, cultivate it – and don't leave it as a doodle in the margin of these historic times.
We have experienced proper leadership in New Zealand, unlike the UK. However, these challenges are still all real. The debates about how and where we go as a people must start in our own homes. We must ask ourselves what role we can play personally, through our lifestyle and our spending and our personal engagement with our community and our society.
This week there was a wonderful interview with Farid Ahmed. You will remember his voice of reason after the massacre at his mosque, which took the life of his beloved wife.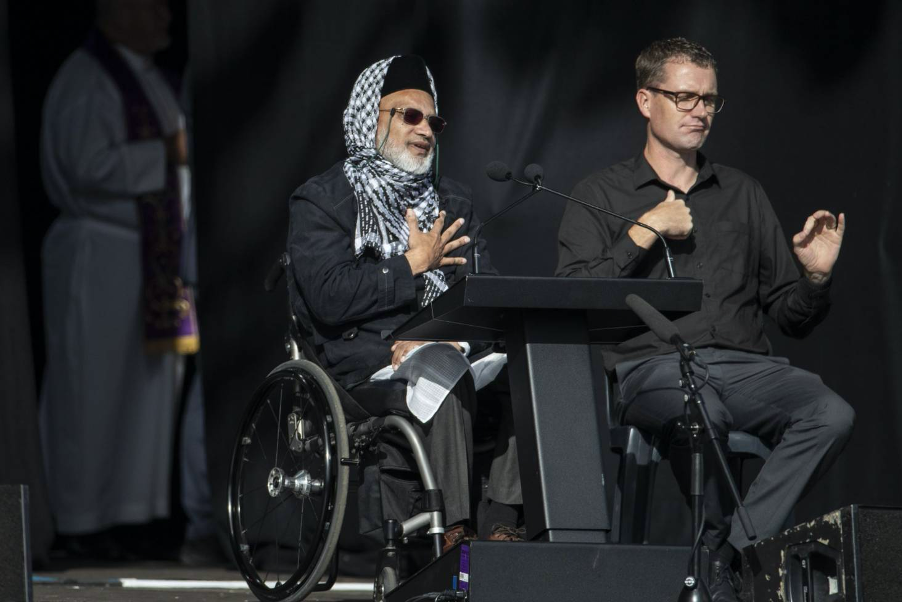 In the interview he says something which we should all reflect on:
"And we should use that freedom to exercise our love for our families. We are going through a tough time and life is a combination of tough and good, hard and smooth. In tough times we have to be patient. And we have to be positive, and in easy times we have to be appreciative for all the good things we have."
Here is the article and take time to watch the superb interview with Farid. https://www.newsroom.co.nz/2020/04/20/1135911/pray-for-me-and-everyone-shooting-survivor
I will conclude this section by quoting a wonderful editorial in the Dallas Morning News this week. The Editor quoted Cicero, a Roman philosopher:
Cicero put forward important concepts of our obligations as free people — obligations that consider how we are bound together in a life of shared responsibilities that are inseparable from our individual rights.
"For there can be no aspect of life public or private, civic or domestic, which can be without its obligation, whether in individual concerns or in relations with our neighbour. Honourable behaviour lies entirely in the performance of such obligations," he wrote.