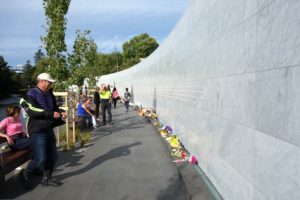 Yesterday was the first time since the earthquakes I hadn't gone down to the corner of Medway Street and River Road, down at the side of the Avon for their Earthquake memorial ceremony. I've been there 8 times. Once I was the only one there as the event had been shifted to another site and I didn't know!
I come to this quiet place as those who attend were from this neighbourhood. They lost their homes and they come back each year to remember their former community. Next year should be a really poignant affair. The kids from Banks Ave School attend and there are quiet speeches, and prayers if Peter Beck is there. Everybody places some flowers in the river and we watch them float down the river in silence. Then we have a sausage wrapped in white bread and go home.
This year I was across town and the unnerving thing was that at 12.51 there wasn't anything discernible about the traffic I was in. No hesitation. No "let's stop and remember". Just when the lights go green, I'm off… I want to move on. Maybe that's the healthy place we've got to.
As I cycled along, I was reflecting about where I was standing 9 years before at that time. I was on the Worcester Street bridge talking to my son Johnny. Our call was cut off and I looked around and watched the Anglican Cathedral spire fall over. One guy and myself stayed standing up. Everybody else on the bridge fell over.
I walked through the town trying to find Johnny who was in the middle of the area where there were lots of brick buildings. It was complete chaos. There were sirens blaring and dust everywhere. I couldn't find the members of our whanau, neither Johnny nor Tim, and because my cell phone wasn't working, I headed home.
Haven't the last 9 years been challenging? We have all done our best to support each other, and yet some are still hurting. People, like our family, have done very well out of the earthquake with us living in a wonderful new home. Others struggle with mental health issues. Some people's homes are not repaired yet. There are many people working hard to finalise their struggle. Wouldn't it be wonderful if at the 10th anniversary they were all mopped up?
I completely support the removal of the Earthquake legislation working its way through Parliament. I will get an MP to come and speak about it sometime in the future. I think the current legislation is stopping us getting resources other cities are receiving, as both Governments chant that we have received $17b of support. This is possibly the gross figure of expenditure. Successive Governments have failed to count the extra tax revenue received from the huge cost of rebuilding this city. I have yet to see anything which demonstrates anything other than the Government's contribution was a lot smaller, and that they possibly made a surplus.
The final word in this column came from John Patterson this morning. He wrote about going for his morning walk and…
On my way home I went past this table. Nine years ago, today this table was completely buried by liquefaction. We have moved on a long way since then. However, there are things in your memory that will always be there. Is this good or is it best to forget?