This week we are celebrating the 10th Anniversary of the 2011 earthquakes. An anniversary is an excellent time to reflect on what has gone before and to consider what could be in the future
In my notes this week I will focus on the price people have paid individually. Then we must consider the price we as a region have paid for Central Government intervention. By both National and Labour. I will consider the personal challenges to us all over the last 10 years and then use one institution, CDHB, and how it has been treated by Wellington bureaucrats and politicians. This demonstrates that in this region we were "subservient to" rather than being part of a genuine partnership.
There have been good and bad things over the last 10 years. I hope I give each of them equal coverage.
One of the best things has been the right from the start Ngai Tahu were part of the process. It is a wonderful thing to see our bicultural story portrayed in much of our rebuild.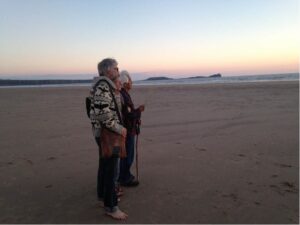 The phrase, Ka mua, ka muri is a Māori proverb. It images a person walking backwards into the future. In the Spinoff it was described as:
suggesting that the past is clearly visible but the future is not, that we have imperfect information for the road ahead, but also that this is a natural state of affairs.
What a perfect way for us to consider our City at this the 10th Anniversary of the deadly February earthquakes. To walk backwards into the future.
---
Our personal and collective struggles:
The proverb enables us to consider what has gone from our lives over the last 10 years. All the struggles we had with bureaucracy; in both the public and the private sectors. All the struggles with EQC and our insurance companies. All the struggles as Wellington bureaucrats set up new institutions in their own interests and we were told what we could and couldn't do, and think.
All the battles to keep personally sane and to support those of our whanau and friends who were also facing the same struggles.
All the grief watching what we loved, and cherished, being torn down in a mindless and insensitive manner. "Tear down the old dungers" came from the man leading the charge, Gerry Brownlee. Property owners often willingly agreed to this happening after they had received massive insurance payments. Far too often they took their loot to other cities where they could make more money.
And they leased out their now freehold land to Wilsons. And we all paid a company from Singapore to park there.
A few large property owners stayed. Some genuinely did good innovative stuff. Others were just plain greedy, and rewarded for it. These ones influenced the plans for the rebuild of the City. They promoted 7500m2 blocks for development. They were rich before; and they are richer now.
The powers in Central Government worked closely with these developers and created all sorts of deals which drove away other possibilities. One development company came to Christchurch with over $300m to invest and left town with it all still in the bank. It was just too hard here. The local investors and their Government ensured this scenario happened.
At the same there have been some wonderful developments. We are not on our own having an amazing new home. We moved in 7 years after the quakes and it only took another year of negotiations with another insurance company to get the badly built parts of the house partially repaired. How many of us got ripped off by dishonest tradies who were attracted to the money floating around this City?
A whole new architectural form has arisen throughout our City, and our housing stock is in much better condition than before the earthquakes.
The "as-is" brigade dolled up damaged houses, and because they did not have the supervision of Building Inspectors, they often did some pretty dishonest and crummy things. The next leaky homes disaster will be as-is homes in Christchurch turning out to be disasters in the long run. Central Government will have to wear this one as it was their responsibility to legislate to ensure that Building Permits were compulsory for these restored houses.
One population who were attracted here and many stayed, were from the Philippines. They are brilliant new citizens and they have added greatly to our City. As a community they have dragged the average age of Catholic congregations down to 75….
The Tuesday Club emerged after many of us had become frustrated about how we had willingly participated in "Share an Idea" and how we were treated after. This genuinely democratic exercise, a CCC initiative, was then taken over by the agency which had been established by the Government, Cera, and given a 100-day makeover. Led by Gerry Brownlee. Most of the dreams and aspirations of people in the "share an idea" workshops were swept aside, or interpreted differently, by Wellington bureaucrats and politicians, and well positioned vested interests in Christchurch.
From this exercise emerged great big excessively expensive projects in the middle of the City, like the Convention Centre. Large. Out of proportion. Vastly overpriced. A modern-day definition of a white elephant. Something an architect, somewhere, will win a prize for; but totally out of scale for a City of this size. I know that the plan which was sent to Wellington was 1/3 the size of what has been built. It got changed in Wellington. The cost of this monster is over $550m. When I was at the Council, we struggled to make a $20m Convention Centre pay.
I could go on and on about how the East of the City was largely forgotten by Central Government. With large parts "Red zoned" the East remains dejected and broken. Others will cover this better than I can.
The continuing damage, from my perspective, was done to the City by Wellington designed, and controlled, bureaucracies. As these bureaucracies opened, and then closed, many of the people who worked in them moved onto other agencies. They brought with them the same values which had been infused into them by Wellington. These were largely undemocratic. This has been the most depressing issue for me. I have witnessed dreadful decisions made by people who didn't know what the hell they were doing; but they had the power to implement them. And they fed the politicians all sorts of bullshit which they believed, and defended.
One awful survivor is Otakaro Ltd. This monster, has a CEO on $600K a year. This is one of the most unaccountable organisations I have ever seen in the public sector. It's a very expensive real estate firm.
I spent 15 years in Local Government. It has been absolutely depressing to see just what has happened to CCC due to the presence of the values of the people I described above. I have so many wonderful friends, some of them mates, who still work at CCC who are filled with despair at just what has, and still is, happening within that Institution.
An institution which has in the past won world awards. We need to work hard to ensure that it moves back to world class status. We are watching the current restructuring with great interest. It's taken an excessive amount of time to implement the proposed changes. We will return to this in future Tuesday Club notes.
Some agencies, like SCIRT, did an amazing job repairing our roads and our infrastructure. Eventually they too were garrotted by an exercise by Treasury which played with figures and reduced the funds available to this City. Unfortunately, the excellent systems developed by SCIRT were not adopted by CCC.
At the time of the earthquakes CCC was underinsured, because of a decision made after I had left. This decision to change insurance companies was never approved by the elected reps. In my estimation this cost the City up to $750m. That left it in a weakened financial state, and it has struggled to recover.
For those mindless ones who chant the mantra of "sell the assets" I say if those of us who went before them had not managed the assets properly CCC would be broke right now. Other than reviewing whether City Care should become the division of CCC it always was, I would instead be looking for new and exciting opportunities for further investment by CCHL.
It wasn't all bad at CCC. When the elected reps finally put their big boys and girls pants on and decided to tell Brownlee to get stuffed and that they intended to rebuild the Town Hall, I leapt for joy. I'm a tight-fisted accountant normally. But I didn't care how much the Town Hall cost to rebuild. It has always been a marvellous building, much loved in the City. The building design influenced the building of this sort of building throughout the world. Too many parts of the City were torn down unnecessarily, and we really must congratulate the Council on this decision.
The other joy came from the building of Turanga. This world class building is an example of what we are capable of, if we put our minds to it. There was no external meddling in this fantastic model of just how a library should look, feel and perform. This is Christchurch at its best and what I despair is that we see too little of this level of high thought. This building was supplied on time and within budget, which is more than we could say for its monster neighbour across the road.
The challenge for us in Christchurch is to ensure that organisations like CCC are properly led and accountable. It's not to create more CCO's with overpaid CEO's and Boards with their snouts in lucrative troughs.
One of the things which we should all be grateful for is that CCC staff kept our water flowing; our sewage left our homes; our libraries stayed open; our parks rangers kept us safe; permits were approved. All the normal services remained, often as staff were individually struggling with EQC and insurance companies, just like the rest of us. There is massive goodwill amongst the staff at CCC and desire to perform as good public servants. For that we are very grateful.
One area where there is the need for careful analysis is how our Economic Development Agency is performing. This is an area which is desperately in need of massive transformation. Currently it is an expensive PR and spin department. The Council has to change this agency quickly if we are to stand any chance of its role being significant as we work on our bright future as a province.
There's far too much emphasis on events and tourism at ChristchurchNZ. We have to accept that events are a "nice-to-have" idea but it's time to assess just how effective they really are at keeping people's spirits up. We must also ask the question of do they really attract people to this City. The agency has to spend less time focusing on tourism and more time on the industries which will bring genuine wealth creation to this City and the region. In short, it's time for a complete re-look at ChristchurchNZ. It has a massive staff working on the wrong things.
One fundamental task of Local Government is planning. When I was at the Council, we always had a senior and highly experienced planner in the management team. Since the last one left there has not been a replacement at this level. The person who now leads the planners came from the housing division. The District Plan forced on the City by Central Government was written by lawyers, for lawyers. It's another reason why we have planning problems, aside from not having trained planners in key places. If the CEO is serious about implementing the sort of change needed in this City this great hole in the skill level at management level of CCC must be rectified.
There has been some wonderful recording of this City during and post quakes. Books have been written. I think I have them all. Documentaries have been produced and massive TV coverage has kept us informed. This City should remember John Campbell for ever as without his advocacy we would have dipped under the waves and disappeared. John, and John Selwood locally, kept our spirits up night after night. I bet John's team didn't get a Christmas Card from Gerry and his team!
Gerard Smyth has produced two marvellous films on the Quakes. One "When a City Falls" and recently "When a City Rises". I've enjoyed them both. Here's a review of the latest version. https://thespinoff.co.nz/tv/15-02-2021/review-when-a-city-rises-is-a-celebration-of-a-fallen-city-and-its-people/.
The media have produced many wonderful accounts of the struggles and the victories in this province. I thought this article by David Williams in Newsroom on Friday was a good summary: https://www.newsroom.co.nz/a-decade-on-a-tale-of-two-cities
We also had seriously good art and community actions which arose out of nowhere. These inspired us and entertained us. These initiatives were normally driven by a very small group of committed people. Whether it was representing the people in the East, or those who were suffering. People who fed others, or made us laugh. Everybody who could play a part was there and we needed every one of them. To all of you, our sincere thanks. We might not know your name, but we sure needed you. And you kept us going.
One serious challenge to the Government:
One figure of the cost to the Government of the earthquakes has been repeated time and time again by both National and Labour Governments. That is that the State has supplied $17b into Christchurch's rebuild. The implication is that we should be grateful, and to shut up and not moan. Wherever you go in New Zealand this figure is stated as an example of the fact that we have had sufficient support.
Seventeen billion may be the gross figure. However, I'd like to see how it has been calculated. The key issue missing from all those who chant this figure is that the rebuild of this province increased the GDP of New Zealand. That huge sums flowed into the rebuild is indisputable. The bit which never features in the financial analysis is the extra taxes the Government earned as a result of GST, and PAYE and Company taxes. This must have been enormous. It has never been documented anywhere. The net cost to Government will be very small.
When Megan Woods started chanting the same $17b as Gerry Brownlee had shortly after being supplied with a BMW and chauffeur, I marvelled at how quickly Treasury indoctrinates incoming Ministers.
Megan Woods gave an undertaking that EQC would be reviewed and this is precisely what happened with a Royal Commission led by Dame Sylvia Cartwright. The report which emanated from this Commission has made many seriously good recommendations. The Government is considering these right now. Megan also gained Cabinet support to introduce a support structure to assist those who are still struggling with EQC and insurance claims. This service has been outstanding.
Finally, in this section:
One of the people who started the Tuesday Club was John Patterson. John insisted that we had to start something which had no hierarchy. No constitution. No rules. We had to look at issues and face them head on. When we were pissed off, we would say so. We would challenge Institutions and those who lead them. We would support good people and good ideas. We've done that for years and we will continue to do this.
Last week John sent me this letter which he had received from a woman seeking his assistance shortly after the earthquakes. He labelled it "Least we forget"
Dear John,
You were kind enough to visit me a few weeks ago and gave me your card in case I needed further assistance.
You probably know that my lovely house, courtesy of Housing New Zealand, is in the red zone, and eventually will be demolished. I'm very depressed about this, but to add to my woes I am not able to go out of the house without human assistance – the liquefaction has made all footpaths (and my drive) very slippery. (I actually slipped in the mud, fell down and could not get up at one point; subsequently my feet have swelled up making it impossible to put on my boots.) I can't even go out to my post box.
My daughter, bless her, has been very supportive and has been coming every few days to empty my chemical toilet. But she is going abroad for three weeks. Also, she has injured her arm and back and could hardly lift the chemical loo when she came over yesterday, let alone carry it up the street to be emptied. Ironically her husband also has an injured hand and is awaiting surgery.
Do you know of a local service who would be able to empty my chemical toilet for the next few months? I would be willing to pay a small fee for this assistance. My chemical toilet only needs to be emptied once a week because I use my commode for urination and at the end of the day empty it into a bucket – the bucket then needs to be emptied out onto the grass. Alas I can't even do this because everything outside is swimming in mud.
I've arranged to have a home help come on Tuesdays in future. They can then put out my waste disposal bins for me. If a 'chemical loo emptier' could come on a Wednesday this would be very convenient because they could put the bins back into the garage for me. Oh dear, I'm someone who has always prided herself on being very independent. So, you can imagine how degrading it is to ask for such help.
I hope your house is safe John! And that you are well. Please ring me.
The next part of my writing this week is about an Institution which we have every right to feel is an indication of the imposition of the dead hand of Wellington bureaucracy. Over the past 10 years this organisation has responded to the level of challenges few others would have contemplated.
The CDHB. Read Garry's latest thoughts what has happened to this organisation because of outside influences.