As the Government considers when NZ will move from Level 4 to Level 3, I have been thinking about what we should be planning personally as our new world emerges.
Here's how the Economist reported that European countries are intending emerging from Level 4 today: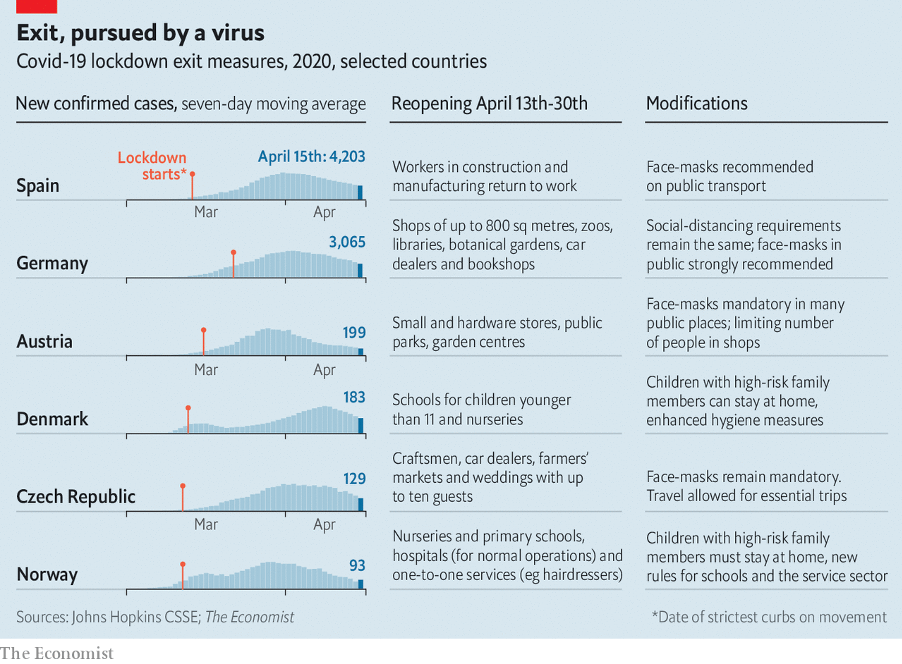 We will need to ensure that we move from level 4 at the right time and that we don't go back.
One of the lessons from being in New Zealand over the last few months was that it wasn't dog eat dog which enabled the Government to address this pandemic. It was collective action.
I am old enough to have experienced good old-fashioned collective action. It supplied my generation with stability in housing, living standards and jobs which meant that wealth was a shared experience. In my last year at Polytech my fees were around $150. The state invested in my future. I was expected to repay this by being active in my community by my family. This shared wealth was often not experienced by Maori and immigrants, but we started to realise this far too late.
Oscar Wilde once described somebody as "knowing the price of everything and the value of nothing". I was trained in the profession of accountancy. When I was 32, I couldn't stand being an accountant any longer and left. It was useful training and I have used it ever since. However, I saw Oscar Wilde's statement as a warning. The, mainly economists, who drove the neo-liberal economics wave of the 1980's in NZ complied really well with the Wilde quote above.
The world's political leaders have, generally, responded reasonably well to the call for leadership. Some have continuing bowing to the God of money. Of course, we have to have a thriving economy. However, this time we have had to restructure our lives as we followed the advice of the medical confraternity across the world.
The next bit will be interesting. We have deep thinkers, like Mike Hosking, braying about moving to Level 2 immediately. I hope his grasp of medical matters is more solidly based than his understanding of issues like penal reform, and the variety of other topics he spouts about each morning. Fortunately, he has failed the RNZ staff test, and I seldom have to listen to him.
Politics has changed massively in the past few months. There seems to be a whole new opening for ethics and genuine public deliberations. This gives us a chance to contemplate what sort of politics would be acceptable in a changing world. I tuned into Parliament the other day. I wanted to observe how the Committee was handling the affairs of state. They seemed to be all strutting in front of the Zoom camera in their home offices. The whole exercise appeared to be reasonably fruitless. The new politics and commitment to the new economy debate must have been in another room. I was tiring of it and then who should come onto the screen, but Gerry Brownlee. I was impressed that he wears a tie at home. That, however, didn't cover up the fact that the content of his questions seems to not have improved during our lock-down. I gave up at this point and went back to the garage.
Peter Dunne has been banging on about how it is essential that we have open Government again. He seemed to have a  different mindset as a Cabinet member when we, in his old home town, lived under Marshall Brownlee in the very undemocratic way Christchurch was run after the earthquakes.
Politics is a strange old beast. For me politics will always be about ideas and possibilities, and debating them. I had a wonderful friend who was a lifetime Tory. His grandfather was Stanley Baldwin. He had two cousins, and three nephews, in the House of Lords. We had fantastic discussions about life, and ideas. He was a devoutly religious man who practiced what he preached. Over the years as we discussed things, we discovered that we didn't really disagree on ends. We did, however, debate the means of getting there. Our being in two different parties was really a distraction which stopped us discussing the real issues in life.
What has happened in politics is that many of the so-called Tories now are neo-libs, as are many Labourites. They are not old-fashioned Tories. Their concern for those in the community who are struggling, too often, is hardly on their radar. They form around blocks. It's all about power, often with only a sprinkle of politics in the mix; for forms sake.
So, when we experience something like this virus the true collective reason for politics raises to the surface. Politics isn't all about power and which grouping has it. It's about how we as a community solve collective needs. This pandemic has shown that too often political debates are completely irrelevant. Only collectivism has enabled society to address this pandemic.
We need a revival of ethical debates in politics and to, once again, return collectivism to its rightful place at the debating table.