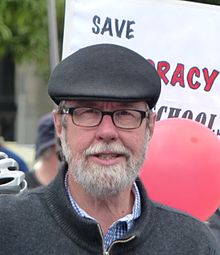 People keep asking me if I will stand for Mayor again. The answer is always the same. NO.
These days I just promote ideas and dialogue and challenge institutions; and those who Govern them. I continue to be passionately interested in our City and our region of Te Wai Pounamu. I always encourage people to get involved.
On January the 8th I turned 70. I see my task now as having time to demonstrate that those of a certain age are paid a pension to gift our time, and our ideas. Our role is to be mentors to those who follow us, and for us to be seen as active participants through the gift economy.
I wonder if the essence behind peoples' question of who is standing for political office is that there is a desire for real change in our society, and therefore our institutions. It isn't the role of politicians to just maintaining the status quo. In fact, an essential role for them is to critically challenge the status quo and to show leadership, not just react to nimbyism.
Often I have sat with many of the excellent people who work within institutions and so often they too are frustrated with structures which block new ideas and which too often are being used by strong people within them to control their own power bases. Old fashioned public servants are almost an endangered species. Those that are need our support.
I remember running a WEA Summer School over 40 years ago. The topic was "Is Small Beautiful?". I had been really excited reading the book by EF Schumacher, "Small is Beautiful", and managed to convince the Summer School Committee that we should examine this topic in depth over 5 days.
One of the speakers was Professor Bates from the Engineering School at Canterbury University. His topic was "Is small beautiful from an engineering perspective?". I will never forget his talk.
Professor Bates started by saying that you can give an engineer any project of any size and they will deliver what is appropriate. An engineer does things that are needed. Large or small. Since that talk I have had a lot to do with engineers, and I would enjoy a chance to debate his simple analysis. However, that is an aside.
Professor Bates then said "what I what I really want to talk about is the fact that the Universities of the world are churning out technocrats by the millions. These people will be a blight on our society and will change structures, even when they don't understand them." I have, over the years, often thought about this message. His prediction has been completely carried out in my lifetime.
Let me consider a few local examples. Lets' start with planning…
One of the fundamental roles of Local Government is to have well trained planners who are capable of engaging with the community to ensure that we have properly planned cities that reflect the hopes and desires of those who live and work there. An appalling fact is that Christchurch City Council doesn't have a City Planner in its executive team. It has planners. But the person leading the planning section came from HR.
Next lets' look at Three Waters. The person in charge of this section is not an engineer. She has a science degree.
The people holding these positions might be highly competent people, I don't know, but they are operating outside their training. I'm an accountant. I know a lot about systems and have learnt a lot about infrastructure. However, put me in a position where I have to lead a section of skilled people, with a deep knowledge of how the pipes under the ground operate and I would be in a vulnerable place. I might know how to lead a team but if I'm being fed bullshit information, I wouldn't have a clue how to tell.
How many of you reading this could give examples of people managing a section where they are totally outside their training. However, they comply with the maxim that "a manager is a manager, is a manager".  
What made me think about the need for us to have a hard think about our institutions and how they are managed, and governed, was raised in my mind by this article in Newsroom https://www.stuff.co.nz/national/politics/opinion/123921986/citizens-not-governments-are-the-changemakers.
In the article Helmut Modlik, chief executive of Ngāti Toa wrote about a workshop he had attended and what it had sparked in his mind:
Our workshop concluded that our current machinery of government is not designed to deliver universal outcomes, and that is why we never get them – and never will – unless we change our machinery of government. It's hard to overstate the significance of that conclusion. Think about it.
It was an unexpected landing place that left us pondering … what changes?
Governments are designed to secure and wield power; to secure and deploy citizens' resources; to prescribe and proscribe citizens' behaviour. They ultimately rely on force (or its threat) to secure citizen compliance, taking citizens' freedom and/or resources as ultimate sanctions.
High prison populations and police numbers, plus recurring changes to tax laws, are evidence that non-compliance is not only common, it's growing. More rules, more sanctions, more control, more force, is not the answer. What is?
Helmutwent on to say:
To have (more) universal outcomes – i.e., less inequality – we must tap into more meaningful, consistent community participation and support.
Is this ''motherhood and apple pie'' or a genuine possibility?
Dutch philosopher Rutger Bregman, wrote in his recent book Humankind: A Hopeful History of the experience in Torres, Venezuela, when a new mayor in 2014 introduced participatory democracy to his city, achieving amazing results.
Citizens embraced the opportunity to change their city through direct decision-making processes, and the outcomes were inspiring.
Bregman also referenced participatory budgeting in Porto Alegre, Brazil, now used in more than 1500 cities around the world. In these cities, citizen groups directly prioritise city expenditure, ensuring alignment with community aims, and improving those aims' likelihood.
And why stop with improving our democracy by increasing citizen participation. Our economy and businesses also perpetuate inequality for similar reasons. With more participation opportunities for employees in the ownership and leadership of enterprises through shared equity schemes, co-operative corporation models, self-directed team approaches, etc, greater social and financial equality is truly possible.
Such approaches are part of an international "community wealth-building" agenda that is seeking to redress economic and social inequality in communities around the globe. Notable examples include Mondragon, Spain; Preston, England; Cleveland, in the US; and soon, Porirua, New Zealand.
Porirua-based iwi Ngāti Toa Rangatira is on a mission to galvanise a community-led uplift in the "wellbeing, prosperity and mana" of its people and community.
Partnering with central and local government and local enterprise, we are establishing a community wealth-building team to leverage planned inbound public and private investment, and, via social procurement processes, to channel that investment to increase local employment and local enterprise formation and growth.
Over the next period we will have a look at just what proper community participation and what participatory democracy could look like in this City. We will also have a hard look at how well administrations are performing.
I welcome people with ideas on how we can handle this challenge.