Like every part owner of a small business we are sitting anxiously wondering when the lock down will be over. It was instructive to listen to the Steven Moe's interview with Shamubeel Eaqub about economics. This is a philosophical discussion about the real reasons for an economy. As I listened to this, I remembered a seminal book in my life, "Small is Beautiful" by EF Schumacher. Its subtitle was "a study of economics as if people mattered". I've just taken it out of the bookshelf and its companion book, also by Schumacher, "Good Work".
Over the past few decades' competition, cutting costs, and, dog eat dog, has been the order of the day. This interview stops the clock and asks the question is it competition which is getting us out of this world wide challenge? His answer is no. It's cooperation. I like his comment that tax is a demonstration of love in the economy. Have a listen to this interview, and thanks to Steven Moe for your energy.
There are many publicly predicting where a future economy is heading. As I read their opinions, I often apply a significant discount factor to them. In many cases those commenting have been involved with the system, the flaws of which are being highlighted right now, and often part of creating the problem. Convention thinking will not lead us out of this. As I listen to them, I ask myself are they capable of supplying a dispassionate analysis?
It will take a great commitment by us all to rebuild a new economy. One thing I feel is that there will need to be some really large employment schemes for a period to assist those made unemployed as the new economy is created. I was speaking with a good friend who also worked amongst those affected by structural change in the 1980's. We realised that most of the politicians and bureaucrats in key slots right now have no idea what impact that era had on people's lives. Or what solutions were implemented. We did a whole lot of things which will have to be dragged out of people's memories and dusted off; and done again.
I do not apologise for much of this week's effort being about economics and finance.
I have returned to considering the banks and this time studying their collective behaviour over the past short period; where they have been nothing but greedy and grasping. I feel very strongly that the banks are currently offering nothing, as by giving anything away they know it will affect their bottom line. I acknowledge that the banks are an essential part of the trading side of our economy. However, I really am starting to wonder about whether their loyalty is to their Aussie owners, and not to this country; other than as a source of profits propping up their share prices. Cam Preston's excellent article in last week's Tuesday Club notes reminded me that it wouldn't take too much of a recession to destroy the capital of some of the Aussie banks.
I really liked this which was sent to me this week:
This week ChristchurchNZ released their economic blueprint for recovery. I haven't had a chance to read it all. In my reading around the world, about how different City states are planning their recovery, Amsterdam stuck out as a shining example of finding a new path. I have supplied links to this plan and will compare the ChristchurchNZ effort to it when I read the local effort.
I attended, as a small Catholic boy in Palmerston North, the sort of school where young Catholics were indoctrinated with "the faith". The nuns taught us about "miracles". There was a bottomless pit of stories about "miracles" which included logical matters like the virgin birth etc.
Well this pandemic has brought miracles back into our society. Legs are springing out everywhere. Boredom has enabled people to discover their legs. The streets are alive with legs of all sizes. Some straggling behind others, like me. Others striding out well on the way to achieving their next trip to Everest. I've never seen so many people walking. It really is a miracle.
The same for biking. It's possible to ride along in the middle of the road and get away with it. Once again there are bikes everywhere.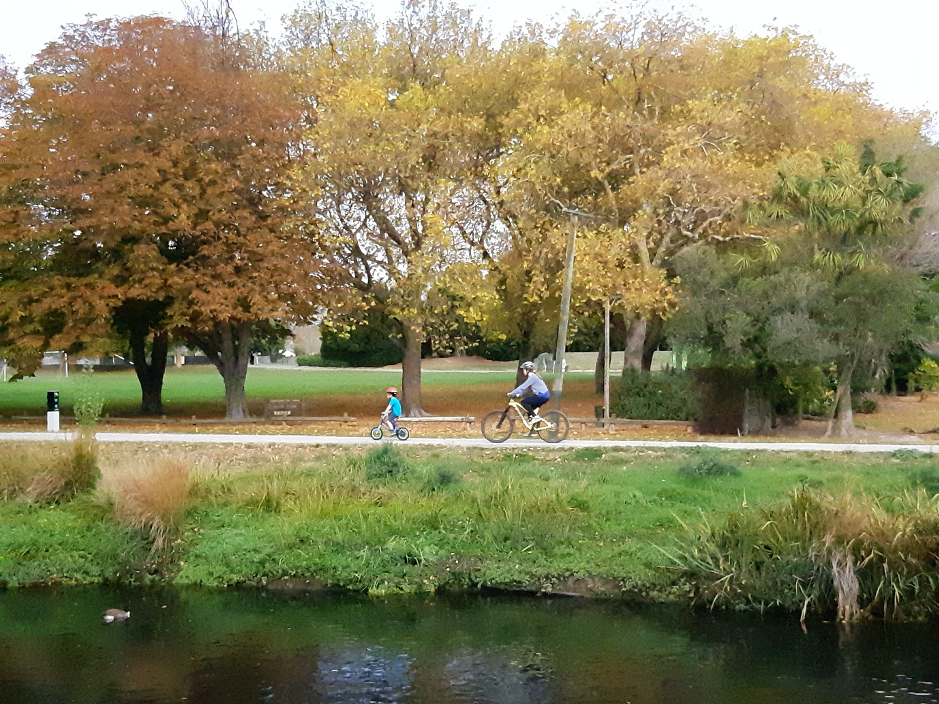 All sorts of people are dying around the world. Not necessarily just of coronavirus.
One of the great heroes of my childhood, Stirling Moss, died in London over the weekend. I love the story of Stirling when he was caught speeding by a cop in the UK, when he was still a racing driver. The cop walked up to the car and said "who do you think you are mate… Stirling Moss?". To which Moss replied "actually I do". https://www.stuff.co.nz/sport/other-sports/120982345/british-racing-great-stirling-moss-dies-aged-90?cid=app-android
Over the next weeks, there will be tensions building up as people tire of being constrained. Keep in touch with each other by phone, or Zoom.
We must be kind and supportive of each other and rejoice in this amazing experience which the virus has given to us. We really are participating in history. We are history.