Every now and then you get a reminder that having participated in public life was probably really worthwhile. last weekend the Press carried another excellent article by John McCrone, this time about the renewed steps being taken to envisage what our future looks like as a Regional City. It's called Christchurch 2050.
It reminded me of another time when Ecan proposed to Canterbury Councils that they undertake planning on behalf of the Greater Christchurch area. I received a document on my desk to sign. All the other Mayors had signed. I refused. My argument was that I didn't trust Ecan. I still don't, but that's another story. I felt that Ecan staff would spend years writing a document and whoever was Council leaders when it was published would all rise up and say "how the hell did this happen, we don't agree with it". Thus, years to work would be wasted, no matter how good the document turned out to be.
I went to the next Mayoral meeting to face an audience which had a common enemy. Me.
My argument to them was that we all needed to work on a plan together and then each individual Council should write their local plan for their Council which was in sync with what we had all agreed. It was finally decided that this was a good idea. Thus, was born the Urban Development Strategy (UDS). Chrissie Williams was the first chair. We all started planning together and, the very interesting fact, was that the UDS was one of the few things which survived the earthquakes. Shared plans have an ability to resist major upheavals, as they have many owners.
That's why it was interesting to see a photo of those of us Mayors (all blokes) at the time in the article. The bit that was missing was the battle to get to that point! The number of people who have commented on my lack of beard since the article was published is a bit hurtful but, that's life. I had just cut the black one off that had been there for 30 years, as it had gone ginger….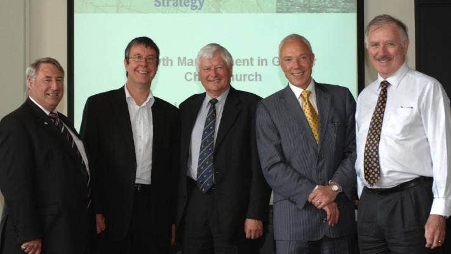 Let's stop reminiscing… the Christchurch 2050 project must get our support. I will ask the team to come and speak to the Tuesday Club.
Here's the link to the website. There are a number of questions they are asking
https://www.greaterchristchurch.org.nz/. I filled in the questionnaire which is quite comprehensive. It should give them a reasonable steer as to what is in people's minds right now, provided people complete it.

I would like to see workshops which are inclusive of the great number of communities we have which make up Greater Christchurch discussing and feeding into this document. We need to move way beyond what we are now and start dreaming of what we could be. Just as we did when we had "Share an Idea". The learning from this exercise was that people's ideas were taken by Central Wellington bureaucrats and basically stuffed. We need to have open, flexible and open eared discussions. We need to be comforted and confronted. We need to be challenged and scared shitless about what we could do. We need to be told what others are doing that we aren't.
The key thing is that it must not result in bland solutions. It should be big, bold and brave. People talk about "blue sky thinking". Unfortunately, those who are pulling the ideas together are, too often, unimaginative in themselves and they put too many "ifs'" and "buts" into their plans, to appease politicians who cautiously are looking over their shoulders towards the next election.
John Patterson sent me this poem yesterday. It's exactly how we should not behave as we embrace the Christchurch 2050 dreaming session:
Oh, give me your pity! I'm on a committee
Which means that from morning to night
We attend and amend and contend and defend,
Without a conclusion in sight.
We confer and concur, and defer and demur,
And reiterate all of our thoughts,
We revise the agenda with frequent addenda,
And consider a load of reports.
We compose and propose, we suppose and oppose,
And the points of procedure are fun,
But though various notions are brought up as motions,
There's terribly little gets done.
We resolve and absolve, but we never dissolve,
Since it's out of the question for us,
To bring our committee to end like this ditty,
Which stops with a period — thus
Anon
Instead let us challenge those who work for us as public servants, both as politicians and as bureaucrats. We need you to take off your cloth ears and listen. Don't just work to appease loud minorities. Listen broadly. Listen to the little people. They might not be able to use big planning terms. But they know. Here's what a Guardian writer wrote recently about listening:
In Leah Bassel's book The Politics of Listening, she writes: "Politics means naming the social forces that deflect attention from particular voices, and is necessarily adversarial as well as active and creative." It is never going to be enough just to listen; one has to take action against the forces that mean certain voices are unheard in the first place. Listening to varied opinion is an important part of a healthy political climate. But without being followed by meaningful action, it's all talk.
No. Let's be bold as a City, as a Region, as an island.
Here's the link to John McCrone' s article
https://www.stuff.co.nz/the-press/news/122954190/yet-another-go-at-defining-greater-christchurchs-future-why-the-urgency-of-gc2050