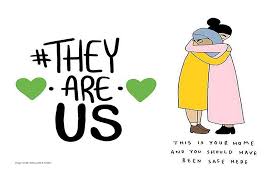 This week we watched on in silence, and in grief, as some of the victims of the Mosque murders stood before the man who had tried his best to destroy their lives. Just passing the Court, which was surrounded by gun wielding Police, was sobering enough on its own. Observing the members of the Muslim community wearily walking up the Court ramp to face the murderer who changed their lives, and our Country, for ever, was distressing.
I was walking through town shortly after the Judge had made his ruling. I came across Tony Green, a spokesman for the Muslim community and an attendee at the Tuesday Club. Tony looked like he had been run over by one of the buses he used to drive in London. The week spent supporting those who were giving their victim statements to the Court had obviously been exhausting.
I would like to get Tony to speak to the Tuesday Club as soon as he feels able. The topic will be what now?
Later Tony sent me a link to this article written from New Zealand for the Guardian about the court case https://www.theguardian.com/commentisfree/2020/aug/27/the-christchurch-mosque-survivors-have-to-find-a-way-to-move-on-but-we-shouldnt
It's a sobering read. Some comments caused me to reflect on the depth of the message. Like this:
It would be a grave mistake to see the horrific acts of terror perpetrated by Brenton Tarrant as isolated and unique. We have already seen a spike in far-right attacks around the world, from the deadly Hanau shooting of a Shisha cafe in Germany, to the Bærum mosque shooting in Norway. Both the UK and the US have reported record highs in far-right activity, fuelled by an international network of groups trying to legitimise their imagined grievances.
We cannot be done talking about Christchurch. We cannot remain unchanged by it. The luxury of thinking ourselves innocent of the trends we saw overseas was shattered the moment a gunman trained at a range in Dunedin opened fire into the backs of worshippers. The breadcrumb trail of warning signs that preceded it for years and was ignored. The blades of hate sharpening with every confrontation in the street, every misguided news report and every reaction that aimed to intimidate and scare our smallest communities.
We are now a part of a global conversation and we cannot shirk the role we must all play in combating a hateful ideology that feeds on complacency. The conversation that began on 16 March has not ended. We still have a lot of ground to tread, and soul-searching long overdue.
Beyond this, we must also figure out how to grieve openly and loudly, and take the lead from those who should never have had to do it on their own. We are a country that needs to heal but that first needs to admit to the pain.
He finishes off with:
The names and faces deserve to be etched into our memories, and our history books, forever. The survivors still struggling with surgeries, trauma and upended careers. The families who carried their grief in and out of police stations, media interviews and courts of justice to ensure a man who is a danger to all of us remains behind bars for good.
They don't deserve only our sympathy, but our gratitude. They have done the unimaginable, and now they must be allowed to continue their healing in peace, knowing that a team of 5 million is holding space for them always, in our hearts, in our history, in our story. Their job is now done. Ours is only beginning.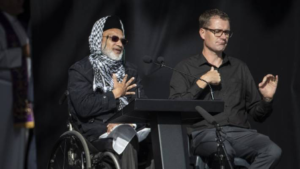 The last sentence was what brought me up with a start. "Ours is only beginning". The understanding and respect of differences. How we can learn from wonderful leaders like Farid Ahmed who captured our minds and hearts with his passionate address at the national service in Hagley Park after the massacre.
He taught us what faith is really about. Here's how the Press recorded his remarkable words:
"I don't want to have a heart that is boiling like a volcano," said Farid Ahmed, whose wife, Husna, was killed in the Al Noor Mosque.
"A volcano has anger, fury rage – it doesn't have peace, it has hatred. It burns itself within, and it burns the surroundings."
Ahmed has become a symbol for grace and forgiveness since the events of March 15.
He explained why he had chosen to forgive: "I want a heart that is full of love and care, and full of mercy, a heart that will forgive lavishly."
Closing with a re-framing of the city's slogan, 'The Garden City', Ahmed asked the crowd to consider where they were; to learn something from their surroundings.
"In the garden, we see different types of flowers; They are different, but together they make a beautiful garden," he said.
"They stand alongside each other, in peaceful coexistence, even though they have differences. We human beings have to be like this.
"I may have one faith, you may have one faith, but together, we are a beautiful garden."
John Patterson, one of the founders of the Tuesday Club, participates in a memories group which links him, and Anne, back to their old village in Geordie-land, UK. He wrote this to his memories group:
My apologies if I'm breaking the rules of the memory group as this story is about where I live now in Christchurch New Zealand but what happened here happens around the world.
March last year a white supremacist young man went into a Mosque here in Christchurch with a semiautomatic machine gun and mowed down the people as they prayed. He then went to another Mosque and did the same. 51 people were killed and the same number seriously injured. This happens in other countries around the world but we never thought it would ever happen here. The terrorist was arrested the same day and his trial has been held this week where this person pleaded guilty. It has been a remarkable week. Family members of the victims stood up in court and addressed this person directly telling him their own thoughts and we have heard from some remarkable people. They told him that he had failed in what he set out to do, they told him he didn't split the communities apart, it was just the opposite, he brought us all closer together, he didn't cause hatred, he caused love. As our Prime Minister coined the phrase at the time "They are us". These stories took three days to tell. Then on Thursday the judge gave his sentence. This person has been given life imprisonment with no parole, something that has never happened in New Zealand before. This person is only 29 years old so he has a long time the think about what he did while the rest of us carry on making our community stronger, a community built on love. Maybe as the years go by, he may realise the error of his ways and begin to understand the meaning of "THEY ARE US".
Patrick O'Connor also wrote this:
Asalaam Aleikum, Tuesday Clubbers.
I am not a Muslim but I have deep aroha, wairua and hakanui for our Muslim brothers and sisters as they continue to journey through the traumatic stress (yes not necessarily " post ") sadness, pain confusion and for some, ongoing anger they have experienced over the past nearly 18 months.
Yes, the perpetrator has been sentenced providing some relief. The justice system has done its job, but for all of us in society it is not over yet. In some ways the challenge is in its infancy.
Behind, in front of, around and in support of he who shall remain unnamed, lurk hundreds, thousands, millions worldwide of people with such beliefs.
A significant chapter has had a full stop placed in the narrative this past week, but in my view, there are many chapters awaiting continued authorship in the zone of religious, ethnic, cultural, and colour hate.
The chapters will be written by, not only our team of 5 million, but other teams worldwide reflecting on events in Otautahi and indeed elsewhere and amidst the drama in existence, and perhaps yet to emerge in other lands.
Last Friday at the Mosque, post sentencing, the Al Noor Mosque community, led by a dignified Imam Gamal Fouda, displayed terrific strength and dignity in praying in unity. It was so encouraging — the faith commitment. It felt immensely peaceful. There are many inspirational leaders in the community of the mosques.
Our Prime Ministerial, Mayoral and secular and interfaith leadership have been exemplary as has been the kindness of most people in our motu.
The dignity of the victim's families and extended families and friends has been stunning, as has been the leadership of the two mosques, and the Intercultural profile of worshippers at the mosques (some 35/40 cultures)
CH CH/ Otautahi, and our whole community in this land, are presented with the chance to walk the talk towards acceptance (as distinct from "tolerance") of all our Muslim whanau — and indeed all Faith's and cultures which dwell in Aotearoa —– OR let it all fade slowly into the past tense —- the answer to this is NO.
Our Challenge
"We shall repent in this generation, not so much for the wicked deeds of bad people, but for the appalling silence of good people " 

Martin Luther King saliently challenged us all those years ago: