One way we seek to ignore somebody who is saying something which threatens us, is by calling them a name. Generally, a name we don't like.
I remember, when I was in student politics, my Uncle Jack telling my mother that he thought I was a communist. That meant he didn't need to listen to what I was saying as a student leader. The fact that I had, as National President, to account to a National Executive of the Students Association for anything I said, was irrelevant to my uncle. He didn't like communists, so he slapped that label on my me. From that point on he could, in his mind, ignore anything he heard me say, because I was so obviously a communist.
I was thinking of my long dead uncle this week as I read the comments of so many misguided, supposed, world leaders about Greta Thunberg this week. Her speech to the United Nations was powerful and simple. Here it is https://www.theguardian.com/environment/video/2019/sep/23/greta-thunberg-to-world-leaders-how-dare-you-you-have-stolen-my-dreams-and-my-childhood-video.
There was a marvellous article in the Press by Alison Mau where she called out "commentators" like Mike Hosking and Duncan Garner this week.
They both as Alison said, "played the girl not the ball". When I think about Mike and his strutting, and often misguided comments, I ask myself what has he done for the world, when we consider this young woman who decided to start striking and demonstrating outside school, and started a world wide movement. One sat silently alone and was joined by millions of people, young and old. The other shouted nonsense into a microphone and drove home to his castle in his Maserati, on his own. It couldn't be clearer.
Here's where a movement started. One young thinker on her own. Last week she attracted over 4 million people to march in favour of climate change.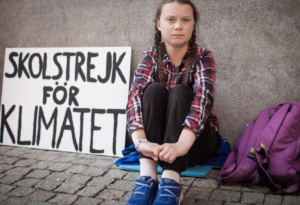 I thought Duncan Garner's column on Saturday was really interesting. He had obviously had his arse kicked in over his intemperate comments toward Greta. Which I think he thoroughly deserved. Half of the article was a master class in not saying "sorry". The second part asked the hard questions of what each of us have to do. The key point is without Greta Thunberg, Duncan would not even be writing this column. She provoked him into thinking. Next, alongside him, we all have to respond, and change. It's not good enough saying "it's too hard" like the second part of his article. It is hard, Duncan. That's the challenge for us all.
It filled my heart with hope on Friday when we all joined together and marched with the young people of Christchurch, to support Greta Thunberg's challenge. Our mission is to live our lives so that her challenge is understood and acted on. One hour making ourselves feel better by marching will not save the planet.
What in this City do we do differently so that we can make a difference in our lives? There has been virtually no discussion about Global Warming in the media interpreting what Local Government candidates are saying on this issue (although the Press has been doing some wonderful reporting on Global Warming). Candidates are not being asked what do they think we should be doing. Last Saturday the Press had a list of Climate Change deniers which was pretty scary. There are, however, people saying good things but that isn't receiving much attention.
We all need to look at the passion in the eyes of Greta Thunberg and think, how can we absorb and act on some of that clear thinking?