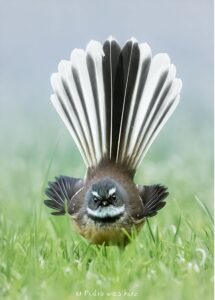 I saw the photo above thanks to Bernard Hickey during the week. We have piwakawaka through our garden twice a year in Autumn and Spring. They are a beautiful bird and an easy target for cats. That's why I wish we could get rid of all cats. 
Last week I wrote about my despair about being involved right on the inside of CCC, being paid for it, and still having very little influence on the executive. I have got to the stage where I am concerned about well paid politicians who sit and too seldom challenge the documents which are served up to them. Politicians are so often dripping in detail and not spending enough time considering the big picture.
I read an article in the Guardian recently by George Monbiot. He was writing about the need to challenge how public decisions are made and how essential it is for society to insist that as many decisions as possible come from the bottom up. This really appeals to me and I would like us to consider this regularly at the Tuesday Club. This does not need to be an adversarial exercise. The elected reps will probably doubt the effectiveness of their roles as often as we do.
Here's one paragraph from the article:
The much bigger change is this: to stop seeking to control people from the centre. At the moment, the political model for almost all parties is to drive change from the top down. They write a manifesto, that they hope to turn into government policy, which may then be subject to a narrow and feeble consultation, which then leads to legislation, which then leads to change. I believe the best antidote to demagoguery is the opposite process: radical trust. To the greatest extent possible, parties and governments should trust communities to identify their own needs and make their own decisions.
Then he went on:
Mainstream politics, controlled by party machines, has sought to reduce the phenomenal complexity of human society into a simple, linear model that can be controlled from the centre. The political and economic systems it creates are simultaneously highly unstable and lacking in dynamism; susceptible to collapse, as many northern towns can testify, while unable to regenerate themselves. They become vulnerable to the toxic, invasive forces of ethno-nationalism and supremacism.
This is really interesting. I spent 43 years as a member of the Labour Party. Phil Twyford succeeded where many others had failed, and drove me out of the Party. I had worked hard with him to get Party policy on housing which was broad spectrum with roles to play for all people. His vision of everything controlled from the middle was a step too far for me. I am a regionalist at heart. I will never be a centralist.
Essentially Party machines are camouflage for those who currently hold the power. These people change from time to time. It's like the ebb and flow of the tide. Ideas flow in and they then flow out. Those who are seen as powerful are clipped onto by those seeking to gain from being aligned with these power-mongers. That's Party politics in a nutshell.
Participatory Democracy
Let us consider a number of democratic ideas which are inspiring from the Guardian article. The first is "Participatory Democracy" in Porto Alegre in Brazil. Here's how it was summarised in the article below. When you read this think how simple it would be to modify our current Community boards to achieve spectacular changes in our democracy so easily and quickly.
Participatory Budgeting now involves three parallel sets of meetings — neighbourhood assemblies, "thematic" assemblies, and meetings of delegates for city-wide coordinating sessions. Events begin each year with a formal report by the city government on the previous year's expenditures, called the Presentation of Accounts. Meetings continue all year in three series of highly organized, formal rounds. The first series considers allocations within each of the 16 districts or neighbourhoods of the city, across the usual departmental responsibilities, such as water supply and sewage, street paving, parks and schools, and among the districts. District elections add a layer of representative democracy atop the directly democratic deliberations. Delegates at the district level are clearly constrained in their votes by the neighbourhood meetings, ample reporting requirements, and workable recall arrangements to keep them in line. To encourage participation, the number of delegates is roughly proportional to the number of neighbours attending the meeting where elections take place.
The district-based meetings begin with 16 Great Assemblies in public places, including union centres, gyms, churches and clubs — even a circus tent that held 2,000 people. The government reports on the previous year. Then the government presents its investment plan for the current year (decided in the
previous year's meetings). Then the debate starts for the year to come. The debates go on for nine months, and each district produces two sets of rankings, one set for twelve major in-district "themes," like pavement
versus school construction versus water lines, the other for "cross-cutting" efforts that affect the entire city, like cleaning up the beaches.
Allocation of the investment budget among districts is weighted by a set of weights also determined by popular debate. This year these weights are population, an index of poverty, a measure of shortages (e.g., lack of pavement), and the assigned priorities. A healthy tension between the executive branch and the citizens has resulted in a steady expansion of popular involvement. Through citizen initiative, Participatory Budgeting has broadened its scope to take in more of the city's budget. The leadership and design of meetings has shifted from executive-branch officials toward citizens and their elected delegates. Budget priorities have shifted in ways not anticipated by the mayors or their staff. The mayor and his staff stressed that one of the achievements of honest and effective participation is widespread recognition that at some level allocation decisions are zero-sum games: e.g., more child care or less pavement.
Here's an in-depth article about this process http://www.plannersnetwork.org/2000/03/participatory-budgeting-in-porto-alegre-brazil/.
Decide Madrid system in Spain
The second example written about by George Monbiot was the Decide Madrid system in Spain. Here is an explanation on how this system works:
The online platform is part of a new generation of open-source civic technologies which can be used to engage the public in decision-making. Decide Madrid aims to ensure transparency of government proceedings in the city of Madrid and to widen public participation in Council decision-making and spending processes.

Decide Madrid is powered by the open-source software Consul, and has been used to allow citizens of Madrid to engage with local government in four ways:
Participatory Budgeting: for citizens to make spending proposals for projects in the city
Debates: a platform for deliberation which doesn't lead to direct decision-making but gives the City access to public opinion
Proposals: citizens can shape government actions by directly proposing and supporting ideas for new legislation (that fall within the jurisdiction of the city council)
Consultations: Madrid City Council gives citizens the opportunity to provide opinions about and vote on council proceedings
Better Reykjavík is an open online consultation forum used by the administration to collaborate with citizens and stakeholders on various projects where it is possible to submit and discuss ideas on projects the city is working on for example policy making.
The website is open for everyone to view and participate without registration. However unregistered users can not cooperate with the administration about ideas or projects going forward as they do not leave contact information. Better Reykjavík enables the city of Reykjavík to have a direct dialogue and practice participatory democracy.
Users participate by presenting their own ideas, viewing the ideas of others and/or giving feedback by supporting or opposing them. Better Reykjavík enables citizens to voice, debate and prioritize ideas to improve their city. Better Reykjavík also gives the voters a direct influence on decision making.
Within the Better Reykjavík platform different projects are operated, the biggest being My district which is Reykjavík city´s participatory budgeting project and has been operated since 2012 with over 18m EUR having been allocated directly by citizens to 787 projects, which have been executed throughout the city.
Crowdsourcing ideas
In 2017 the City decided to collect ideas from the citizens to co-create the City's education policy and used Better Reykjavík for it. This was the first time that actual policy of any government within Iceland was crowdsourced. The process was concluded successfully in 2018 when the education policy was published.
A similar process is now ongoing, where the city is formulating its first democracy policy and asking the citizens to participate by submitting their ideas on improved processes and/or prioritizing democracy objectives.
For further information contact democracy advisor, Sigurlaug Anna Jóhannsdóttir at City of Reykjavik Human Rights and Democracy Office.
In New Zealand Max Rashbrooke recently gave a TEDx talk about improving democracy. Here's a link to it. https://www.maxrashbrooke.net/.
Recently the Christchurch City Council has conducted the exercise of obtaining views on the Christchurch Climate Change policy. This was an important exercise and the feedback which I received was clear and easy to understand. We need heaps more of this sort of consultative exercise. The next part is the most important. The people who have driven this consultation need to also ensure those who have to implement the policy are equally accountable during the process and that the outcomes are carefully measured.
Here's the informative that I received from CCC. I would like to see feedback every few months on progress:
Kia ora,
Thanks for taking the time to let us know your views about the draft Ōtautahi Christchurch Climate Change Strategy. We received 153 submissions – 113 from individuals, and 40 from organisations. Here's a summary of the feedback we received.
Key topics raised
General support of the direction of the draft Strategy, four goals and ten Climate Action Programmes, although many called for much bolder and more urgent action.
More climate education, both in schools and through public information campaigns, to help establish the buy-in necessary for widespread behaviour change.
Reducing transport emissions by improving the public transport network.
Encouraging urban density and '15 minute neighbourhoods' that are easier to walk and cycle around.
Submitters were generally in favour of the Council displaying bold climate leadership.
A minority of submitters (10) did not think climate change should be a priority for the Council.
Hearings panel details and decision making process
Those of you who asked to speak should have been contacted by our Hearings Team to arrange a time. Please get in touch if you would like to speak and have not yet had this arranged.
This week's notes include another article on the External Advisory Group, another on water systems, migrants, and cycle ways. Our speaker this week will start our in depth discussion on water. Te Maire Tau will talk about the Ngai Tahu claim in the High Court on water.