The Government could take the fizz out of housing, and the real estate agents and banks who cream it right now.
Before I come up with a suggested solution let us consider what gave stability to the housing market in the 1950's and 1960's, and the lessons for us from our tupuna.
I have written before about my parent's generation. It demonstrated that where there is a will, there's a way. There was effectively a Housing Accord between the political parties. Precisely what is desperately needed right now.
New Zealanders had experienced a massive earthquake in the Hawkes Bay; a depression and a world war. All people wanted was peace, and to get on with their lives. The same political parties which exist today worked to an unwritten housing accord.
A smorgasbord of housing options was available to NZers. If a family income was below a certain level, they were entitled to a 3% State Advances Loan. Our mums could capitalise their family benefits to use as a deposit to purchase an existing house; or a new one. There was no discrimination towards families living in a State House. For several decades this supplied a stable housing market.
It's the one I grew up in.
The issue is land. We need to ensure a supply of land so that the nonsense of those who have heaps of it holding the rest of the country to ransom is a thing of the past.
The debate on land accessibility generally focuses on private land developments. That is only one part of the solution. I'd like us to ask the questions, just how many land sites are needed over the next 10 years and then work on finding a solution which would not be considered conventional.
Before I propose some steps which we could be discussing as a country on housing, I'd like to take you past two brilliant Community Housing sector experiments with land holdings.
1. He Korowai land trust in Kaitaia: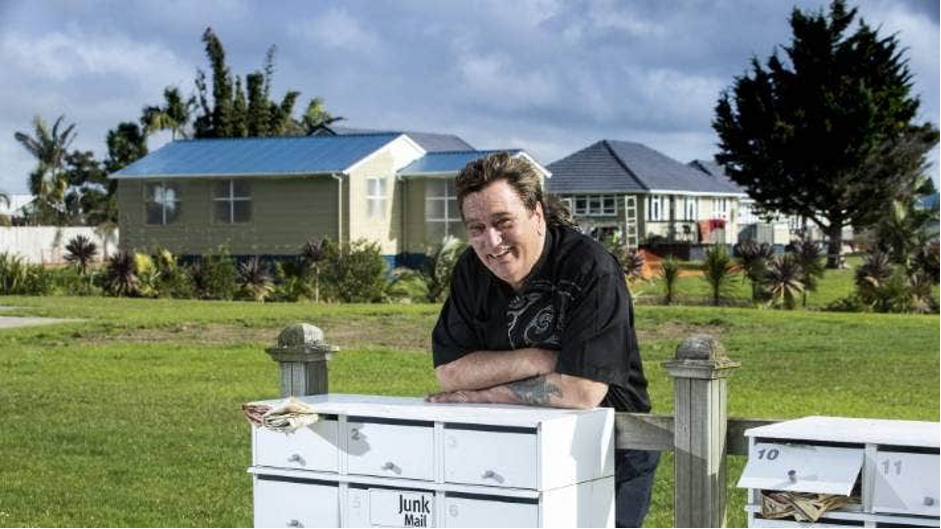 This Trust, the translation of the name being "The Cloak of Wellness", is led by Ricky Houghton and is based in Kaitaia.
It started when Ricky and his wife mortgaged their home in Auckland and purchased 50 acres of land outside Kaitaia. They then successfully applied for the land to be rezoned from rural to residential. When this was finally approved (the District Council was certainly not helpful) the land was changed from European to Maori title. No one person can ever own the land. Then they started shifting old State Houses from Auckland to Kaitaia. These houses were rebuilt using a variety of schemes, including labour from the nearby prison, and job creation schemes which teach young people trades.
Families are allocated a home (there are now 28) and over 3 years they are assisted to address some of the monsters in their lives, like drug and alcohol addiction, family violence, and finding a job. Ricky Houton recently described many of the people they work with as "a heartbeat away from social desperation".
Each week they pay rent and some of their rent is put aside to become the deposit for their home ownership. After three years the family signs a contract which stipulates that they have to not be charged with drugs or alcohol offences or family violence and the children have to be vaccinated and attend pre-school and school. Any breach of these conditions and they lose their home.
Considerable support is available for the families and, in 14 years, they will own their own home.
The lesson from this challenging group is that they need massive social support, but, if the land costs are removed from the mix, they can become home owners. The average income for this group? $22,000 per annum.
It was reported in the media recently:
He Korowai also lost its registration as a community housing provider, which means it cannot receive an income-related rent subsidy from the Ministry of Social Development.
Houghton said this accreditation was lost because He Korowai's rule of requiring residents to not drink, do drugs or be violent in their homes is considered a breach of privacy.
He was unapologetic, saying the rule was about ensuring children have a safe home.
"These people come in from a background of drinking, violence and drugs – that's what brings them to me. They're broken people; broken relationships; broken lives."
I think the fact that the Trust cannot get access to assistance is the sort nonsense one would expect from policy writers in Wellington, who I guess analyse this sort of strict regime as "judgemental". It has been my observation that too few policy writers have had experience of working with difficult and challenging people. I'm on Ricky's side.
If you think that working with this deeply difficult group is easy, read this article a couple of months ago where the Trust had evicted a tenant. Ricky has the persistence of Job, and must have been pushed to the point of despair. Even then he admitted personal shortcomings, an attribute which seems beyond most institutions and politicians. Northland emergency housing trust harassed tenant, but won't stop helping homeless | Stuff.co.nz.
Here's an interview with Ricky and a woman from one of the families who moved from Auckland, living in a car with her family, to Kaitaia and part of He Korowai https://www.rnz.co.nz/audio/player?audio_id=2018712432
2. Queenstown Lakes Community Housing Trust: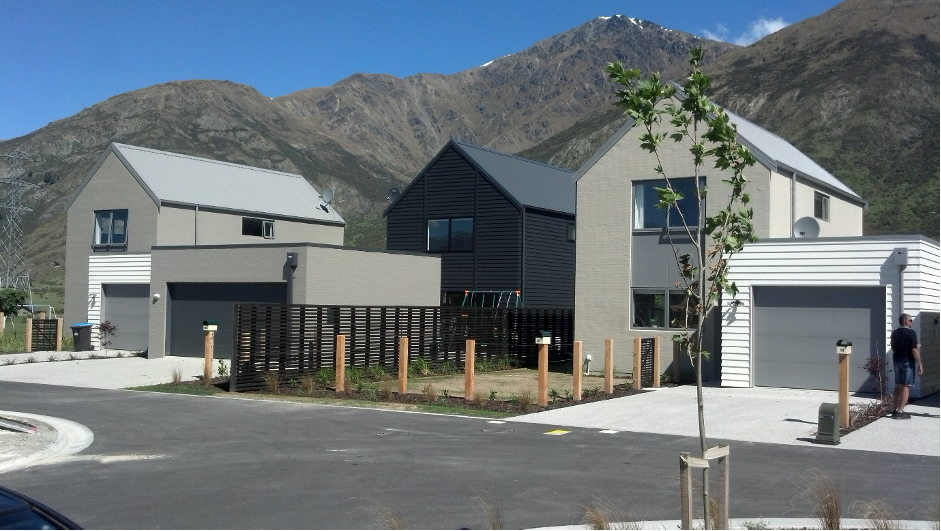 The Queenstown Lakes Community Housing Trust, Home » Queenstown Lakes Community Housing Trust (qlcht.org.nz), has been addressing the needs of families which have been struggling to obtain home ownership in a crazy, greedy, housing market for many years.
The Queenstown District Council has what is called an "inclusionary zoning" policy for development. Every subdivision has to either supply up to 12 ½ % of the land in the form of sections, or the cash equivalent, to the Queenstown Lakes Community Housing Trust for them to build an affordable home for the families who comply with their criteria.
The Trust retains control on the land so that it is not possible for families to be able to capitalise on the red-hot housing market in Queenstown. If, or when, a family wishes to sell they have to sell it back to the Trust which has retained a share in the property. The seller will receive the equivalent of the CPI increases since they initially purchased the property. The house is then offered to another family which complies with the Trust's criteria.
In other words, the Trust has created a secondary market, not driven by the traditional market which excludes the sort of people the community needs, I.e. lower paid workers.
The lesson from these two Community Housing Trusts? Taking the land out of the mix and promoting conditions which create a secondary housing market, is precisely what is stabilizing housing needs for many families who are normally locked out of home ownership.
In the New York Times this week a writer wrote:
Rebuilding trust is, obviously, the work of a generation.
This is so true. As a society we need to rebuild trust in a housing market which has left so many of our citizens on the sidelines. So, what should we do as a society?
Create a Housing Accord as a society.
There are many players in the housing system. Each player has the capacity to argue that they are the most important part of the system. In fact, we are all elements of the system as citizens of this country. We have faced up to, and addressed, housing issues in this country before, and we can do it again. All it requires is for us to talk to each other and to leave our dogma at the door.
For the sake of those who follow us.
One point of dogma which the Labour Party needs to revisit is to broaden their understanding of what makes up the area of public housing. It is Kainga Ora and the Community Housing Sector. Both sectors are interdependent. The time has passed for the Government to only work through Kainga Ora.
Let us consider the Housing Continuum: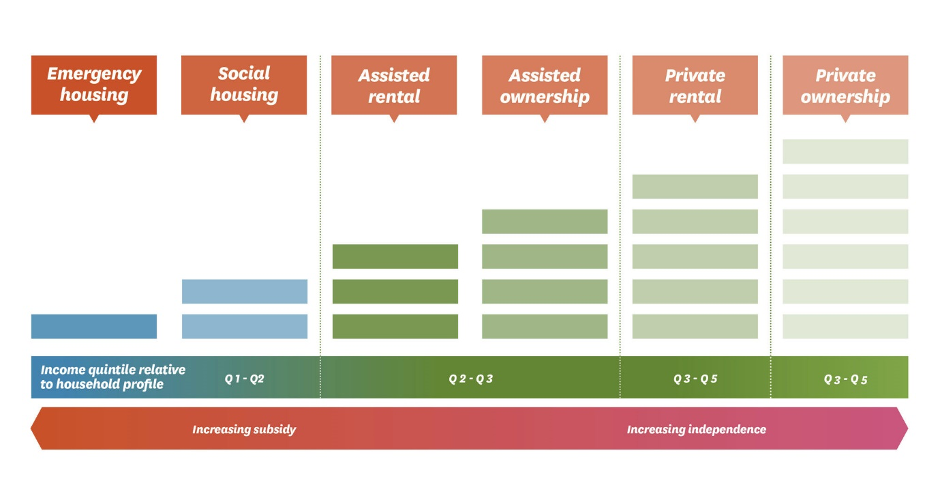 Too often the public debate just focuses on one aspect of the Housing Continuum; instead of considering the whole. The media focuses on private rental and private ownership most of the time. It then tells the tale of Kainga Ora (the old Housing New Zealand) as being the only other player. However, this narrow analysis skates over the complexity of the model.
The Housing Continuum requires certainty, and public policy which supports this. It depends on a continuous supply of new stock, and the renewal of existing stock. Currently the supply of land is held by private investors whose driver is maximisation of profit. To release sufficient land to meet the demand is not in the private sector's interest. That's where we need to rethink land ownership options.
Consider the organisations that have the largest blocks of land in New Zealand. They are:
Central Government;
Local Government;
Iwi and Maori Land Trusts;
Churches.
A Housing Accord would work with every group within this list to find which part each player wishes to play. It will take leadership and all sectors will have to play to their strengths and everybody will have to learn to compromise a bit. For those who follow us.
Here's some ideas to address our housing challenges:
Agree on a Housing Accord by the middle of 2021. That this Accord be a document which is apolitical. All parties would be required to comply with it.
This housing Accord would include:
The role of each sector being defined;
That the number of sections be identified which would be required to totally remove the deficit of houses in the current housing stock in New Zealand;
A Central and Local Government commitment to supplying 99-year leasehold land, at a pepper corn rent level, for the creation of a secondary housing market to be operated by the Community Housing Sector (CH) to commence by December 2021;
That Iwi and Maori Land Trusts and Churches be invited to join this national solution of supplying sections for the housing deficit;
That Kainga Ora (KO) and the Community Housing Sector (CH) be accepted as societies public housing providers;
That the Government direct the Reserve Bank to supply $5b to assist the creation and growth of this new housing market available to both KO and CH;
That the State Advances Corporation be re-established;
That Government consider the potential of capitalisation of current benefits be re-established to assist families with a deposit for their own homes;
That Local Government be required to establish Inclusionary Zoning for all subdivisions in their rohe. Here's a paper on Inclusionary Zoning from CHA,  CHA releases discussion document on Inclusionary Zoning (communityhousing.org.nz);
I trust this adds a positive solution to our current housing debate.