The next Tuesday Club session will be on the 10th of August. Not this week.
It's been a month since writing the Tuesday Club notes. It has been a time to reflect and to read.
I have become increasingly concerned about the proposed "restructure" of our water systems by Central Government. In my opinion it is the most massive theft from Local Government in my lifetime.
I have reviewed Cabinet papers and talked to people in Christchurch and around New Zealand about the proposals. Newsroom has produced some excellent articles on the topic. People are being subjected to mischievous advertising on TV soft soaping us all into believing these reforms are inevitable because how badly our water is being managed by Local Government. These adverts announce that the Government is going to create four new structures whilst "negotiations" are being conducted with the current bodies responsible for water, Local Government. Somebody should complain to the Advertising Standards Authority. If a retailer advertised like this they would be strung up.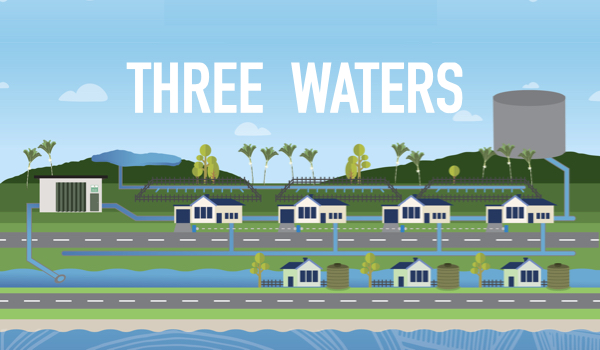 What caused the initial focus on water by Central Government was the Hawkes Bay mass poisoning caused by their water system. I have visited Hawkes Bay and spoken with a number of people who were involved. In my opinion this happened because of poor systems at the local Council and bad monitoring by the Department of Health. This was not the case for water systems throughout New Zealand.
However, the Prime Minister and the Minister of Local Government used this situation, which anybody would agree was unacceptable, and the case of lead in the water in Dunedin, as examples of Local Government being unfit to manage the water all of us need to be safe. I discussed the Dunedin case with Dr Jim O'Malley, a world class scientist who is on the Dunedin City Council. He chairs the Infrastructure Committee at DCC. He told me that they have subsequently conducted 2000 tests and found nothing in the water. They think the original readings may have been a false positive. There may have been some lead in the water but it had come from private properties. Not the DCC system.
DCC took a pre-cautionary approach and recommended locals boil their water. They dealt with it locally and this week announced that basically it was not an issue. Have we heard from the PM or the Minister of Local Government saying that they had misquoted this situation to justify their dogmatic approach to water? Not on your nellie.
What the Government has been espousing is that we should all be able to rely on having safe water. I totally agree with this. They are completely correct. They also say that there has been a massive underinvestment in water in New Zealand. I can't comment on this because many of the numbers they are banding around have not been publicly released. Local Authorities were all pressured into supplying information on their systems to the Government, and I wouldn't rely on this hastily gathered info to plan anything. Figures like $120b to $185b underinvestment around New Zealand have been posted as being gospel. I just don't trust either of these numbers.
The Government did not stand on these reforms in the last election. Yet they are ramming them down our throats.
How will it impact on Christchurch?
Let us consider what we as citizens of this City have at risk. We currently have $6.9b of assets, at latest estimates. On these assets we have $1.1b of debt. Over the decades we, and previous generations have invested in this infrastructure. The Government will take both the assets and the debt and has offered CCC $122m as an "incentive" to get involved. The danger here is that this sum will have hooks on it on how these funds are to be spent. Without even considering our loss of control over our water.
Christchurch should remember when Jacinda Ardern launched her election campaign here two elections ago. To huge cheers she announced that "we will give Christchurch $300m and you can decide how this is to be spent". After the election the Government then instructed CCC how this was to be spent. $220m went to the Arena. The other funds were also tagged.
Let us look at what is planned for water services in New Zealand:
Here is the proposed structure for the new entity: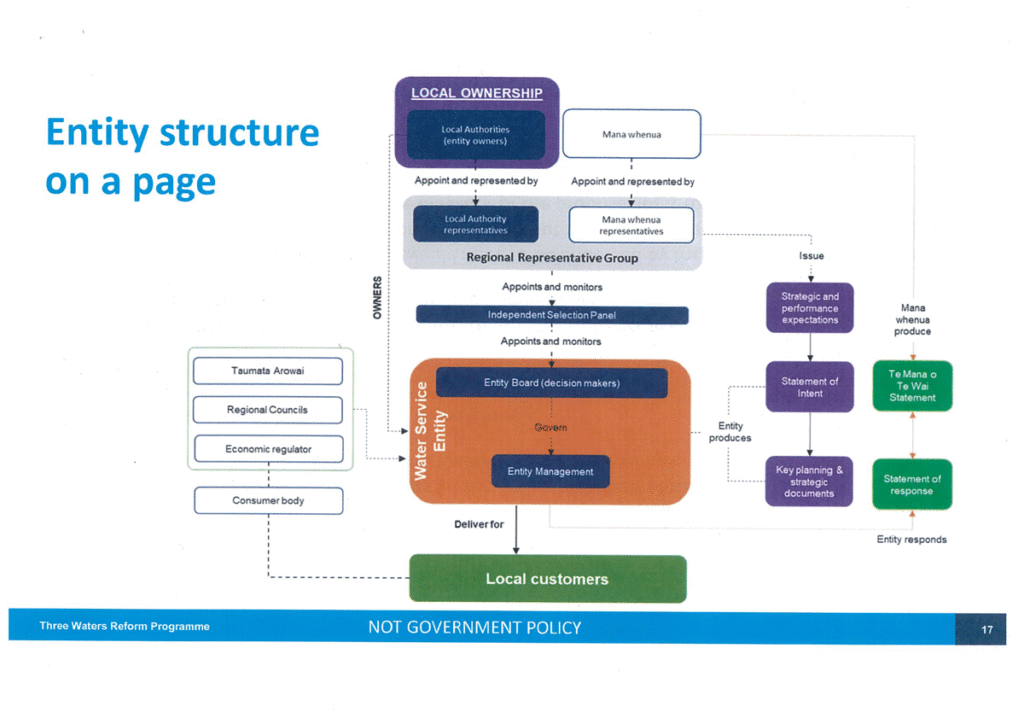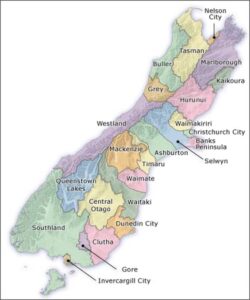 Impact on the South Island:
Here is a map of the South Island authorities. For some strange reason the top of the South Island Local Authorities are not part of the structure as the rest of the South Island.
Implementation of the proposed structure:
Let us consider whether CCC will have any in depth say in the "entities would be controlled by the local bodies that they served" as has been stated by the Government. If you refer back to the plan above. There are 21 Local Authorities in the proposed South Island structure. My questions would be:
How will the "Local Authorities representatives" in the proposed structure be chosen?
Will Central Government choose their favourites?
Or will the Authorities be played off against each other?
Or will Central Government pull names out of a hat?
If there are 21 authorities on the "Regional Representative Group" will there be an equal number of "Mana Whenua"?
Appointment of an Independent Selection Panel:
Out of this messy structure will come an "Independent Selection Panel". My questions here are:
Will this have an equal number of appointed people from Local Government and Mana Whenua?
Who will decide finally on who they are?
Will there be a scrap between TLA's about who goes on the panel?
Creation of an Independent Board:
After this potential chaos is finally sorted out, a Panel will then have to come up with a recommended "Entity Board". My questions here are:
Who gets the final say on the makeup of this Board, Local Government or Mana Whenua?
What role will be played by Central Government?
Will ministers have a final say on who goes on the Board?
Will TLA's or Mana Whenua have veto powers?
What skill base will be appointed to the Boards?
Who sets the structure and Board fees?
What is their budget?
It is worth remembering in Christchurch that the first thing that Otakaro Ltd Board did when appointed was increase their fees. Then they refused to produce their Board minutes.  It took me 15 months to find this out, and only after intervention by the Ombudsman. This new structure will be Otakaro Ltd on steroids.
We will then have an executive which is virtually untouchable. If you don't believe me then think about how difficult it is to get information from Otakaro Ltd. It's virtually impossible. We should also remember how hard it was to get information from Cera.
This new organisation could increase costs of delivering water massively:
This will be the start of a massive increase in salaries and a feeding trough for consultants. It's worth looking at the makeup of WaterNZ Board. This is the organisation which has done the bulk of the lobbying for the water reforms. The majority of the Board members are consultants. Commercial organisations which will potentially benefit from the proposed structures are members of this organisation.
Here's a document on WaterNZ's web site https://www.waternz.org.nz/3_Waters_Reform. Form your own opinion.
Supposed "benefits of scale":
There has been much made of the "benefits of scale". We have to ask has this happened with Watercare in Auckland supplying cheaper water? No. Benefit of scale is used by consulting companies to justify anything. The thing about water is it's what pours out of your tap and what happens with what leaves your property. It's local and it's deeply personal. Not a detached structure which is responsible from the north of this Island to the south.
All authorities have been treated the same despite actual differences:
The Government has made much of the underinvestment of small Local Authorities. I accept that small authorities do struggle. Many don't. This is the challenge. The Government needs to deal with this first based on agreed water standards. Not to create a structure which sweeps up all Authorities into what will be an expensive and largely unaccountable structure. We all need to work together on water standards. It requires a genuine collaborative exercise. I'm sure Local Government would cooperate with this. Not just through Local Government NZ, which has been muzzled by an agreement by Central Government at this stage.
The finances are questionable:
I have great doubt with the financial assumptions. It is difficult to assess all the numbers behind the Government proposals as they have been redacted from the Cabinet papers. I would say that any numbers beyond a few years into the future would be, at best, guestimates. With these reforms the promises of savings in the future are based on models which would probably never be tested in the future if the reforms are rammed through. I have led the establishment of many structures, and this is amongst the worst proposals I have seen.
Let us consider what the Government documents have stated:
I had an email from one of our Local Labour MP's who asked why Local Authorities are seeing this as an "Intent to strip local authorities of assets and control". Here are a few paragraphs selected at random from Cabinet papers to substantiate these reforms which answers his question:
This agreement to continue with a voluntary approach to reform, subject to
reassessing this position if it became clear the reforms were at risk of not being
achieved.
Key issues and challenges relate to:
51.1 Capability at both governance and operational levels including a lack of the
breadth and depth of expertise, and/or a lack of the systems and processes,
needed to manage highly complex three waters infrastructure and services,
and make associated investment decisions.
51.2 Economic inefficiencies and capacity challenges, due to a lack of organisational
scale, the dispersed nature of service delivery arrangements across a large
number of providers, and the inability to make strategic resourcing.
51.5 Significant and widespread under investment in three waters infrastructure
over several decades as discussed further below such that we now face a
significant infrastructure deficit and a service delivery system that is associated
with widespread performance failures.
53. In October 2020, the Department of Internal Affairs issued a comprehensive request
for information (RFI) to inform policy advice and detailed economic, commercial and
financial analysis. The information requested enabled assessment of the asset base,
asset condition, operating environment, current commercial and financial
arrangements, and forecast investment plans. The RFI has been used to supplement
available information in local authority annual reports and long term plans, to
undertake a range of economic and financial analyses.
54. The Water Industry Commission used the data as part of an economic analysis of water
services aggregation, which considered the economic benefits from aggregation under
a wide range of aggregation scenarios compared with a counterfactual scenario under
which local authorities continued to deliver water services.
55. This analysis showed that significant levels of investment in the order of $120 billion
to $185 billion will be required across the country to replace and refurbish existing
infrastructure, upgrade three waters assets to meet drinking water and environmental
standards, and provide for future population growth. Meeting this investment
challenge could take 30 to 40 years, and will be beyond the funding and operational
capacity of most councils and communities under current arrangements.
These are not statements based on things being voluntary. Big Government has made a decision and is going through the stages to force Local Government over the line. The advertising on TV backs up these Cabinet documents.
The Heads of Agreement between LGNZ and the Government makes grim reading. In my opinion there was insufficient space for Local Government to do anything other than go along with the Government. I served on LGNZ Board for 6 years and chaired the Metro Mayors for 3 years. I would never have agreed with this document. The current ability of the LGNZ Board worries me greatly.
Let us consider these reforms just from a Christchurch perspective:
I spent 15 years at the CCC table. In my term as Mayor, we undertook a complete study of all of our three waters infrastructure. We invested properly. The earthquakes changed things somewhat and led to what is a much higher debt level.

I could not answer yes to any of the comments from the Cabinet paper:
That there is a lack of the breadth and depth of expertise, and/or a lack of the systems and processes, at CCC.
That there is Economic inefficiencies and capacity challenges, due to a lack of organisational scale, at CCC.
That, as former Mayor that there has been Significant and widespread under investment in three waters infrastructure over several decades at CCC.
There's a dangerous precedent to these reforms:
Let me also consider another portion of the Cabinet papers.
47. Territorial authority service providers operate in a political environment, in which investment decisions are made by elected representatives, and a constrained financial environment, in which the main funding and financing mechanisms are via ratepayers and councils borrowing. There are limitations on the level of three waters investment that can be raised through these means. These limitations are due to factors such as: infrastructure investment decisions across district and regional boundaries, in support of regional development and infrastructure needs.
I've been around long enough to remember the same sort of rhetoric. It was with the energy reforms promoted by the 1984-1990 Labour Government. When the Government changed along came the Max Bradford reforms which led to privatisation of parts of our energy network. Look at your power bill and say to yourself "this is really good value and it's much cheaper than it would have been without the reforms."
In my opinion, these proposed reforms will inevitably lead to privatisation. I know that is definitely not the agenda of the Government. However, with only 4 institutions a following right wing Government could decide that "competition" would result in greater efficiencies.
In conclusion:
On RNZ yesterday a Tongan man spoke about the Dawn Raids of the 1970's. He said "they were started by the Labour Party, but the National Party under Muldoon took them to another level". My comment would be the Government is creating the same potential with water.
I'm not convinced there is a "big problem" with three waters nationally. Despite this government's dishonest advertising campaigns. There are some problems, without doubt, but does this justify stealing Christchurch's water from us?
Over the next few weeks, I will focus in depth on this disastrous proposal from Central Government.