This week the man who has led the CDHB, through thick and thin, will walk down Oxford Terrace as CEO for the last time. The staff have arranged for a
David Meates Farewell Guard of Honour
The memo which went out to staff said this: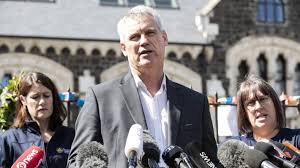 On Wednesday 2nd September you are invited to join ranks to form a Guard of Honour to mark David's last day at the CDHB. From 330pm on Wed 2nd Sept, we would like people to line both sides of Oxford Terrace from the CHB Corporate office down to the hospital, as marked by the red lines on the map below.
David will be leaving the corporate office around 345pm (on the Oxford Terrace side) to make his way to a formal farewell at the Manawa building. Please note that his formal farewell is not open to the public due to seating limitations.
While you may be understandably angry with the MoH, and the Board of the CDHB, please do not treat this as a protest. Instead let's use this opportunity to show our appreciation for David's leadership over the years. Please feel free to show your appreciation for his leadership as he walks this route.
Contingency Plans: 1. If it's bad weather, the Guard of Honour will still proceed. 2. COVID-19: If Christchurch is still at Level 2 on Wed 2 Sept, please ensure that you wear a face mask and maintain social distancing of two metres.
The fact that this is happening is remarkable. I can't recall this sort of thing happening on this scale before. It does send a message to the CDHB Board that they have stuffed up something awful. How can we as a community restore some sense of normality to an institution which is of fundamental importance, way beyond financial documents.
Please wear masks and keep your distance