This topic morphs nicely into the address by Roger Sutton this week. You will remember when Brendon Harre asked a question of the Green party leader, James Shaw, at the Tuesday Club. When James spoke, he replied "watch this space". Well this is what he was eluding to. Here is a link to a newsroom article on the proposal. https://www.newsroom.co.nz/solving-the-critical-flaw-in-our-power-grid
This week we have two articles by Brendon Harre and Axel Wilke explaining their opinions on this fantastically complex, and inspirational, project. Here is essentially how a hydro lake would work: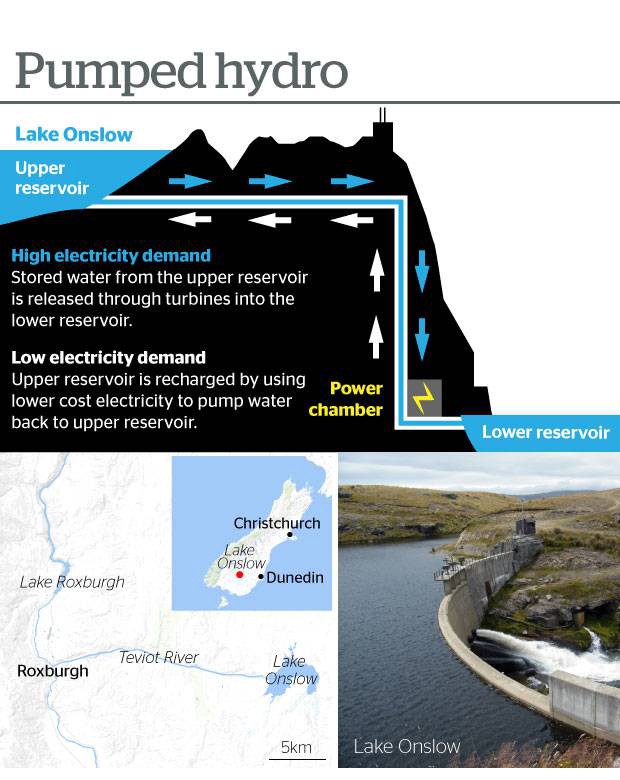 I recommend that you read both these articles to gain an insight into the proposed project.
Brendon wrote this article on the project https://tuesdayclub.nz/nation-building-is-back/.
A summary of this article is covered by the following paragraphs:
When the Green Grid is built, Huntly and other peaking coal and gas electricity generation plants will close. Pumped hydro will provide lower cost peaking electricity generation. New Zealand will achieve 100% renewable electricity. This green electricity economy will not suffer the approximate 1-in-10 dry winter risk that would otherwise close down the renewable energy economy. The Green Grid will provide a secure supply of low-cost renewable electricity. In a sense it is like insurance that protects the electricity system against variable rainfall i.e. the dry year risk, and against the intermittency of wind and sun.
Pumped hydro will buy electricity for storage when wholesale electricity prices are low and sell electricity for generation when prices are high. This will make wind and in the near future solar electricity generation more financially viable. Thus, it brings forward investment in renewable electricity to match the 'ramp' of demand coming from electrifying transport and industrial processes. This being the estimated 70% increase in electricity consumption forecasted to occur over the next few decades.
The Green Grid puts New Zealand on a pathway towards a zero-carbon economy. The Green Grid would be a significant start to a national energy plan covering the next 30 years that the Climate Change Commissioner Rod Carr says New Zealand needs. The Green Grid will provide a positive example to the rest of the world for what is possible. New Zealand can again take the role of being the world's social laboratory.
Then we have an article, written on July 30, 2020, by Axel Wilke on the topic covering the background to how we got to the position where we are today:
The electricity market is a complicated beast to understand and now the Government has proposed to add pumped hydro at Lake Onslow to the mix. You hear rather mixed messages from industry stakeholders about it. Brendon Harre wrote about pumped hydro in general for the Tuesday Club newsletter earlier this year. Let us look at some of the background.
Once upon a time, our electricity market was quite simple. We used to have the New Zealand Electricity Department (NZED), and they controlled and operated almost all New Zealand's electricity generation and operated the electricity transmission grid. Add in some locally owned generators (mostly councils) and grid operators (here in Christchurch, that was Southpower) and it was all good. Along comes Max Bradford with his electricity reforms of the 1990s, promising us cheaper electricity if we broke the whole thing up, privatised a lot of it and created competition in the market. At the time, I thought that was outright weird as it would never, ever result in cheaper power. Of course, that was not what happened (electricity prices have risen by quite some), and I now believe cheaper power was not what was intended. It was privatisation of public assets by stealth.
At the local level, we had Southpower as both a grid operator and electricity retailer. The Max Bradford reforms forced councils to split grid operation and retail and sell one part off to the private sector. We were left with Orion, owned by Christchurch City Council and Selwyn District Council, as the publicly owned grid operator and the retail part now sits with the private sector.
Since those reforms, we have competition in the market. That must be a good thing, surely? Towards the end of last year, there were allegations by some smaller power retailers that the big generators were spilling water in the South Island, thus creating high power prices, and earning a mint from their actions.
But the flaw in the electricity market is that regardless of whether or not Contact and Meridian have in fact been caught in the act of underutilising their hydro plants, it could in theory have been in their economic interests to do so and to keep the coal and gas turbines at the Huntly power station spinning.

Tom Pullar from Stuff, 17 December 2019
And that is the crux. The market is now set up where the first objective is no longer to supply people with electricity as cheaply as possible, but to maximise profits for shareholders. The Electricity Authority has recently found Meridian Energy guilty of manipulating the electricity market at a cost of $80m to consumers (shareholders, I understand, are happy, though; that said the fine for doing this has not been set yet).
That brings me back to the pumped hydro proposal. If built, it will smooth out electricity generation and thus deny the big generators from manipulating the market. It will cut their margins. And of course, this is totally counter to their objective of maximising return to their shareholders. As such, it is in the interest of the big generators for the pumped hydro proposal not to go ahead. And therefore, there are a lot of industry players coming up with all sorts of reasons why the Lake Onslow proposal is not a good idea. It is very hard to differentiate genuine concerns from vested interests.
The Lake Onslow proposal is the country's chance to get to 100% renewable electricity generation. It will not be unusual to hear that existing generators are not happy to have their earning potential reducing. Therefore, any dissenting voices need to be treated with caution.