It was wonderful to see students marching on the Council during the week. They marched on the Council demanding action. Our young people, who will be the ratepayers in the future as we dribble into our slop trays, are demanding action. Now.
I was delighted to hear how stirred up my 13-year-old granddaughter felt after the event. As is normal for somebody of that age she needs answers now. Not tomorrow. The sense of urgency of this highly informed generation is precisely what is needed to stick the bomb up our generation's backside.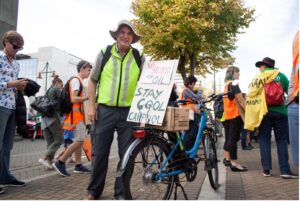 All I can say is that we must listen. And we must listen now.
The Tuesday Club had a number of representatives there. Here's one of them, John Gould!