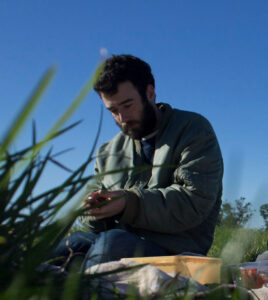 Nathaniel Herz-Edinger is part of a group in Christchurch who are getting signatures on a petition to get Christchurch City Council to hold a poll to consider changing our voting for CCC to STV. He explains his motivation here…
Scroll down to how you can be involved
A Story…
Once upon a time on Sumner beach, my mother told me about democracy. "Democracy," she said, "is when you treat everyone the same, and listen to everyone when making decisions." I was thrilled. I didn't care about politics, but I was hungry, I had two brothers, and I knew we all wanted the same thing for lunch: ice cream.
The three of us clearly outnumbered Mum and Dad, so I proposed a vote on lunch. Mum started to regret educating her children, but she'd voted in a fair few elections, and she knew how to handle a leadership challenge.
"Alright, what would you boys like?" "Ice cream!" Resounded unanimously. "But which flavour?" Instantly, we split into three factions: Chocolate, Vanilla and Orange Choc-Chip. "Well, I'd like oysters for lunch" "Me too," said Dad.
"Well," said Mum, "That's a pretty clear result." I thought so too: a clear Ice Cream majority. "A landslide," she continued, "With The Oyster Party receiving twice the vote of any other candidate." I was devastated. Democracy, I decided, was just another way for the grown-ups to get what they want.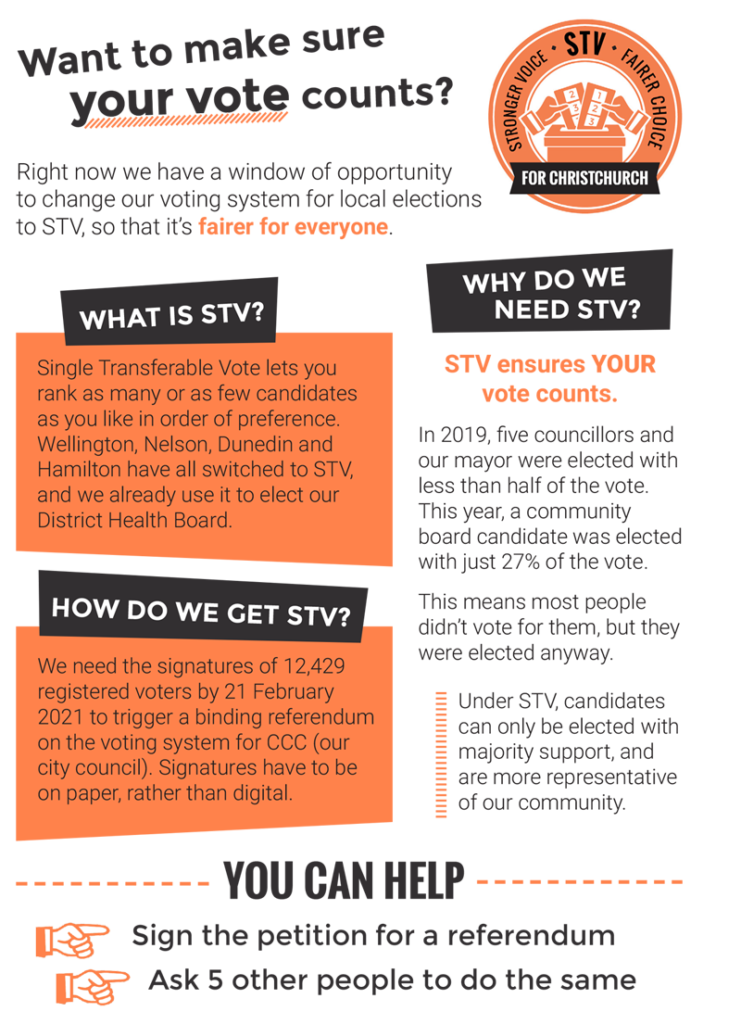 I've grown up a bit since then, but unfortunately our local democracy hasn't, and Oyster-style candidates are winning elections all across the country. At least the Oyster Party got 40% of the vote in the Sumner Lunchtime election: last year, six Kiwi mayors got elected with less that 30%. Every three years, our First Past the Post (FPP) system leaves the voice of the majority unheard.
There's a much fairer way to run our democracy called Single Transferable Vote (STV). If we'd used STV in the Sumner Lunchtime election, my brothers and I would have ranked our top ice cream flavours instead of risking it all on one option.
Then, as the least popular flavours were eliminated one by one, and our votes transferred to lower-ranked options, the Ice Cream Vote would have consolidated around a safe consensus flavour. By the final round of voting, the Vanilla vote would have formed a solid majority, defeating the grown-up Oyster Oligarchy.
It's a simple idea with powerful consequences. With STV, we don't have to worry about polls and vote-splitting and tactics. We can focus on our values, confident that whatever happens, our voice will be heard. And if you're thinking about running for election, you don't have to worry about ruining my chances.
There's less infighting, less fear, and a more vibrant range of candidates. Isn't that the sort of democracy we want?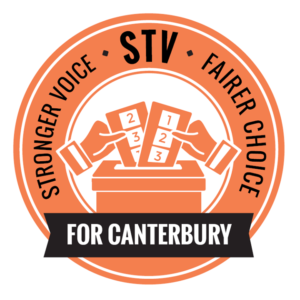 Where diversity is a strength, not a weakness?
Where anyone can get involved?
A democracy that focuses on what we have in common (ice cream)
instead of what divides us (orange choc-chip)?
Wellington, Hamilton and Dunedin already use STV, and it's looking good. It's time for Christchurch to catch up. That's why we've started a petition to force a binding referendum on our voting system. If we manage to gather 12,500 signatures by 21 February, a poll will be held in May between STV and FPP.
Keen to get involved? We'll be gathering signatures all through January and February at markets, malls and outdoor events. You can pick up and drop off mini petition sheets across Christchurch at places like Alligator Pizza in Riccarton and the WEA
What you can do
Get involved, start collecting signatures, and help our democracy thrive!
Watch some other volunteers here https://www.facebook.com/stvcanterbury/videos/456304965353547