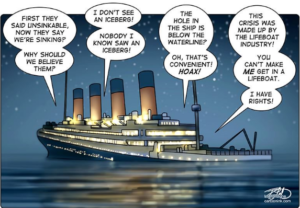 I guess we have all had "debates" with family or friends who refuse to get vaccinated. I am getting increasingly intolerant of those who are supposedly intelligent who have bought into the quack sort of stories which go block busters on the internet. Or argue about being forced to become vaccinated which breaches their individual freedom. I guess they ignore all traffic lights as the mandate to stop, or go, is being imposed by the government…
I was challenged last week by one of the Tuesday Club team whose opinion I respect and whose company I enjoy. I just totally disagree with his not being vaccinated. However, here is what he wrote to me, and I would invite others to comment on this and I will print your responses in the Tuesday Club notes. Here are his comments:
Further on vaccination mandate ethics, specifically this excerpt: "Those subject to the mandate remain free to choose which they value more – their freedom to reject a small burden that contributes significantly to the public good, or the good they are being asked to give up." Could an alternative interpretation of these "others" that are referenced be that they questioning the actual size of the burden, the actual size of the public good benefit, and the actual value of the good being given up? And therefore drawing different conclusions on the pathway forwards? I suggest when taking in both deep and broad information about this virus, this "vaccine", one's own activities and state of health, government controls, this moment in time, etc. these actual sizes become less black and white than stated. Not to mention the actual risks for people, segmented by state of health, and what the best big-picture interaction would be for people and the collective society with this virus so that it promptly moves into our rearview mirror (and we've learned something from it).
Another simple example off the top of my head: (I think) we all know that the consumption of McDonalds produces negative consequences for individuals and the collective society (while capitalist agents extract financial wealth). Yet there is no mandate against eating McDonalds, on profiteering in the food sector, selling harmful "food", irresponsible advertising, etc. There is a real contradiction at play here, in plain sight, that we're not talking about. What does this awareness of our individual, normative, and collective actions/activities/etc. reveal about our "values in practice"?
Regardless, there are a lot of assumptions being made, and that is seldom a constructive situation eh. I therefore invite the practice of more open and curious questioning by critical and possibly judgmental folks.
In Stuff this week there was an article of a well know anti-vaccinator in Auckland who died of Covid 19 last weekend. He didn't believe in vaccination and he died of Covid19.Here is a link to the story https://www.stuff.co.nz/national/health/coronavirus/300465994/popular-journalist-and-staunch-antivaxxer-dies-of-covid19.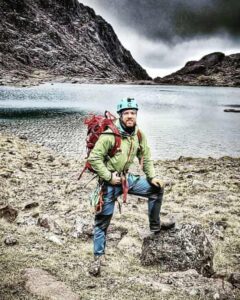 Here's a Guardian article about a superbly fit athlete who was a twin. He died at 42 because he refused to have a vac.https://www.theguardian.com/society/2021/nov/30/life-tragic-death-john-eyers-fitness-fanatic-who-refused-covid-vaccine
Before he died, John told the doctor treating him how much he regretted not getting the vaccine. "The doctor said that he was beating himself up so much before they put him on the ventilator," Jenny says. "He was saying: 'Why didn't I get vaccinated? Why didn't I do it? Why didn't I listen?'"
It is for this reason that his family has agreed to share his story. "He probably wouldn't be dead if he'd had the vaccine," says Jenny. "It's really quite simple. He made a bad decision. We all make bad decisions all the time. And he paid the ultimate price for it. Which is so unfair."
Jenny says she "just wants people to be vaccinated and, if they have doubts, to get medical advice – not advice from the internet. And to realise that Covid is brutal. It's just brutal."
She is struggling to adapt to life without her brother. "I don't know that it will ever feel real," she says. "How can my healthy, outgoing, silly brother be dead? It doesn't make sense in my brain. How can I be a twin without a twin?"
And another prominent anti-vaccinator dies:
Here's what the Guardian wrote about Marcus Lamb:
Marcus Lamb, the co-founder of the leading Christian TV network Daystar who railed against Covid-19 vaccines, has died of Covid-19. He was 64 years old.
Lamb, who was the chief executive of the conservative network that reaches an estimated 2 billion viewers worldwide, died on Tuesday, weeks after contracting the coronavirus.
"It's with a heavy heart we announce that Marcus Lamb, president and founder of Daystar Television Network, went home to be with the Lord this morning," the network announced in a tweet on Tuesday. "The family asks that their privacy be respected as they grieve this difficult loss. Please continue to lift them up in prayer."
Under his leadership, Daystar aired repeated baseless anti-vaccine conspiracy theories and claims that vaccines were being used to take freedoms away from Christians. In July 2020, the network spent an hour of airtime complaining about "censorship" around the pandemic and also gave an hour's slot to Robert F Kennedy Jr, who has spread misinformation about the Covid vaccine.
Covid vaccines have been repeatedly found to be safe and effective at preventing severe illness from the virus. Evangelical Christians have been getting the vaccines at lower rates than the general US population, however, and several prominent Christian broadcasters have died of the virus in recent months.
https://www.theguardian.com/world/2021/dec/01/marcus-lamb-covid-19-daystar-christian-tv-network-dies.