I have tried my best to follow the COP conference in Glasgow to the best of my ability. Between the Guardian, the Economist, the Washington Post, the New York Times, Newsroom, and numerous other platforms I have found it quite hard to keep up!
What plagues me is what can we do to make a difference. Here's a video of what happened to cycling in Paris when the rules were changed. It really is interesting:
https://twitter.com/parents4future/status/1453675042269798401.
Here's the challenge:
This is a graphic demonstration of the challenge from Newsroom:
I have clipped a few articles over the past week.
1. Let's start with this from Greta Thunberg:
To world leaders, "Betrayal."
That's how young people around the world describe our governments' failure to cut carbon emissions. And it's no surprise.
We are catastrophically far from the crucial goal of 1.5°C, and yet governments everywhere are still accelerating the crisis, spending billions on fossil fuels.
This is not a drill. It's code red for the Earth. Millions will suffer as our planet is devastated — a terrifying future that will be created, or avoided, by the decisions you make. You have the power to decide.
As citizens across the planet, we urge you to face up to the climate emergency. Not next year. Not next month. Now:
· Keep the precious goal of 1.5°C alive with immediate, drastic, annual emission reductions unlike anything the world has ever seen.
· End all fossil fuel investments, subsidies, and new projects immediately, and stop new exploration and extraction.
· End 'creative' carbon accounting by publishing total emissions for all consumption indices, supply chains, international aviation and shipping, and the burning of biomass.
· Deliver the $100bn promised to the most vulnerable countries, with additional funds for climate disasters.
· Enact climate policies to protect workers and the most vulnerable, and reduce all forms of inequality.
We can still do this. There is still time to avoid the worst consequences if we are prepared to change. It will take determined, visionary leadership. And it will take immense courage — but know that when you rise, billions will be right behind you.
Here's a video of Greta from the Guardian at the summit:
https://www.theguardian.com/environment/video/2021/nov/02/you-can-shove-your-climate-crisis-up-your-arse-greta-thunberg-sings-at-cop26-video.
2. From Jack Santa Barbara
https://www.newsroom.co.nz/jack-santa-barbara-why-cop26-is-designed-to-fail
How we view the problem determines how we seek solutions. If humanity's focus is on climate change in isolation of the ecological overshoot issue, we will fail to solve the climate crisis, or any of the other existential threats we face.
Some examples.
Failing to reduce greenhouse gas emissions as quickly as possible will result in increasingly dramatic climate disasters. Voluntary pledges for reductions are unlikely to result in sufficient actual reductions that really matter. We have been making such pledges for decades and emissions continue to rise.
If humanity viewed the problem as an overshoot one, and understood the implications, we would start an international rationing program for fossil fuel reduction, something like the Tradable Energy Quota developed by a British economist.
We would also recognise that no version of a Green New Deal is going to provide an adequate substitute for fossil fuels. We would begin thinking of how we can reduce our need for energy, and plan more carefully for ensuring that what energy we use actually makes a contribution to human wellbeing.
Currently we waste enormous amounts of energy. If we returned to a 1950 or 1960 level of per capita energy consumption (roughly half what we currently use), we could live well with much less.
Understanding overshoot would also help us realise that even if we found an energy source to replace fossil fuels, we would have to restrain our use of energy. Any energy use is going to have an environmental impact, and the more energy we use the more impact we will have.
Learning to live within planetary boundaries means reduced consumption. But if we are clever enough we can still lead fulfilling lives with some level of security.
An overshoot perspective would see a much greater emphasis on public and active transport, and focusing EV use for critical services, rather than as replacements for personal transport.
How we plan for essential infrastructure would also be affected. If we have to live with less consumption of material resources, we would focus on essential services for wellbeing, and design for durability.
And the really big question we would want to ask, and answer, is what's the carrying capacity of New Zealand? What is the right mix of population and consumption that would allow for a sustainable wellbeing society to pass on to future generations?
The ecological footprint data for New Zealand indicates that we are consuming way beyond our fair share of earth's resources. The data also indicate that our enviable biocapacity excess is declining, largely because of our exports.
If we are going to get serious about climate change and the host of other existential threats we face, we need a new mind-set that focuses on ecological overshoot. An overshoot perspective can help create an effective climate response.
Reducing consumption while maintaining, and even increasing, wellbeing for all should be our goal. But this won't happen until enough of us understand the real problem, and let our politicians know what we want them to address.
3. From the Guardian by Simon Lewis is professor of global change science at University College London and University of Leeds
But why are climate delayers voluntarily announcing net zero targets? This may be a mix of global opprobrium from the first bloc and plain cynicism because they think they won't face the consequences of missing these targets. However, it is also likely to be because within the third bloc the EU have agreed, and the Democrats in the US have proposed, "carbon border adjustments" to impose tariffs on high carbon imports. This means exporter countries will need to reduce their emissions to access these huge markets.
This battle to shape the future will continue in Glasgow as countries negotiate rules on transparency, which would allow the UN to check what various nations are doing to achieve their targets. Negotiations on the rules governing carbon markets will also be tense. The prospect of interlinked markets for a new fungible global commodity – carbon – is a bonanza that banks and the financial industry are pushing for. But many are wary that carbon accounting tricks will trump real emissions reductions.
Overall, there are serious problems with the seemingly sensible thinking of bloc three: that if governments in the core zones of the global economy invest to kick-start a green industrial revolution, then the market will drive down prices for new technological solutions that outcompete fossil fuels and drive down emissions, and carbon border adjustments will bring the world with them.
Critically, this will not be anywhere near enough to shut down most of the fossil fuel industry and actually resolve the climate problem. Stopping new exploration for fossil fuels needs to go hand-in-hand with investing in alternatives. Yet, many governments who set themselves up as rational followers of the science are self-delusional. They cut emissions at home while also licensing yet more oil, coal and gas for export. Norway, the UK, the US and Canada are all doing this.
A perhaps more fundamental problem of the EU, US and UK market-driven approach is that markets are not fair. The Covid vaccines scandal has shown how new technology and market approaches have left billions vulnerable. Unprecedented international cooperation is needed to tackle the climate crisis. And within countries, if the transition to net zero is not experienced as a fair and just transition, plans will be derailed and catastrophe beckons.
Glasgow is a pivotal moment. The world cannot afford any more delays in climate action, so the climate-wreckers must not get their way. But for the most powerful countries and companies, they must realise that a transition to net zero can't be achieved by relying on markets. They need to listen to the vulnerable countries and people. Solving the climate crisis needs action that is both fast and fair.
4. Diana Shand sent me this:
COP26 Glasgow, Update from ICLEI Oceania
The United Nations Climate Conference, COP26 Glasgow, is underway with the goal to ratchet up global commitment and action to limit global warming to 1.5°C. To do this, action is needed by national governments with the support of local government, business and industry and communities. The COP26 World Leaders Summit was powerfully opened by Samoan Climate Campaigner, Breanna Fruean:https://www.youtube.com/watch?v=3HZ5xS5J9Go.
For Local Governments who want to watch and join Virtual Events at COP26, it is recommended to register to the COP26 Multilevel Action Pavilion: https://www.cities-and-regions.org/register/. This Pavilion enables cities, towns and regions to be heard at what is historically deemed national level negotiations.
Local government events specific to Oceania include:
Virtual Event: "Local Governments Driving Accelerated Action in the Climate Emergency", East Asia and Oceania Time4MultilevelAction Dialogues
Date & Time: Wednesday 3 Nov 2021 at 7.30pm to 8.50pm AEST (8.30am UK Time/GMT)
Register at: https://www.cities-and-regions.org/register/
Organisers: ICLEI East Asia Secretariat, ICLEI Japan Office, ICLEI Korea Office & ICLEI Oceania Secretariat in Partnership with: Jeollanam-do Provincial Government, Republic of Korea.
The ICLEI Oceania Communiqué will be delivered during this official side event by Councillor Amanda Stone, City of Yarra, Chair of ICLEI Oceania Regional Executive Committee. Adopted during an Australian local government COP26 Virtual Forum, this Communiqué has also been sent to the Prime Minister of Australia, Deputy Prime Minister, Minster Angus Taylor, Minister Sussan Ley and the Opposition Leader ahead of COP26 to urge greater national action.
Virtual Event: "Further and Faster – local climate action and the role of the Global Covenant of Mayors"
Date & Time: Thursday 11 November at 9pm to 10:30pm AEST (10-11:30am UK Time/GMT)
Register at: to be sent later
The Lord Mayor of Hobart, The Hon. Anna Reynolds, will present the cities perspective on green recovery and resilient urban infrastructure. The session will showcase successful examples of how cities have turned their ambition into action and have approached the climate challenge as an opportunity for green recovery.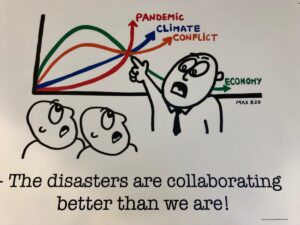 Useful Links to Join in COP26:
Comments from Spinoff:
Shaw: After 30 years of delay, it's the best we could do. This plan is a compromise, representing what Shaw called "the highest possible ambition in light of our national circumstances". The Green co-leader and minister was clear yesterday that his hope would be to do more, but this is what he could get through a Labour cabinet. "I think we should be doing a whole lot more, especially given our rubbish record historically, but the alternative is committing to something we can't deliver," he said. "As long as I'm in this job, I'll be striving to do more."
The initial reaction hasn't been glowing. The Council of Trade Unions called the new target a "welcome and positive step". Environmental groups disagree. Greenpeace said the "government wimps out on climate action" and demanded a tougher target for agricultural emissions. Oxfam called the plan "a betrayal to Pacific Island countries", while the WWF labelled it "a slap in the face". The last two cited the government's change in methodology as a problem. In a sign of the growing political division in parliament over the response to climate change, both Act and the National party attacked the government for setting a target they both called too high and too expensive.
The final word goes to Sam Dean, a climate scientist for NIWA who wrote this for the Science Media Centre:
"This is a bigger change in New Zealand's international climate policy than may appear at first glance, and will help restore international credibility. What matters to global warming is the change in concentration of CO2 and other greenhouse gases in the atmosphere – the difference between what we emit and what we remove through actions like forestry, known as net-emissions. Reframing our targets this way is also simpler to understand."
An open letter from OraTaiao, the New Zealand Climate and Health Council, to the prime minister
Tēnā koe Rt Hon Ardern,
OraTaiao: New Zealand Climate & Health Council, the College of Nurses Aotearoa, New Zealand Nurses Organisation, New Zealand Medical Association, Australasian College for Emergency Medicine, The Royal Australasian College of Physicians, and New Zealand Society of Anaesthetists welcome climate minister Shaw's in-person attendance at the COP26 negotiations in Glasgow this November. This is the crucial chance to significantly strengthen Aotearoa's international climate contribution, build on the Climate Change Commission's recent advice, and keep the capacity to limit global warming within a humanly adaptable 1.5 degrees.
Our three recommendations below let Aotearoa lead at last with a healthy fair climate response:
1. Health and wellbeing must be at the heart of our climate response
• The UN Declaration on Human Rights recognises the right to the highest attainable standard of health, and hauora is guaranteed to all citizens as a taonga under te Tiriti o Waitangi.
• We strongly support the recent editorial simultaneously published in over 200 medical journals worldwide, which highlights that climate change is a health crisis that will dwarf Covid-19 in the years to come.
• The WHO Manifesto on a healthy and green recovery from Covid-19 gives a six-point plan for urgent climate action. This will be added to with a WHO COP26 Special Report which will be a focal point of the conference and highlight the health benefits of climate change action.
• Modelling published in The Lancet Planetary Health this year demonstrates that health-centred NDCs can increase ambition and realise substantial health co-benefits. NDC health co-benefits till 2040 were modelled for nine representative nations with half the world's population, three-quarters of global emissions, and key global or regional influence. Here in Aotearoa, our stretched health sector takes up one-fifth of government spending.
2. Aotearoa must proactively place indigenous and marginalised voices at the centre of COP26
• This is particularly important this year as the Covid-19 pandemic and inequitable vaccination access has created major difficulties for representatives from poorer nations to travel.
• We must acknowledge both our own indigenous voices from nga iwi Māori and our position in the wider Pacific community, and centre these voices in all negotiations.
3. Aotearoa's new contribution must be 10 times more than our 2016 contribution
• Our new nationally determined contribution (NDC) must take full account of our historical cumulative emissions, our privilege as a wealthy country with the resources to make the necessary changes, and our position in the wider Pacific community.
• We urge a 10-fold increase as Aotearoa's fair share contribution (as outlined in OraTaiao's Climate Change Commission submission, this means 117-133% cuts in 1990 levels by 2030).
• This increase means prioritising accelerated domestic decarbonisation and strong methane cuts, through Tiriti partnership and just transitions, and including health-centred climate policies that self-fund in health gains and health sector savings.
• The balance of our better contribution must be also significantly more climate finance, real support for developing nations' loss and damage claims, sharing emissions cuts expertise, and minimal offshore emissions credits as costs inevitably soar.
• We urge our government to signal the overall direction of Aotearoa's delayed Emission Reduction Plan (ERP) by signing the Global Methane Pledge (to cut global methane by at least 30% of 2020 levels by 2030) prior to COP26, plus committing to enforceable climate
protection in all our trade agreements.
The difficulties encountered with COP25 and the time lost due to the Covid-19 pandemic amplify this November's crucial global Conference of the Parties. We no longer have the luxury of time to allow for a weak response. Aotearoa must step up as a climate leader (not laggard), strengthen our contribution 10-fold, and place human health and equity at the heart of our climate response.
Nāku noa, nā
Dr Dermot Coffey, Co-convenor, OraTaiao: New Zealand Climate & Health Council
Dr George Laking, Aotearoa New Zealand President of The Royal Australasian College of Physicians
Dr Sheila Hart, President, New Zealand Society of Anaesthetists
Professor Jenny Carryer CNZM, Executive Director, College of Nurses Aotearoa (NZ) Inc
Dr John Bonning, President, Australasian College for Emergency Medicine
Mairi Lucas, Acting Chief Executive, New Zealand Nurses Organisation Tōpūtanga Tapuhi Kaitiaki o Aotearoa
Dr Alistair Humphrey, Chair, New Zealand Medical Association
https://thespinoff.co.nz/politics/29-10-2021/be-braver-about-climate-change-new-zealand/.
James Lovelock is the originator of Gaia theory
and the author, most recently, of Novascene. This op-ed was told to Jonathan Watts, Warnings that once seemed like the doom scenarios of science fiction are now coming to pass. We are entering into a heat age in which the temperature and sea levels will be rising decade by decade until the world becomes unrecognisable. We could also be in for more surprises. Nature is non-linear and unpredictable, never more than at a time of transition.
Lowering these risks and adapting to those we can no longer avoid will require a mobilisation of resources on the scale of a war economy. We have no choice but to reduce the burning of fossil fuels or face even worse consequences.
But we should also not become over-reliant on renewable power, which will leave us with an energy gap. We need to build more nuclear power stations to overcome that, though the greens will first have to get over their overblown fears of radiation.
The dangers are nowhere near as bad as they are often painted. I've travelled millions of miles by air, and all that time I have been exposed to levels of radiation that are ten times as great as at ground level. The dangers are exaggerated.
We also need to address the problem of overpopulation and to urgently halt the destruction of tropical forests. Most of all, we need to look at the world in a holistic way.
I am not hopeful of a positive outcome at Cop26, knowing who is participating. I was not invited to Glasgow, though that is hardly a surprise. As well as being 102 years old, I am an independent scientist, and the university academics have never been comfortable with that.
But my fellow humans must learn to live in partnership with the Earth, otherwise the rest of creation will, as part of Gaia, unconsciously move the Earth to a new state in which humans may no longer be welcome. The virus, Covid-19, may well have been one negative feedback. Gaia will try harder next time with something
Here's the article: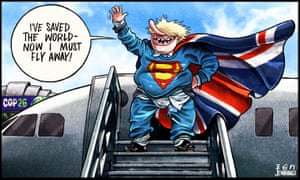 https://www.theguardian.com/commentisfree/2021/nov/02/beware-gaia-theory-climate-crisis-earth
The final cartoon is from the Guardian. The UK Prime Minister, Boris Johnson, gave an effusive speech to the conference and then took a private plane back to London in a crass exercise in hypocrisy.