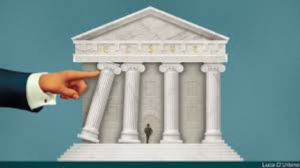 The Aussie banks, which trade in New Zealand, were found guilty of all sorts of dishonest activities in Australia at the Royal Commission set up to study them. With any small businesses, if the Directors had faced such serious charges they would be in court, and quite possibly imprisoned.  
No such test, such as a Royal Commission, has been applied to the bank's operations in New Zealand.
In 2018 the top four Australian banks, ANZ, ASB, BNZ and Westpac reported combined statutory profits, after tax, of $5128 million. That's $580,000 every hour!
The banks in New Zealand have nearly double the profitability of their Aussie equivalents. Vast dividends sent back to Australia have helped to prop up the share prices of these banks. Are we being ripped off, as they send these excess profits to another country? Is it a fair question to ask; is this acceptable? Why do we put up with it?
Let us look at a few matters involving the banks over the past few years.
a. Tax evasion:
The four banks were charged with tax evasion by the IRD, which spent $38m on the case. https://www.stuff.co.nz/business/industries/2742044/IRD-spends-38m-chasing-banks.
The banks, and their clever counsel, denied everything which the IRD (acting on our behalf) accused them of, and they fought it through every Court we have. After lengthy deliberations through the courts, which must have made many lawyers quite rich, fortunately the IRD ruling was upheld and the banks agreed to pay $2.2billion in tax which they had avoided.
https://www.interest.co.nz/news/40814/banks-settle-structured-finance-tax-disputes-ird-nz22-bln-update-1.
The CEO of ANZ was reported as saying:
We are pleased to have reached a commercial settlement in relation to six out of the seven disputed tax transactions which largely puts this matter behind us."
The underlined comment is mine. They stated that this was a "commercial settlement". This is PR bullshit. There was nothing "commercial" about it. They had been dragged, kicking and screaming, into the Courts of this Country. You don't end up in Court because you have kept the law. You are there because some authority has decided you have been dishonest. In this case the Courts of this country agreed with the IRD. I suspect what is not stated in this settlement, that the sum of $2.2 billion in tax was probably the result of lengthy negotiations. This tax sum shows that the banks did not divulge $6.6billion of trading. This isn't an example of being clever. It is an example of a complete absence of ethics.
b. Still they pushed their illegal activities:
Being caught by the IRD didn't seem to put them off. Here's another article outlining where the ANZ Bank had breached various regulations 6 times https://www.stuff.co.nz/business/money/113213234/six-times-anz-has-been-in-regulators-naughty-corner.
This article shows that the Bank has been taken to account by various public authorities:
It has been stripped, in the last year, of its right to self-monitor its capital buffers by the Reserve Bank;
It has entered two settlements with the Commerce Commission (the bank settled for $45M);
It has entered into a settlement with the Inland Revenue (mentioned above);
It has entered into a settlement with the Financial Markets Authority.
c. Westpac Bank has also been caught recently, again:
In November 2019 the corporate regulator in Australia, the Australian Securities and Investments Commission (ASIC), intervened on behalf of retail investors. As a result, mum and dad Westpac shareholders that had already applied for their entitlement for shares were able to withdraw and have the money refunded.
The bank stands the potential of a $2billion fine.
d. Here's how they treat people:
In one high-profile case at the Royal Commission, ANZ admitted unfairly forcing a farmer off his land, even when he had never missed a mortgage payment.
e. They are giving us nothing. The supposed "mortgage holiday" is another way of making money for the banks:
In this article the graph below shows that for the six-month holiday, which the banks have boasted about, an individual or a family with a $500K mortgage would end up owing a massive extra sum to pay off the amount which builds up during this supposed 6 month "holiday". Here's the article:
Here's the calculation of the impact of not paying the interest: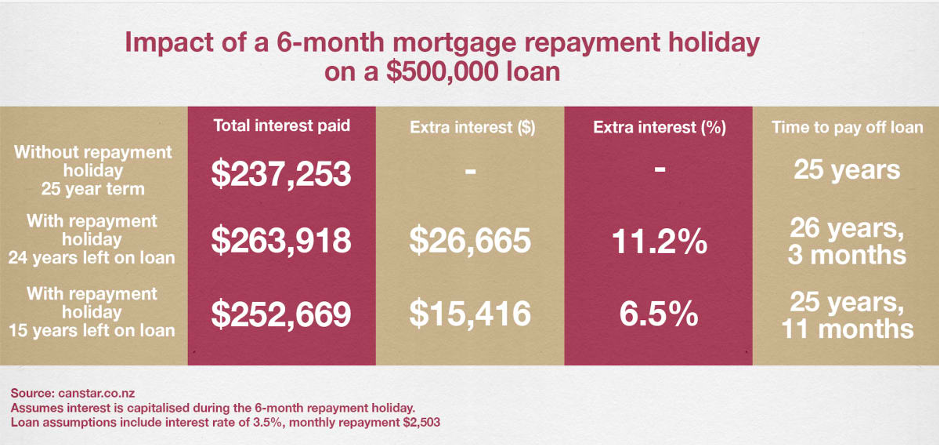 f. The banks consistently rip everybody off:
I stopped off at a small local dairy. The owner was behind a giant plastic bag. But his payWave system was there. It looked unclean. Possibly seldom cleaned after being used by customers. Why has this happened? Because the banks are greedy bastards. They might have stopped their excessive fees much earlier. However, where is the small diary going to get an up-to-date machine at this time? Or does their existing machine handle this change?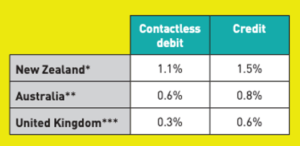 Here's the additional charges for a touchless system reason a shopkeeper would normally incur:
So, what this means is that a small retailer operating on really low margins is being charged 1.1% for a normal bank card. But if a customer uses a credit card the bank charges them 1.5%. This might be their margin.
Just remember the banks are also charging us fees for the use of our own money deposited in their bank. They are charging at both ends.
Here's where I got the information on the bank charges:
https://www.newsroom.co.nz/2020/04/06/1116128/why-is-no-paywave-still-a-thing-in-a-covid-19-world?utm_source=Friends+of+the+Newsroom&utm_campaign=8d0d752fec-Daily+Briefing+03.4.20_COPY_01&utm_medium=email&utm_term=0_71de5c4b35-8d0d752fec-97862399
g. The Governor of the Reserve Bank has focused on controlling the Banks as part of his job:
We are fortunate, as a country, to have somebody with the competence, and the skill as a communicator, as Adrian Orr, Governor of the Reserve Bank. This position normally seems to be the last resting place for rather colourless economists. Don Brash being the exception. Adrian Orr, because of his actions and speeches, has been a target for the banks for some time. He is a threat to them and he has stated quite publicly where, and why, he is unhappy with them. I share his sentiments toward the stability of the banks. When they respond to the Governor, they normally trot out yet another patsy report from one of the big accounting firms.
In this article https://www.stuff.co.nz/national/politics/116330949/adrian-orr-is-locked-in-a-deepening-battle-with-the-banks-where-will-it-end in Stuff in October last year Henry Cooke wrote:
The war has mostly taken the form of a set of capital requirements Orr is looking to impose on the banks. Basically, he wants to increase the amount of cash on hand that these banks hold in New Zealand in case of a crisis, by about $20b. In theory this would mean next time the financial sector has a meltdown the government won't need to step in and help them out. This makes the banks angry because it would lock off a section of capital they can currently use for lending or other investing, likely reducing profitability, at least in the short term.
While these requirements are out for consultation the banking and wider private sector has been fighting back, hard. A KPMG report suggested a massive contraction in lending – particularly in rural New Zealand. A banking lobbyist-commissioned paper found it could cost the economy as much as $1.8b a year. Westpac has said loudly and publicly it could cost $6000 a year for the average mortgage-holder in Auckland. And the lobbyists themselves are never far from the beltway drinking circuit: Indeed, there were some weeks earlier this year when they could have kept the Beehive bar Pickwicks in business all on their own.
Isn't it good that the banks and their tarty lobbyists, and" independent" report writers, didn't succeed? Right now, the economic situation we are in completely vindicates what Adrian Orr was saying since shortly after he became Reserve Bank Governor. Where are the lobbyists now? Where are any of the fancy financial reports produced by any of the big four accounting firms? I suspect buried deep in that dark, black hole in the filing system of life called "lack of ethics" file.
h. So, what can we do?
Firstly, we need to back up the Governor of the Reserve Bank. The National Party was starting to join the banks, and their lobbyists, and their tame accounting firms; and challenging the Governor's ruling at the end of last year. I remember an old quote "do not adjust your mind, reality may be at fault". I hope that the reality of the sensibility of the Governor of the Reserve Bank's ruling, which is so obvious now, might have hit home to the Nats.
We need to be vigilant in anything toward the banks from Australia. It might be time for us to all remove our funds from Aussie banks and deposit them only in New Zealand banks.
I received this suggestion from Geoff Butcher last week:
If govt underwrites a loan then the interest payment to the bank can't be more than the risk-free lending rate = lowest (>20% equity) first mortgage rate. If the interest rate charged to the client exceeds that, then government gets paid the difference for taking the risk.
Has the time come to seriously think about reviewing the banking system in this country? Maybe, just maybe, are we in a similar position to when the BNZ was nationalised early last century? I'm not sure whether we have got to this stage, but these guys have shown a complete deficit in the ethics department. They continue to promote privatising their gains and making the public pay for any risks. We should be thinking hard about their method of operating.
There's enough in this world for every person's needs, but not for every bank's greed.

If I could distort a quote of Mahatma Gandhi: