I was sent this message by Marnie Prickett from Choose Clean Water:
Clean healthy water is essential to our lives. In Aotearoa we are blessed with beautiful rivers, lakes, springs and streams, but as we all know the health of our waterways is under threat.1,2,3,4
During the 2017 election campaign, Jacinda Ardern spoke powerfully about her party's commitment to protecting and cleaning up New Zealand's rivers:
"When it comes to our rivers, we will not accept that it is too hard. We will not accept that, and we will not accept a position that we simply sit back and allow this degradation to continue. We have set our standards and our sights higher no matter how hard that proposition might be."5
This summer Choose Clean Water and ActionStation have teamed up to show our support for Jacinda's government to honour those words by setting strong rules that protect the health of our rivers, lakes and streams.
💧 In December a group of us visited Prime Minister Jacinda Ardern's office to deliver a giant card and ask for clean, healthy rivers for Christmas.6
💧 This month we took the message to the politicians and rallied outside Parliament to ask Labour to keep its promises to protect and restore our rivers.7
💧 Hundreds of us are sending postcards reminding the Prime Minister of her pre-election promises and showing the public support for strong rules for water.
💧 And we're using our voice to speak out publicly on radio, in newspapers and online.8,9,10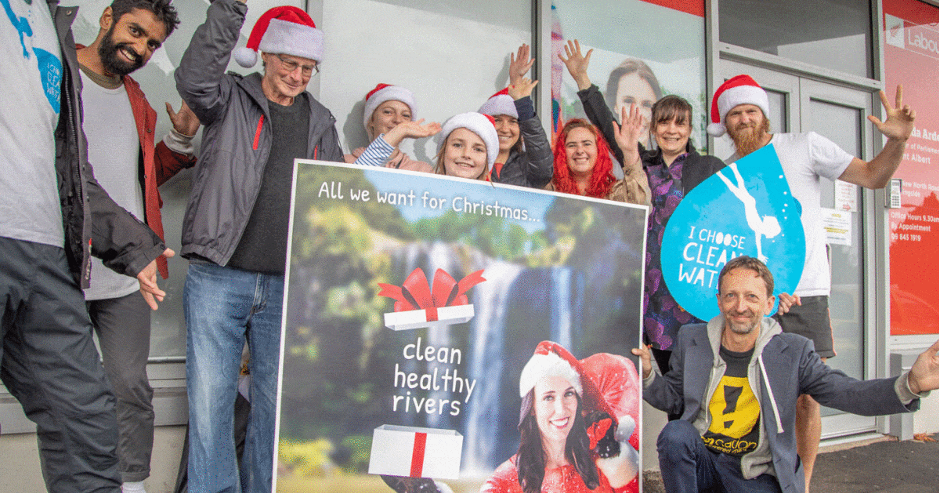 Right now, the coalition government is making the final calls on the freshwater policies that were announced last year.
The freshwater policies that were announced last year include long overdue and meaningful bottom lines for addressing water pollution, like 1mg/L of nitrogen, new sediment limits and higher swimming standards, that would put us on the right path to improving the health of our rivers and lakes. Many of the proposed policies are good and in October more than 1,300 of us made a joint submission to support the health of rivers and lakes.11
However, some agri-business lobby groups are putting huge pressure on the government to weaken water policies and compromise on the health of the taio (environment). They have been sending messages of fear, confusion, and trying to create division between people who live in rural areas and cities.12,13
We all care about healthy waterways. We all need healthy waterways. Our community submission showed that we are ready for change and want to support farmers where moving to lower impact farming will be difficult.
We are determined to show decision makers we all care for the health of our wai and support bold action to restore the abundance and health of our waterways.
Our Choose Clean Water team are a small bunch of committed volunteers and we can't do this without you. Many of us taking action now will have huge benefits for the health of our rivers for many years to come.
We need to remind Jacinda and the Labour party of their promises. Will you organise people in your community to send postcards to Jacinda Ardern asking her to put in place strong water rules to protect and restore NZ's rivers?
References