I thought I'd share some election musings with you. Obviously, my intention was to join ECan to do something about transport emission dominance in Christchurch. I didn't manage to get the message across to the voters that there ought to be a transport specialist at the decision making table. 
What's going wrong with public transport?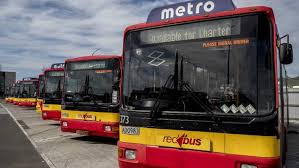 What should we do about it in the short term? Bus passenger numbers, when measured as trips per person per annum, have been decreasing since 2014. At the very same time, the central city is making a strong recovery (by now we have 39,000 jobs within the 4 Aves compared to 55,000 pre-EQ, so we aren't far off where we were). So how is it possible that passenger numbers are trending down, you might ask?
The underlying reason is the introduction of the post earthquake hubs-and-spokes bus network. The first corridor was converted in December 2012. The remaining network followed in 2014. And bingo, since then we've been losing passengers. The graph below shows how we are tracking compared to Wellington and Auckland.
ECan is, of course, aware that things are pointing in the wrong direction. Governance was last reviewed in 2015 and the outcome was that since July 2016, we have had a Greater Christchurch Public Transport Joint Committee. Over the last three years, we've lost 1.6% bus patronage so whatever the Joint Committee is presiding over, it's not working. And to my dismay, there's nothing planned in the short term that I can see will turn this decline around.
I've developed a suite of policy proposals that could turn this around: https://thecommongood.kiwi/our-values/#pt Every single one of these proposals is doable (unlike "free public transport" or other fairy tales), and everything apart from passenger rail is readily affordable (and it's not that I haven't got any ideas how to fund rail). So it's incredibly frustrating that I sit on the sidelines and there isn't anybody on the inside who has the knowledge to make those things happen.
We are going full steam ahead into a climate crisis yet there's nobody who is committed to tackle transport emissions head-on. And without having a viable public transport system, many people simply don't have an alternative to driving.
Hence my question to your informed and well-connected audience: how do we get those policies implemented?